Those damned colonials have sent Five Guys (and a Shake Shack) to invade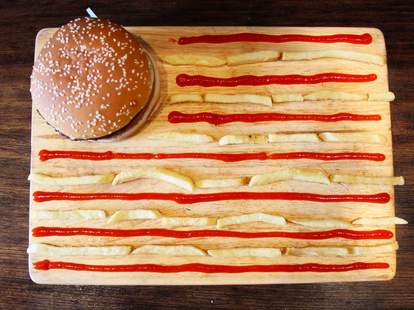 This weekend, the US will be marking their Independence Day by invading us right back …with delicious burgers! That's right -- the 4th & 5th of July will see the UK debuts for two of our America's most vaunted burger chains, and both of them in an already burger-laden Covent Garden. Someone's going down -- but who?!The Invading Forces: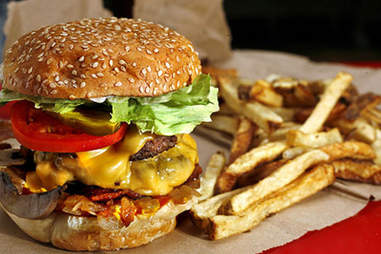 Five Guys
Five Guys, opening 4th of July:Slapped on the end of Longacre, this beef-ery proudly has "no freezers" on-site, to ensure everything's fresh. They also have a unique ordering process, wherein the standard burger has two patties, all toppings are free, and you have to custom-order everything that goes on it (literally -- if you want mayo, you have to ask for mayo), yielding "over 250,000 possible ways to order", and probably that many calories too. Prepare to get Five Guys in your mouth right here.
Shake Shack
Shake Shack, opening 5th of July:Famed for its award-winning burgers, and stupidly long queues in the US (where they call them "lines"... weirdos), Shack's menu will have all its signature bunned treats, along with London-only numbers like rare-breed Cumberland hot dogs covered in ale-marinated shallots. Another bonus? You can actually get their own home-brewed beer/wine specifically designed to complement the burgers, while for dessert, they've roped in the vaunted St. John bakery to make choco-hazelnut brownies & fudge sauce to go with their frozen custard.Take a gander at their fancy site right here.

The Native Forces: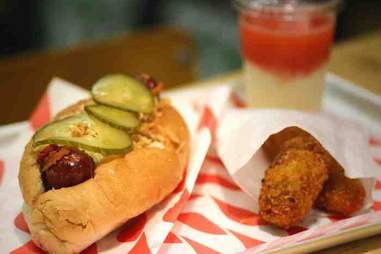 MEATmarket:Defending the honour (it's spelled with a "u", you damned Yanks!) of the motherland, but mere yards away from Shake, is the home-grown MEATmarket. Their Dead Hippie Burger is actually a replica of another famed beefwich from the US's In-N-Out, meaning we'll be using their own weapons against them! Huzzah!See more about them, and their bacon-wrapped hot dog, right here.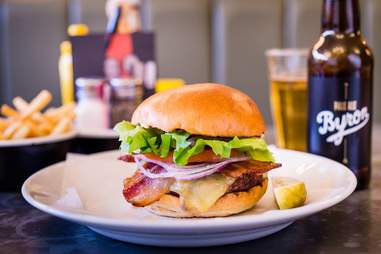 Byron
Byron:Also in Covent Garden, you'll find one of the Brit-based chain, which's amping up its credentials with a craft beer selection to rival most bars: everything from Kernel, to BrewDog, to Bear Republic, to their own Camden-made draught. Drink in the website here.
The Diner