Despite the Thames conveniently cutting a clear (if squiggly) line through the city, and thereby bisecting it into rivalrous Northern and Southern halves, it's pretty clear to any Londoner that the true intra-city throw-down is actually between East and West. And when it comes to throw-downs, there's one measure of success that trumps all others: which has the better food?
Lacking a handy waterway to divide up the camps, we've disqualified Soho & Covent Garden outright, and we tried not to take any group spot into account (no MEATliquor, Polpo, Burger & Lobster, Hawksmoor, etc.). West = Mayfair and farther. East = Farringdon and on.
Aaaaannnd... FIGHT!
Recommended Video
Debatable: Is Shake Shack Really Fast Food?!?
WEST
This is the London you see in films, where gorgeous people with perfect hair walk along picturesque clean streets and wonder why Hugh Grant can't seem to get a complete sentence out. It's rich. This all started centuries ago when, thanks to the lack of indoor plumbing and the not-lack of industrial revolutions and their smog, the world was a great deal smellier. The prevailing Northeast wind made West London relatively livable, and 200 years later, it's still more expensive. Naturally, so are the restaurants, and the scene is generally high-class, award-winning, and formal.
The good
If you're in the game of collecting Michelin stars, then the West is your playground with places like Alain Ducasse at The Dorchester, Dinner by Heston Blumenthal, Texture, Benares, The Ledbury, and many more within walking distance to each other. Prepare to have your mind seriously blown with some of the finest food the capital has to offer, just be sure to pack your bank account. That being said, most of them have some solid lunch offerings with set menus, which can make it a bit less staggering.
This isn't to say that the West doesn't have its own dose of edgy cool going on. Around Portobello Rd there are places like the Electric Diner on Portobello, along with Lucky 7 and Crazy Homies that don't take themselves so seriously and want to have a good time, while serving up some great eats.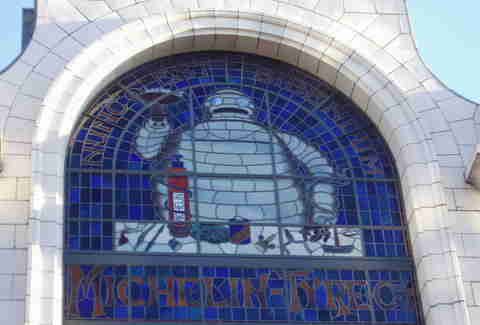 The bad
Sure, it's delicious... but food is about more than just the food. Even ignoring the cost issue (East London's not exactly free these days), West London is a victim of its own past success, and feels as though it's somewhat stuck in that past. Restaurants are outdated (even the new ones), spontaneity is tough when any good place is booked two weeks in advance, and far too many places still put out vaguely clubby tunes just a touch too loud, or quiet enough you can hear the sounds of the kitchen two floors down.
Even its attempts to appropriate the edgy cool of the East has left it feeling like a pale imitation; street food that's been neutered, domesticated, and served on a silver spoon. And another thing -- the West seems to have forgotten about those great-but-not-going-to-change-your-life type restaurants. While cute spots like The Truscott Arms and The Shed are great, there need to be more.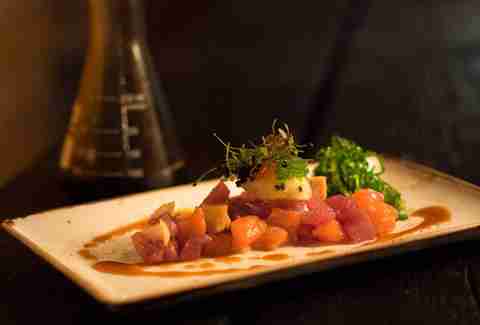 EAST
The personality of East London is about as subtle as a freight train, with some fascinating fashion choices, lots of reclaimed wood, and tattoos as far as the eye can see. Being the epicenter of the Next Big Thing means the culinary envelope is regularly pushed with mixed results, while old favorites still stick around to keep the bar set high (here's looking at you, St. John). 
The rise of Shoreditch in the early 2000s has led to a nuclear-level boom in the East London food scene, and the Hipster Industrial Complex has kept new places, concepts, and pop-ups popping up like a well-olive-oiled machine ever since.
The good
Bleeding edge is king out here, and phrases like "no reservations," "exposed light bulbs," and "seasonal/organic/grown by virgins under a vow of silence" are thrown around with alarming casualness, all in the name of having the coolest spots in town. And with places like On the Bab, Rotorino, and Lyle's, the East actually does have the sack to back up these claims (and to make you overlook and accept some of the shark-jumped attributes).
That isn't to say that the East can't raise to the occasion, too. The Clove Club, The Chancery, and Typing Room all show us that they clean up real proper as well -- even if some of their ingredients might inspire a skeptical glance or two.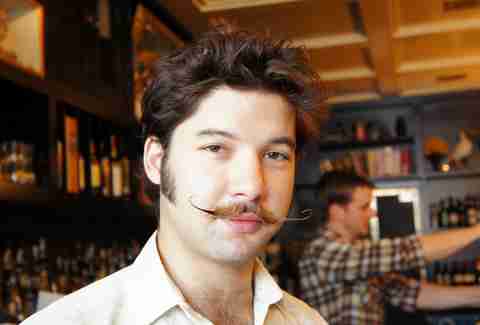 The bad
With everyone trying to become the next culinary cult, some concepts go a touch too far, and end up with terrible food and worse service. Sorry kids, having jaw-dropping ink is not enough to make you an awe-inspiring waiter. The nature of cool requires experimentation, and the nature of experimentation is that you see a lot of failure. 
Also, as was noted earlier, East London isn't exactly cheap anymore. The people who made it cool to begin with have been priced out, and areas like Shoreditch run the risk of turning into Vampire Weekend's third album: commodified, unexciting, and likely to end up in a Kia advertisement.
Conclusion
West London has, for centuries now, been the dominant force in the capital's food world, and even today, the quality hasn't dipped... but this is East London's day in the sun. After the pivot point of the 2012 Olympics (and probably before), it has for the first time since about the Middle Ages, overtaken its richer, posher sibling with a food scene that is just consistently better and more interesting right now. It's so good, it's raised the game of the entire city. Long may she reign. 
Sign up here for our daily London email and be the first to get all the food/drink/fun in the city.