Dining alone can be cool (seriously!), but dining with friends is awesome, and therefore by extension, party dinners are surely the greatest thing of all time -- so we scoured the capital for the very best venues where you can reach this higher festive plane.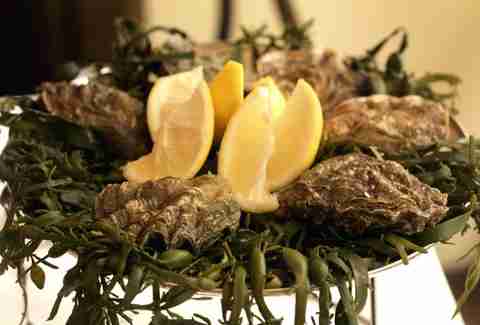 Hix Oyster & Chop House
Doing pretty much exactly what it says on the tin, the Oyster & Chop House will put on a private party for up to 35 peeps, and'll feed them with pearl factories (from a selection of about half a dozen native varietals coming fried/fresh) & chops like Tamworth farm pork, hanger steaks w/ bone marrow, or veal cooked in sage butter. If even that won't sate your heaving appetites, then you can also get a suckling pig.
Viet Grill
If you give this recently refurbed & reopened, bright Shoreditch diner a couple of days notice, then you and up to eight accomplices can get yourself a huge table laid out w/ Saigon suckling pig & lobsters (for a mere £38 per person), or a yet-more-reasonable seven-dish beef feast.
Lady Ottoline
This Bloomsbury-based gastro is from the dudes behind the award-magnet The Princess of Shoreditch, and follows in her footsteps w/ two floors of polished Victorian splendor. Head upstairs, and you'll find a private room where you can land yourself and 16 buds a banquet in the form of either a caramelized apple-sided pot-roasted whole suckling pig served in its juices, or a 24hr-braised whole haunch of venison, Scotch broth & dumplings, and finally a whole roasted lamb shoulder.
1 Lombard Street
Come for the Michelin star, stay for the private dining area that literally has its own kitchen, has iPads on the tables to serve as menus/drink ordering devices, and boasts its own silver service meat trolley. Previous years have seen them bust out a party-feeding Tudor roast; that's a 14 bird-within-a-bird feats, starting with a quail, moving up to a teal, wood pigeon, and mallard, then finishing up with a peacock, and an American wild turkey... that's all stuffed into a goose.
Boundary
This quintessentially French spot comes courtesy of Terence Conran, and the whole resto is indeed decked out like it were a super-nice Habitat store, and's topped by a sleekly minimal heated rooftop, which is closed off from the elements by wraparound window panes that give it a view over the whole of East London. Get a group up there, and you can find yourself dining on sumac & melon roasted baby chickens, grilled lobsters, and whole sea breams.
The Red Lion and Sun 
So, this Hampstead gastro is so good with its feasting, they even have a spit roast menu. That's right. Choose from either a whole Welsh lamb, an 80kg hog, or if there isn't an entire division of you, just a suckling pig, then get it flanked by up to nine sides like honey roast carrots, hand-cut chips, green beans, etc.
Tramshed
In a huge hall dominated by a Damien Hirst formaldehyde-tanked cow & chicken, there lies a private table set in an elevated, balcony-like space at the end. Here, loftily perched private diners can fully play out the whole ethos of the restaurant, and fill their table with just whole roast chickens, or huge cuts of beef, ranging from single-seeing ribs, to gigantic 1kg porterhouses for three, all of which, by the way, are hung onsite in a damn Himalayan salt chamber.
St. John
They have a Michelin star, and've been in the top 50 restaurants in the world for a decade now, and they're here to provide you with a feast the likes of which you've never seen/had/vividly dreamed about before. They can create bespoke menus, with all the food coming out on huge platters, with current centerpiece favorites being a whole suckling pig (that "will feed 14-16 people") as well as roast beef on a "dripping trencher", that is, loaves of bread specially cut to soak up the delicious, delicious fat.