Londoners are going to need SOMETHING to occupy their time while waiting for the first photos of the royal baby crawling, and since most of you have likely hit more exciting milestones -- like eating solid foods and drinking alcohol -- you just might be interested in these upcoming spots that only want to make you look pregnant. Because you'll be eating a lot.
Recommended Video
Is Dessert Pizza Really a Pizza?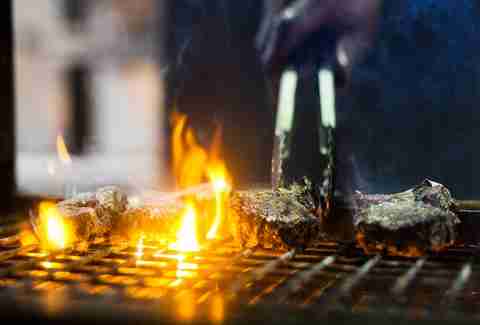 Name: Kurobuta
Opening on: September 1st
Why You Should Care: From a dude who used to slice fish both at Nobu and the gushed-over Wabi, Kurobuta's labeling itself a "Japanese-style pub", and'll feature a full bar of J-beers & cocktails, including the sake-loaded Hobo, served in a glass wrapped in a paper bag. Look for munchables like beef fillet tataki w/ onion ponzu, salmon w/ yuzu truffle miso, and warm milk chocolate doughnuts.
Name: Nanban
Opening in: Early September
Why You Should Care: The eagerly awaited debut joint from MasterChef winner Tim Anderson (after many, many pop-ups), Nanban's going to focus on non-sushi regional Japanese eats like crunchy grilled rice-balls stuffed w/ spicy citrus-rubbed chicken, and pork broth ramen with a "spicy miso butter bomb"... which you cannot re-fuse(!).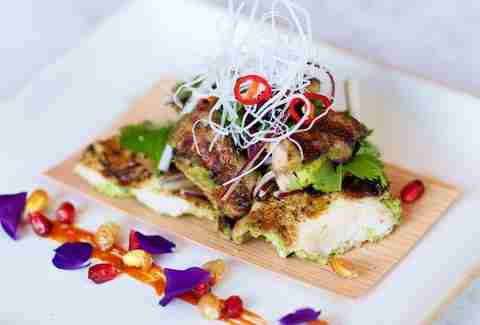 Name: Chotto Matte
Opening in: September
Why You Should Care: Chotto comes courtesy of the dude who opened Nobu in London, and thus gave the country its first Michelin-starred Asian resto. He's hoping to build on that rep, with Japanese-Peruvian fusion (that's a thing now? Okay!) coming off a robata grill for dishes like skewered BBQ pork belly, and grilled baby chicken slathered in spicy pomegranate salsa.
Name: Ruski's Tavern
Opening in: September
Why You Should Care: This Russian-style Kensington castle aims to have you "drinking like comrades, and dining like Tzars" thanks to black bread, steak tartare & caviar-layered sandwiches, cocktails served in flasks hidden inside antique copies of War and Peace, and London's largest collection of vodka, which'll be served to you "at exactly eight degrees", and which you'll serve to yourself at about 45 degrees.
Name: Grillshack
Opening in: September
Why You Should Care: From the folks that brought you Pizza East, GS is going to be an all-day-er slinging cross-counter US-style comfort eats, from burgers w/ shoestring fries, to buttermilk pancakes, to cinnamon french toast, and their own home brewed beer.
Name: Union Street Cafe
Opening in: September
Why You Should Care: In a move that can be filed under "Things That Make Complete Sense", Gordon Ramsey and David Beckham are opening a restaurant together in Southwark next month -- expect to be surrounded by post-modern sleekness, and to dribble over a daily changing Mediterranean menu of things like veal Carpaccio w/ lemon, or baked spiny lobster w/ chili.
Name: Gymkhana
Opening in: September
Why You Should Care: From the man behind vaunted Indian mainstay Trishana, this bi-level spot's going to spectacularly level-up with feasting menus; there'll be whole Goan suckling pig, Lucknowi kid goat, etc. To drink, there'll be old-school Indian punches served in wax-sealed bottles & made with coconut sap-liqueur, as well as absinthe lassis, which will make you NOT want to go home.
Name: Coal Vaults
Opening in: September
Why You Should Care: It's set in an underground space on Wardour Street -- that literally was a coal vault at one point (and after that? "The Triads took it over to their needs, after which the Koreans took it over and made it into a restaurant") -- and is decorated dark & moodily to reflect that. They'll be "matching cocktails to dishes" such as 5-hr shoulder of lamb cooked in hay & lavender, and slow-braised venison w/ sage & chestnut mash. But, whatever man, Triads used to hang here.
Name: Bilbao Berria
Opening in: November
Why You Should Care: Another MasterChef winner, Ash Mair, will be helming the London launch of vaunted Spanish Pintxo chain Bilbao Berria later this year -- the space'll be split over two floors, and'll serve Basque tapas like smoked cod, baby cuttlefish, and txakoli; a sparkling wine theatrically poured from a couple of feet above the glass, and totally impossible to pronounce after you've had a couple.
Name: Fatty Crab
Opening in: Late Autumn
Why You Should Care: This beloved NY joint is coming to the UK, and bringing with it dishes like Chili Crab, Fatty Duck (named after the resto, not 'cause it's fatty... Although duck is hardly the leanest of meats… anyway, we're digressing), and Watermelon Pickle w/ Crispy Pork Belly in a wood-hewn space.