Just a couple of years ago, there were exactly as many food trucks in London as there were people referring to vans as "trucks", but like them, we're also happy to roll with it, so we've put together this lineup of the 10 best trucks in our capital's burgeoning mobile-chow scene.
Recommended Video
New-Age Austin Barbecue from a Food Truck
Anna Mae's
Where To Find It: Kings X
What They're All About: Proudly putting out "Southern-style" BBQ mac 'n' cheese from both a converted caravan, and an '86 GMC van (the exact same make & model as the A-Team had), AM's apparently never met a pun they didn't like, slinging the Piggy Smalls (laden w/ pulled pork), the Kanye Western (an all-beef hotdog thrown on top), and the Don Macaroni w/ crispy bacon & pesto.
Bell & Brisket
Where To Find It: UCL
What They're All About: Bringing you tons of brisket (and zero bells), these dudes home-cure their salt beef, then load it onto either Brick Lane bagels or rye bread, along with a slew of pickle types (kimchi, Japanese radish, beetroot, fennel, honey gherkins, pepperoni, etc.), blue cheese, or salsa verde.
Street Kitchen
Where To Find It: Broadgate Circle, Battersea, The Miller
What They're All About: The first of the recently minted street food vanguard, SK's been crazy successful, now handling two trailers and a pair of pop-ups, from which you can get the likes of their pork belly hotdogs, hot smoked salmon (from ex-whiskey barrel chips), and crispy chicken w/ crushed pots.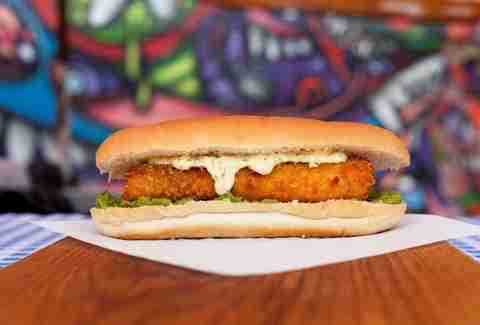 Fishdog
Where To Find It: Shoreditch, Brockley Market
What They're All About: Thankfully not a bizarre animal hybrid that would be a cat's worst nightmare, the fishdog is actually a creation of famed Chef Mark Hix; labeled as the ultimate fish finger-sandwich, it's loaded w/ mushy peas, tartar sauce, and thrown into a hot dog bun.
Spit & Roast
Where To Find It: Kings X
What They're All About: Thankfully not at all how they cook things, Spit & Roast is actually a chicken-laden rotisserie van, slinging BBQ-sauced fowl, slow roast pork belly, poutine, and buttermilk-fried chicken w/ Korean hot sauce.
Pizza Pilgrims
Where To Find It: Berwick Street
What They're All About: This van has history -- owned by a pair of London brothers, they took it around the boot of Italy stopping at a bunch of pizza spots, then loaded the boot itself with a self-built pizza oven, and used the skills they'd learned to start slinging sourdough discs of their own in Soho. The mark of quality is in their simple marg, which is incredible.
Orange Buffalo
Where To Find It: The Old Truman Brewery
What They're All About: This truck sells NY-style wings slathered in bright orange sauces, which range in hotness from the lightly spiced Original, to the chili-heavy Woof Woof, and the Viper... which's infused with naga -- a chili so hot it has been weaponized by the Indian army to create non-lethal (and delicious!) grenades.
Speck Mobile
Where To Find It: Kings X, The Southbank
What They're All About: Despite the name, there's nothing small about the goods Speck Mobile's dishing out. They sell authentic Austrian fare ranging from your standard schnitzels and apple strudels, to rarer goods like speck dumplings and savory yeast doughnuts.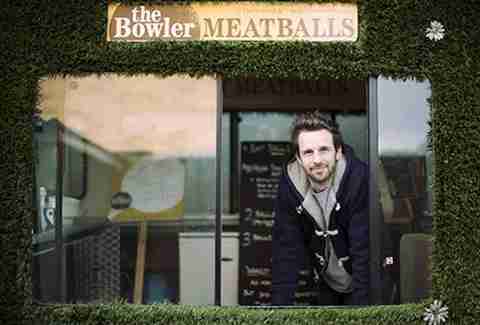 The Bowler
Where To Find It: Camden, Brockley, The Gherkin
What They're All About: Hats off to The Bowler, who's multi-award winning meatballs come in a bewildering variety of ingredients (beef, chicken, pork, lamb, game, fish, vegetable; if it can be made spherical, expect to find it), and an incredible consistency of high quality.
Sorbitium
Where To Find It: Dalston Yard
What They're All About: An ice cream-slinging dessert truck, the folks behind Sorbitium laugh scornfully at banal flavours like vanilla (ugh), bringing out seasonally changing menus loaded with the likes of salt caramel & bourbon crunch choc-ices, Sherry-poached apricot sherbet, and dark chocolate & chipotle chili (which handily soothes the tongues it's just burned).