Claws, margaritas, and doughnuts in South London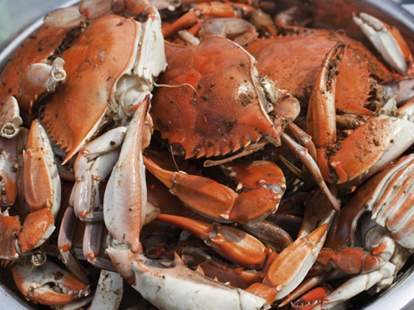 Because getting crabs shouldn't always lead to a reevaluation of one's lifestyle choies, Crab is King's an epic night of crustacean consumption that's the brainchild of the New Cross Dining Co, which wants to bring East London's vibrant dining scene to a more accessible, not-East London location.
The event will take place over two nights in early May (the 10th & 11th) on a "hilltop" South London location, and will see all manner of crabbiness served communal-style across huge tables.

So what will they be serving? Um, only soft-shell crab burgers w/ harissa & avo, Maryland crab cakes w/ saffron Hollandaise, chilli crab cakes w/ wasabi mayo & pickles, and crab sticks w/ aioli, all of which will likely scuttle your plans to not stuff yourself.

For dessert, they've thankfully eschewed crab in favor of sweet street trader You Doughnut!, whose unholy approach to the treats leaves them as bites, rather than rings, and smothers them in salted caramel sauce, toasted pecans & pistachios.

Refreshments will come mostly marg-style, from the classic, to lager-itas, to cucumber-style, and even some served in massive jugs -- though a couple of those are what led to the crabs in the first place.