Psychic Burger: Aged beef burgers & smoked fried chicken
We know what you're thinking: what is this burger, where can I get it, and how come you never see baby pigeons? The answers to all of the above are Psychic Burger, Psychic Burger, and because they only leave the nest when they're full-sized.
So, getting the important stuff out of the way first: PB is filling the space above Birthdays in Dalston (taking over where Rita's left off). Their signature self-labeled meatwiches are made from a blend of chuck steak & aged fore-rib, which is slathered in "psychic sauce" & Jack cheese, then sided with an onion ring half the size of the bloody burger.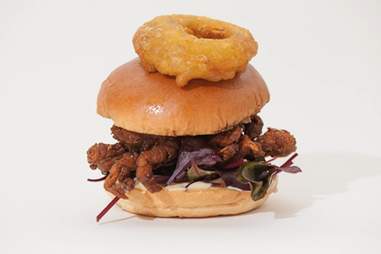 Other bunned treats include this here soft-shell crab number, which has two of the crustaceans loaded between the brioche. And there's that onion ring again!
Beyond buns? They'll sort you out with a whole brunch menu of gin-cured salmon bagels, or some green eggs & smoked pork belly (Sam-I-Am would totally have straight-up said "yes" to that).
There's also this smoked fried chicken, which you can wash down with the likes of that pomegranate margarita, or a tequila/beer/lime combo called the "Mind Sweeper", though we don't need to look into your head to see your tongue hanging out.