Top-level fried chicken in Kentish Town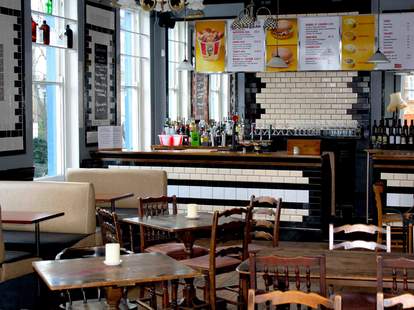 Because rabbits' feet probably taste kinda gross and don't have much meat on them, the burger kings behind Slider Bar have brought you Lucky Fried Chicken; a Kentucky-style popup on the upper floor of Kentish Town boozer The Grafton, where for the next three weeks they'll be slinging a menu almost entirely consisting of crisp-skinned poultry.
Birds are doused in spice-bolstered buttermilk for several hours before being served up with proper Country Gravy, and come cased in cardboard ranging from a two-piece box, to a 15-piece bucket, to a huge 21-piece barrel, which they boast is "perfect for church functions", for a Catho-lickin' good time

They'll also spot you a bunned number w/ bacon & cheese, as well as a Wednesday-only special of gizzards & livers.

And for the days when you can't get the liver of a chicken? Treat yours to some tapped Camden Hells, or 'tails like this super-fresh Cucumber & Elderflower Martini

You'll also find this Gingerbread Old-Fashioned, made w/ lemon & Scotch, after which you may feel like you're about to get lucky… just don't count your chickens.