After spending eight years on the other side of the globe, award magnet Bruno Loubet is back in Blighty with The Grain Store; a King's Cross resto whose eclectic menu knows "no geographical boundaries" (there's even a section for deserts! Oh, wait...).
Recommended Video
Fried Chicken & Waffles Gets a Colorful Indian Twist
To add to the variety, you can even spring for a "Surprise Menu", which is a list of surprises you can choose from five-/six-course tasting menu chosen for you by the chef -- at only £30/35, it's a pretty surprising value, too.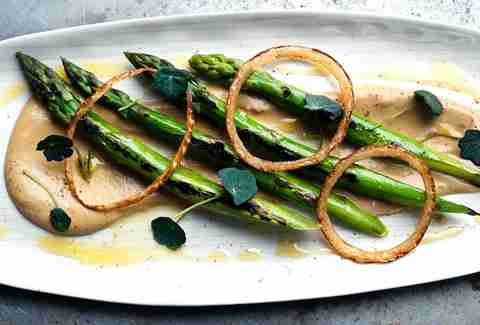 So: what to expect? Well, how about globally influenced small plates like this seared asparagus doused in gazpacho sauce, as well as some crudités w/ a "cashew & yeast dip and olive soil" that you can plough into.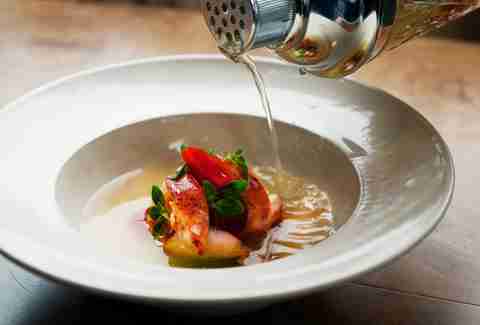 As plates get bigger, they become even more wide-ranging: you can get anything from this peach, salted watermelon & basil salad w/ salmon confit in chilled broth, to a corn tamale w/ sticky pork belly, to kimchi cabbage & stuffed chicken wings steamed in a lotus leaf.
To handle the equally ambitious drinks, they've looped in famed booze-smith Tony Conigliaro, who'll be mixing up martinis using truffle-infused sherry, plus a drink made w/ self-brewed Butter & Hay liqueur, which shockingly isn't consumed through a straw.
One side of the resto looks out over Regent's Canal…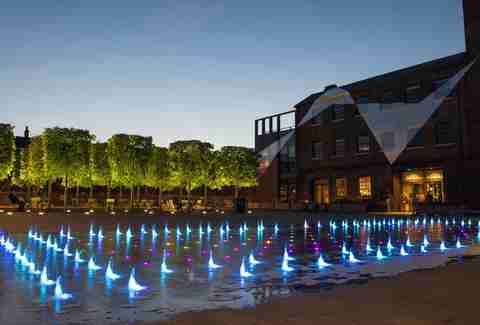 … while the other gets a view of the newfangled Granary Square, which's counting on regular events, open-air movies, and restos like this one to make their dough.
Previous Venue
Next Venue
Venue Description
1. Grain Store
Granary Square, London, N1C 4AB
Grain Store, yet another restaurant by famed chef Bruno Loubet, serves up world travel-inspired eats from cuisines that span the globe, in a Granary Square-adjacent space. The menu centers around vegetables, reimagining them in inventive and colorful ways that excite the palatte. Think: a corn and multi-seed tamale, prepared with grilled vegetable salsa and pork belly, and for dessert, fresh strawberries topped with fennel pollen and goats' milk pannacotta. Reservations usually need to be made a month in advance, or, you can plan to arrive early and grab an aperitif drink at the associated bar next door.