After many years of suffering tube strikes -- and that moment of terror when you realize that you just missed the last train -- we can all breathe a collective sigh of relief: 24-hour tube service has finally arrived in London. Well, kind of. With two lines rocking it in the wee hours, and many more to come, we no longer have an excuse not to stay out and carpe the hell out of that diem. While you still have to go home sometime, you can at least take the edge off the inevitable by ordering up a seriously good late-night snack at one of these spots...
Soho
Armed with two locations on Old Compton St -- a restaurant that's perfect for when you want the party to keep going, and a cafe ideal for when you just want to sit and unwind -- Balans has long been a household name in the after-hours crowd. The restaurant serves a full menu of food and cocktails till 5am from Monday to Thursday, and 6am Friday to Saturday in a massive dining room that feels like a slightly subdued version of Pride at all times. The newly revamped cafe, which is located more towards Charing Cross, is open 24 hours and is always more chill, with only one table in 10 emitting an occasional Woooo!
Dalston
Set above dance spot the Dalston Superstore, Voodoo Ray's keeps the party going NYC style with massive pizza slices, ready to grab and go. Stop in here and enjoy the killer soundtrack, as well as the huge selection of flavours on rotation, like the Rubenesque (salt beef, sauerkraut, Russian dressing, and Emmental) and the Green Velvet (artichoke hearts, green olives, sunblush tomatoes, mozzarella, and green pesto), plus the mega list of drinks. It's all available till 1am on Thursdays, and 3am Fri-Sat.
Chelsea (& other locations)
Their original Chelsea location has long been pulling in the posh late-night party crew, which enjoy the fact that this 24-hour operation offers surprisingly great-tasting food at all hours of the day. Having recently expanded to Bloomsbury and Notting Hill, this place is spreading its minimalist, diner aesthetic throughout the city, and continues to offer up everything from breakfast classics like eggs Florentine to bigger plates like fish & chips and chicken Milanese.
Leicester Square
One of the nicer casinos in town, this place really packs a punch with its six bars, including the two-tiered smoking terrace (which is naturally paired with a conveniently located bar)... and a 24-hour menu that's better than most daywalker restaurants. Imagine eating chicken & coconut satay and USDA rump steak with caramelized onions at a bar at 4am -- and having them be actually really good. This is a reality at The Hippodrome. If you really want to embrace the lush life, check out their Heliot Steak House, where the glam gets ramped up to 10 with four to six week dry-aged steak, Millionaires Mac & Cheese (topped with black truffle and a duck egg), and grilled lobster skewers.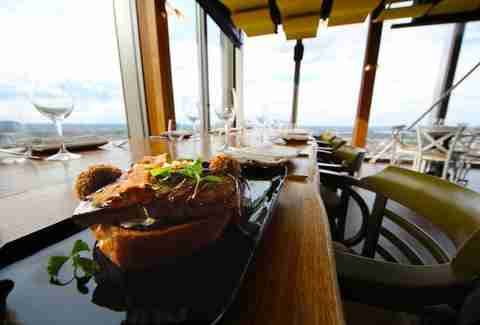 The City
Sitting on the 40th floor of the Heron Tower and overlooking pretty much all of East London, D&W serves up delicious Brit/Euro fare 24 hours a day, including their signature crispy confit duck leg served atop a waffle, covered in mustard maple syrup. The space itself looks clean-cut and pretty sexy, and the cocktail bar has some inventive combos from the genius mind of Bar Director and award winner Richard Woods. Give the Breakfast With Hemingway cocktail a whirl, which is comprised of Bacardi carta blanca, citrus blush, maraschino liqueur... and is served with a side of burnt toast.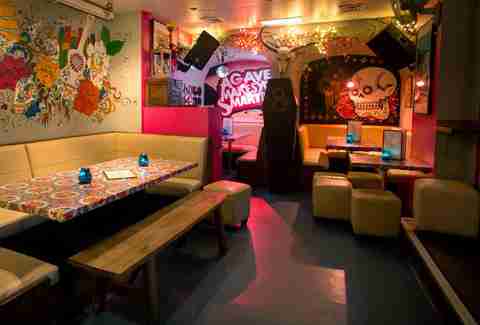 Soho
While people fondly (if fuzzily) remember El Camion's agave-soaked micro bar, The Pink Chihuahua, most probably don't realize that the Mexican spot at ground level keeps serving till 2am Wednesday through Saturday. Cooking up authentic eats from Baja California, like tacos, tostadas, enchiladas, and burritos, this is a perfect place to people watch and give yourself some much-needed ballast to help navigate those insane stairs down into late nights and tequila-fueled excellent decisions.
Soho
With only 27 bar stools, this rebel cousin to the Polpo gang is dark, edgy, and freaking delicious. Following the usual Russel Norman formula of young, tattooed, and utterly charming, the staff like to have a good time while serving up small bites like courgette fries, truffle egg toast, beef & bone marrow sliders, chicory, and Jerusalem artichoke salads, and their epic ice cream PB&J. As usual, they don't take reservations, but they serve till 1am Thursday through Saturday, and midnight the rest of the week.
Holborn
Housed within the effortlessly cool Hoxton Holborn Hotel, this Soho House Group-run eatery is exactly what you need after a night of drinking when you don't feel like facing the the local kebab joint. Hide out in a leather booth and fill your ravenous self with ricotta toast, patty melts, kale caesars, and decadent puddings, like their s'more sundae and Key lime pie. You can order up snacks until 1am Thursday-Saturday, midnight Monday-Wednesday, and 11pm on Sundays.
Bricklane
Ignore the students spilling out (sometimes literally) onto the street, and keep your eyes on the prize here: those super-fresh bagels and hearty salt beef, served with a good dollop of mustard and pickles that will figuratively save your life literally 24 hours a day. There's always (day or night) a bit of a scene here, but trust that this spot offers up the best damn meal for under £4 in the city. Pro tip: there are two of these shops a couple doors down from each other -- one is Yellow (Beigel Shop), one is White (Beigel Bake). People get seriously opinionated about which is best. We recommend giving them both a shot, but we'll let you guess which one's our favorite.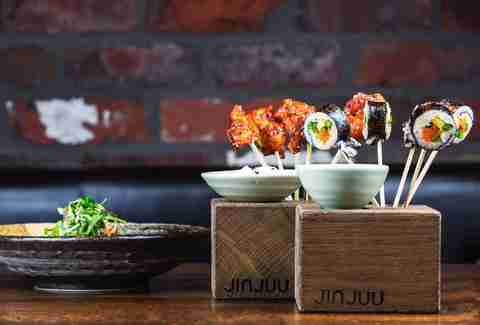 Soho
This Korean diner tucked inside Kingly Court just off Carnaby St has a lot of things going for it. The first London outpost from Korean American TV celebrity chef Judy Joo, it's all casual eats and late-night DJ's on the main floor, but downstairs, it's all about the theatre of the open kitchen. Serving till midnight Mon-Wed and 1:30am Thurs-Sat, you can snack on their legendary Korean fried chicken, freshly made dumplings, and Mexi-mixed carnitas fries, while sipping on reinvented classic cocktails like the Koffiene with cold brew coffee, Buffalo Trace bourbon, chocolate bitters, banana, and orange.
Marylebone
While the epic queues have finally quieted down a touch (people would wait in a physical queue for hours in the bitter cold when they first opened), this original temple to meat and booze is still doing a roaring trade. From from early till late, diners come here to stuff their faces with the classic Dead Hippy burger, cult-inducing Monkey Fingers, and their legendary chili cheese fries till 2am on weekends or midnight during the week. Make sure you try their famous twist on a classic: in their New Cross Negroni, they've swapped the Campari for its lighter sibling, Aperol.
Shoreditch (& other locations)
While a far cry from the grab-and-go slices of the NYC streets, this hipster pie spot from the Soho House Group makes crispy, addictive pizzas that are perfect when you find yourself at midnight remembering that you skipped supper in favour of booze. While the hours of their locations are all a little different, they'll sort you out at least till midnight on the weekends, all in the midst of a fashionable party atmosphere where everyone around you is so damn beautiful.
Chinatown
Work your way past the massive bouncer standing outside the jade door located between windows full of Peking duck and dumplings, navigate the stairs, and find yourself in a seriously civilized dim sum and cocktail palace with a million small nooks and crannies. You'll certainly be paying for the privilege here; it's opulent and refined, and compared to the madhouse this area becomes on the weekends, it's an oasis. Fill up on posh dim sum till 2:30 Fri-Sat, while downing acclaimed cocktails. This place really is late night dining at its finest
Dalston
In the former Manero's space on Kingsland Rd, the late-night vibes continue through the back of an old phone box. With Spanish tapas and beverages on hand to keep you satisfied till 5am, don't be surprised if you find yourself blinking in the rising sun upon exiting in summer. While often food is an afterthought for late-night spots, they take their tapas seriously, with plates like roasted octopus with Mojo Picon, Ginger Pig potted ham hock with piccalilli, and grilled mackerel with sherry garlic and almond dressing.
Sign up here for our daily London email and be the first to get all the food/drink/fun in the capital.