Our portly American cousins didn't become our portly American cousins by skimping on breakfast -- they do it big, and they do it well, and then they cover it all with bacon and maple syrup. Here are the best London spots to get a hearty colonial heart-clogger in the morning...
Various locations
So, when your places are named after an American movie, and have the word "breakfast" in them, they need to deliver the waffle-y goods. And thankfully they do, with a whole menu section devoted just to pancakes. They also house a few secret bars, too...
What you're getting: Ham So Eggsited -- ham & cheddar layered between a stack of pancakes and smothered in maple syrup
Carnaby Street
After making her name by slinging cupcakes, Bea Vo has turned to stacks of meat and a range of pancakes that would make a gluten-free person weep. The pancakes themselves come with the likes of chocolate chips, blueberries, or roasted strawberries, and their French toast is made from Balthazar brioche. 
What you're getting: Some Buttermilk Marinaded Fried Chicken and Waffles. Yes, fried chicken, for breakfast.
Westbourne Grove
Slide on into one of its green leather booths and slip into a slightly updated version of a '50s East Coast diner. With walls covered in Americana, you won't believe you're just down the road from Notting Hill. Its pancakes are straight-off-the-griddle good, with either blueberries or banana.
What you're getting: The breakfast burrito sounds Mexican, but is very definitely American. And delicious.
Notting Hill
Tucked just off Portobello, this tiny cafe has been there since pretty much the dawn of time. This traditional greasy spoon is about as classic as they come, with a tiny takeaway bit  at the front, and portion sizes that could sink a ship. 
What you're getting: Their French toast uses doorstop bread, and they cover it in bacon & maple syrup.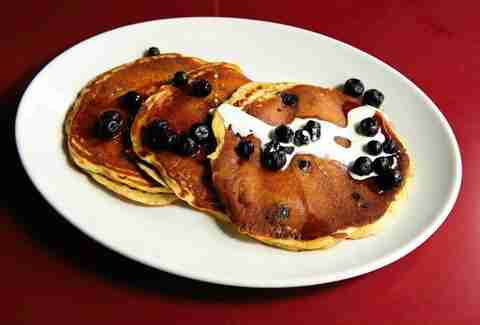 Spitalfields
This offshoot to the Smithfield location is a little smaller and just as well known for its breakfasts. While it has a whole range of lighter stuff, go for the Lumberjack Stack with the triple threat of a pancake, French toast, and a waffle; throw on some crispy bacon and you'll be good for the next long while.
What you're getting: The Lumberjack Stack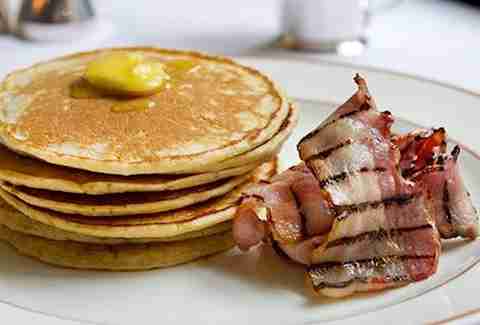 Mayfair
White tableclothes, brown leather booths, and an open kitchen all scream Mayfair. Their Banoffee waffles & cream, however, screams "Land of the free". 
What you're getting: Either the Banoffee waffles, or their pancakes w/ bacon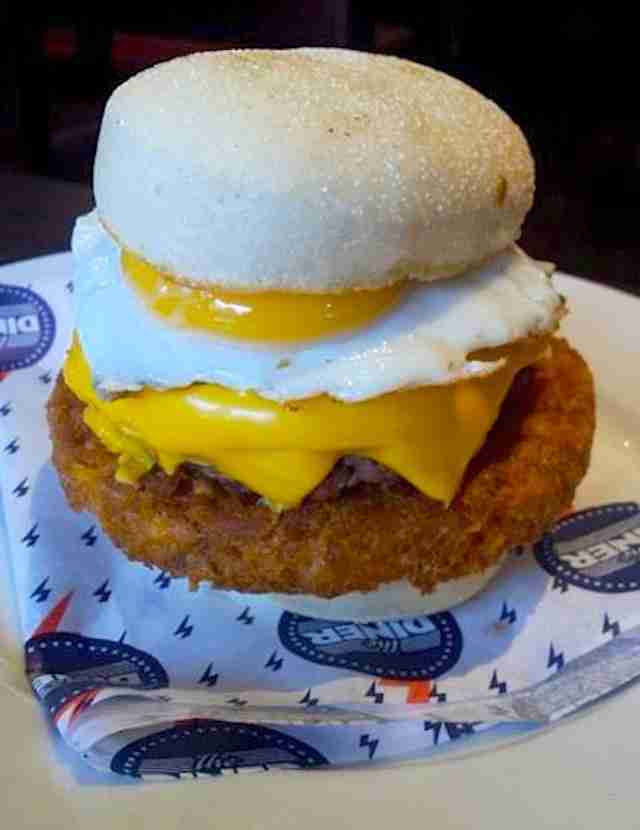 Various locations
Comfy leather seats, endless filter coffee, and breakfast served all day. The Diner Breakfast Muffin is what you're here for, however, customizable with a fried egg, sausage patty, hash browns, and cheese, sandwiched on an English muffin -- suck on it, golden arches. 
What you're getting: The Breakfast Muffin, however you want it
Aldgate
Sitting high above the rest of the city is one of the better breakfast spots in town. Why? Because this place is A) named after a delicious breakfast food, which you can order, and B) open 24 hours, so your breakfast can come the night before, should you be so inclined. 
What you're getting: The "Full Elvis" Belgian waffle with PB&J, bananas brûlée, and cream
Sign up here for our daily London email and be the first to get all the food/drink/fun in the city.