Fun fact: in Spanish, the word "burrito" literally means "little donkey." Another fun fact: in London English, the word "burrito" literally means "insanely delicious custom-filled tortilla blankets that are now served in so many spots that we all could really do with a neat round-up of the best ones." Well, we did the donkey work, and put together just that...
Various locations
What you're getting: Grilled chicken
Started by two guys with a burrito obsession in '09, it's now branched out with six locations. Obviously it's doing something right. The burritos are delicious, and it even has some pre-made grab-and-go wraps if you're crazy busy.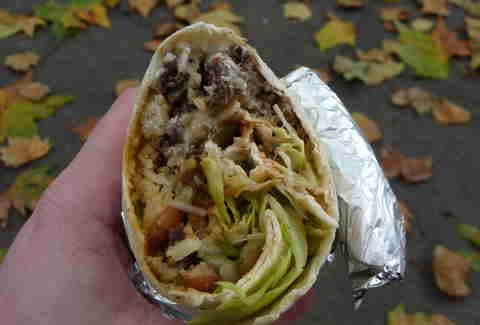 Various locations
What you're getting: Grilled steak
What started as one small food stall has grown into a mini burrito empire with several stalls and even a little takeaway joint by Liverpool St. It's expanded its menu a touch with both the traditional Mexi-meats as well as some good ol' fashioned Southern-style BBQ. As if you needed your decision to be any more difficult. The steak is particularly spectacular after being marinated for 24 hours and cooked to a nice medium rare.
Various locations
What you're getting: Pork pibil
As the Wahaca empire continues its march across the capitol, it's rather quietly also opened a couple small burrito takeaway windows in White City, Canary Wharf, and Charlotte St. And yes, its legendary pork pibil is available.
Various locations
What you're getting: Super-Slow Braised Pork Carnitas
Its Carnitas are braised with balsamic vinegar and black pepper, sure a little modern, but damn tasty. The vinegar isn't really noticeable, but cleanses your pallet from the pork nicely. Another cool thing here -- its little cylindrical parcels come in two sizes (regular and baby), meaning if a food coma is your destination and you fancy trying multiple flavours, they can totally get on board.
Various locations
What you're getting: Barbacoa burrito, always with extra guacamole
When this US-based chain first came to London, it was welcomed with open arms by some expats with the hopes that just maybe the Mexican cuisine they fondly remembered had arrived. While the UK version has received mixed responses, it's raised the profile of the humble burrito across the city to new heights. The barbacoa pork, slowly braised with chipotle chili adobo, cumin, cloves, garlic, and oregano, gives the perfect amount of saucy heat to keep your mouth wanting more. Pro tip: always, always get guacamole. Life is too short.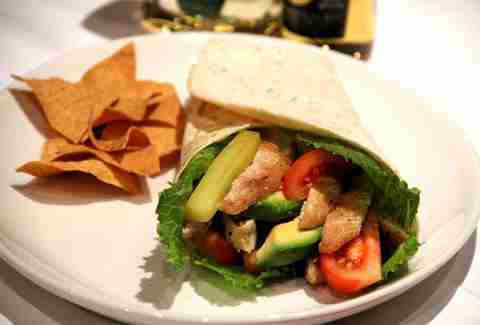 Fitzrovia
What you're getting: Chicken mole
Traditional Mexican restaurant Mestizo was lacking one thing: burritos. Luckily they finally realized the error of their ways and opened a little takeaway shop, aptly named El Burrito. While a touch on the smaller side, the flavours are bold, and there's an excellent percentage of meat involved. Its mole sauce is a real star here, with over 20 ingredients cooked real slow, leaving the meat juicy and perfect.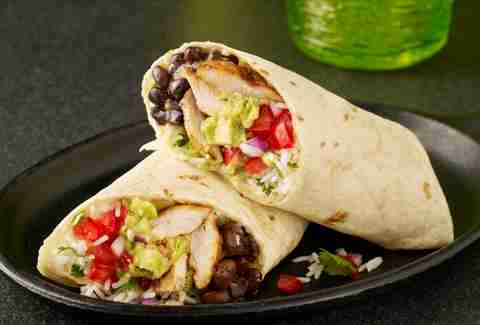 Various locations
What you're getting: Braised pork
Chilango's pork is gently marinated and braised, leaving the meat insanely tender. The guacamole is superb. And the service is suuuper quick, averaging two minutes. In fact,  you can order straight from its website or on your phone to grab and dash if you're running tight on time.
Farringdon
What you're getting: Fajita Burrito with shredded beef
Another story of a food truck done good, Daddy Donkey notoriously has queues out the door and down the block. Lucky for you, it is one well-oiled machine, firing out burritos as fast as one might expect a well-oiled machine to do such a thing. The Fajita Burrito subs out black beans for sautéed onions and peppers, giving you one of your five a day and really giving a chance to let the succulent beef shine.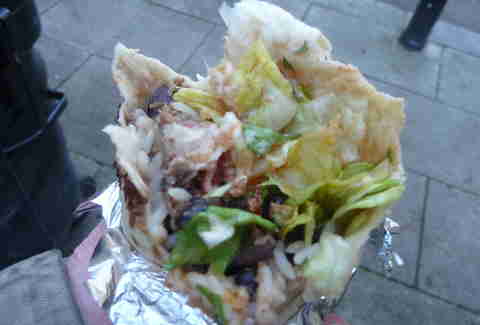 Various locations
What you're getting: Chipotle Beef
Hard to miss in their distinctly bright vans, they shine like beacons of deliciousness. The Chipotle Beef is braised and ridiculously amazing, with a bit of smoke and spice. If you want to up the anti a touch, be sure to load on a portion of chorizo for that extra kick.
Sign up here for our daily London email and be the first to get all the food/drink/fun in the city.