Tea & biscuits. Pie & mash. A kebab & like, six beers. Some classic culinary combos should never be torn asunder, but perhaps no two menu items ever had a marriage quite like that of fish & chips. That's why we did the delicious research, and tracked down London's eight finest chippies...
Angel
What you're getting: The haddock
When former executive chef of Caprice Holdings ditched his sweet gig opening restos for other people to try his hand at his own place, people were kinda' disappointed to hear that it was going to be a fish & chip shop. Very quickly, that disappointment turned into a crunchy, lip-smacking silence. Using some local Camden Hells to make the batter that extra bit better, and an extra-spicy house tartar to give it some punch, the fish is pretty much bang-on.
Clapham
What you're getting: Sweet potato chips
With deliveries 2x daily, their fish is so fresh you might need to slap it -- they're importing a wide selection of specimens to choose from at their wet bar, this is the place to go off the beaten path of cod, and try haddock, plaice, and even coley in their flaky, honey-golden batter, all sided by unorthodox, yet bewilderingly satisfying sweet potato chips.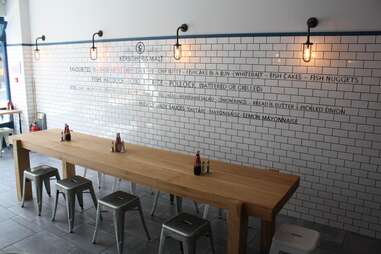 Hammersmith
What you're getting: Pickled onion rings
Often considered the benchmark in new chippies, K&M have a live stream CCTV in their kitchen so diners can see the swimmers (cod/haddock/pollock/plaice either battered of grilled) being prepped. Their attention to detail is further brought out by the sides -- chips are twice-cooked, and the signature rings are made with pickled onions.
Muswell Hill
What you're getting: Cod and sticky toffee pudding
Family run since '68, these guys use a special refined ground nut oil to fry their scaley beasts -- people have become such devoted followers, the drummer from Iron Maiden flew the staff out to Florida to teach his local how to make their fish. Save room for dessert too, as their sticky toffee is worth every painfully over-eaten mouthful.
Camden & Brick Lane
What you're getting: Classic cod
Since Pat Newland -- aka Pop -- of Poppies has been dishing out the classic combo since '45, it's fair to say he's devoted his life to the stuff. Recently they were voted the UK's best Independent Fish and Chip Restaurant at The National Fish & Chip Awards, so needless to say, they also have quite a following. The cute waitresses in '50s nautical dresses don't hurt, either.
Calk Farm
What you're getting: Plaice in matzo meal
After many years of being in the sweets game with Mille's Cookies, it came as a surprise when Mario Budwig turned to the fried and flaky adventures of a chip shop. Now, he's slinging fish cooked in a special matzo meal coating, while keeping the entire thing at under 500 calories. Before you start thinking this is a health conscious chippie (shudder) or anything, consider that they have a deep-fried Mars bar on the dessert menu.
Southwark
What you're getting: Haddock with mustard crust
One of the most classic, no-nonsense institutions of the fish & chips scene, Masters is loved by cabbies, blue-haired ladies, local office workers, and people on the hunt for a very good bit of fish, which is bought daily in the wee hours at Billingsgate. The service is notoriously gruff, but that's part of its charm, or something. Besides, it keeps tourists away.
Victoria Park
What you're getting: Crab cakes
While Victoria Park may be a bit of a no man's land -- unless going to a festival, that is -- this squeaky-clean, yet charming shop is how the up-and-coming do fish & chips, and they're doing a damn fine job. Tackling both the take away classic as well as a whole sit down number, the House is also a welcome spot for brunch when you wake up with bleary eyes and a craving for greasy goodness.
Sign up here for our daily London email and be the first to get all the food/drink/fun in the city.