Until the restaurant scene converts entirely to burger places (which, at this point, seems deliciously inevitable), there's still a need for new restaurants. But knowing which are the best of the bunch can be tricky -- unless someone helpfully assembles them for you that is...
Recommended Video
Art of the Meal: Chloe Rose Makes Super Mario Bros Art With Hot Sauces
Peckham
Playing host to only the finest things in life, FQ's packed the walls with beautifully restored classic arcade games (we're talking Pac-Man, Donkey Kong, Street Fighter II and  literally a dozen more), a ton of craft beers (Beavertown, Partizan, Weird Beard, etc.), movie screenings, music, and of course food, including a BBQ for grilled German brats, burgers, and more.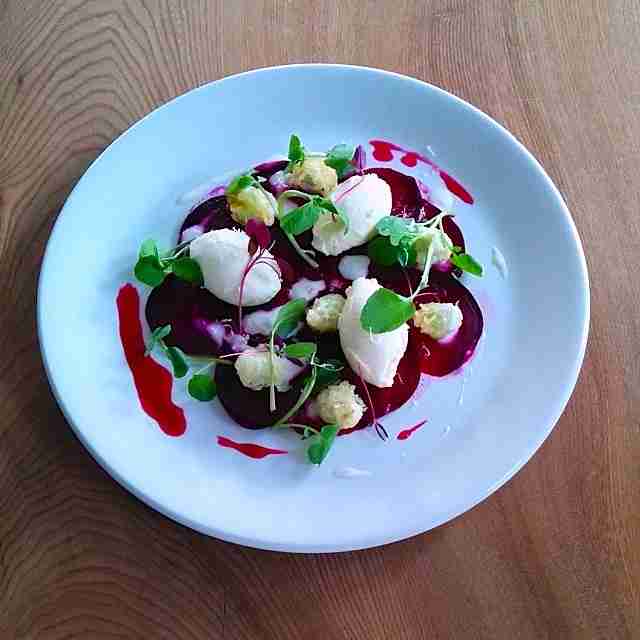 Hackney
All hail the holy trinity of wine, cheese, and meat, because Verden -- set in a former Hackney pub refitted with a starkly modern Japanese/Scandinavian design -- is selling all three, from house-made charcuterie like smoked coppa, cobnut & red wine salami, to local & European cheeses like Ticklemore and Berkswell, all drowned with a 100+ wine list. You can even knock a tenner off the bottle price and take one home if you want, along with pretty much any of their foods, too.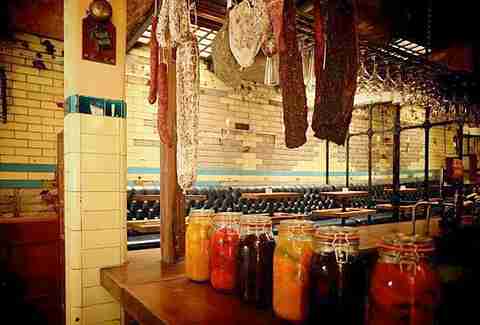 Clapham Common
Now the idea of drinking in a toilet might only bring back hazy memories of uni, but trust us -- this is one loo that you want to hang out in. After two years of hard work, the 100-year-old public facility located just next to Clapham Common station has been given one hell of a facelift and now is a wine and charcuterie (WC -- get it?) joint. Menus change daily (but always feature quality like Stinking Bishop, and wild boar salami), and despite the small size, they've got an outdoor space and have even planned live musical acts.
Camden
There is very little that feeds the soul better than crispy buttermilk chicken, po'boy sandwiches, house-smoked ribs, and shrimp hushpuppies. Good thing The Bayou, which has just opened its doors just off Camden High St, is serving them all. They're also slinging American beer, bourbons, and cocktails (like their signature Proud Mary w/ mezcal, tomato, and dill), as well as hosting live musical acts like honky-tonk piano & real-deal Zydeco.
Stratford
Sure, it's only two years after the Olympics, but Stratford is finally rubber-stamping its awesomeness with places like this -- set in a warehouse-style space slapped right on the canal, it's buttressed by a massive terrace, and their seasonal menu (which serves until midnight!) changes frequently, and features the delicious likes of pollock in almond sauce, or some roast pork shoulder w/ duck fat potatoes.
Notting Hill
The latest addition to the Russell Norman empire, small Venetian plates now come to West London. Get your mouth busy with their spinach, Parmesan, and soft egg pizzette, fritto misto, and now-famed meatballs, washed down with Aperol Spritzes and all the Italian wine you could hope for (outside of Italy). The staff is, as tradition demands, heavily tatted, and the space retains the stripped walls & unpolished steel of its sister joints.
Knightsbridge
Knightsbridge is but the latest lucky neighborhood to now enjoy one of London's finest steaks, but given that they didn't exactly suffer a shortage of cow-cuts to begin with, this most recent addition to the meaty empire bolsters their menu with a few seafood-ey surprises, incl. Singapore-style deviled lobster (there's curry involved) and raw citrus scallops w/ chilli & ginger.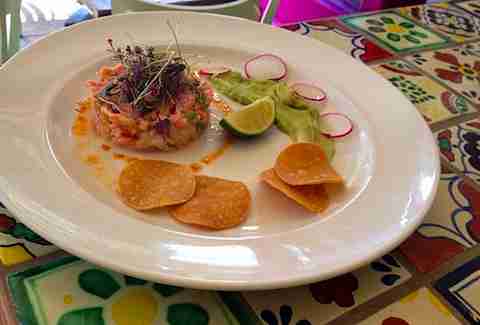 Clapham
Just opened next to the Common, Comensal prides itself on solidly authentic Mexican goodness like soft-corn carnitas tacos stuffed w/ meltingly braised pork, or their signature mole, made to the owner's Mother's recipe. Drinks-wise, they're using their dozen tequilas/mezcals to mix house cocktails like the pomegranate & hibiscus Mexican Cloud, or their tequila/spice-loaded Pepino, where -- get this -- they hollow out a halved cucumber and use it as a glass.
Covent Garden
After one cookbook, and seven years of waiting, Barrafina has finally opened a second joint, and this time with a much bigger space, meaning it might be easier to get a table. There are still no reservations of course, though if you do end up waiting, you can still score some of their amazing small plates/drinks. The menu remains much the same, although they have exploited the larger space to add a huge Josper grill to the kitchen for exclusive, coal-fired goodness like spiced char-grilled chicken wings and huge Iberian pork ribs. 
This list -- and all the rest -- look even sexier in our iPhone app. Get it now!