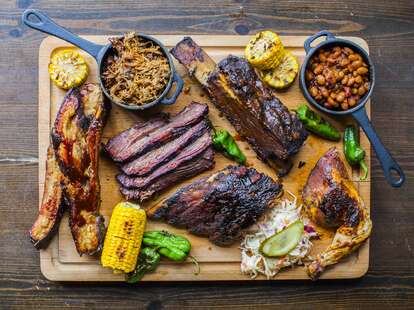 Restaurants are like busses; they're filled with oysters, it's great to be able to get a seat, and they don't work well in analogies -- but London's got some of the best in the world, and eight new ones have come along all at once...
Marylebone
From the folks behind Burger & Lobster, Beast essentially one-ups its surf & turf theme by putting out set menus strictly centerpieced with both Angus steaks (ribeye, on or off the bone) and Norwegian red king crab (which are comically huge/delicious. Seriously, one serves four people.).
The lavishness of the food is buttressed by the space itself: a gigantic dining hall filled with sleekly minimalist communal banqueting tables lined with lit candelabras, sort of like a less-stabby Game of Thrones, which is appropriate, because the eating gets messy. There are basins scattered about the room to wash your hands, and bibs for each diner.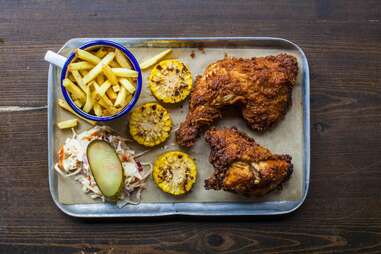 Shoreditch
After a half decade of ironically making the residents of Camden feel anything but blue, Kitchen has cut the ribbon on its East London location, and it's fantastic. Set across two floors (one of which houses an entire '50s Airstream trailer), there'll be live music literally every day, a bar swelling with one of the biggest bourbon selections in the country, and a Southern US-style kitchen -- overseen by a three time UK BBQ champion -- putting out burnt ends, smoke-roasted chickens, and short ribs that you'll soon be longing for.
Dalston
Proudly slinging the batter without the battery, BIRD's fried chicken is all completely free-range, and comes with optional glazes (honey-ginger, Buffalo, etc.), dipping sauces (BBQ, soy-garlic, buttermilk ranch, etc.), or in the form of a glorious bacon-loaded, maple syrup-kissed, chicken & waffle burger. And to get a little extra delicious mileage out of that fryer, they've also slapped a "Doughnut Hatch" onto the front of the building, serving coffee & sugary yeast treats from 8am.
Shoreditch
Taking a classic British approach to the menu & the space, Merchants upscales them both, thanks to smoothed out wooden fittings, leather booth seating, and parquet floors to match sustenance like deep-fried oysters, and crispy lamb's tongue salad w/ scorched onions. To drink, they've rustled up some house 'tails such as their Negroni, which uses grapefruit bitters & twists, as well as a rotating "sharpener of the day".
Dalston
Butcher's shop by day, resto by night, H&S is the work of a former Allens of Mayfair man, who takes an extremely farm-to-table approach to his art. There are no rezzies, and at 7pm each night the central marble butchery block becomes a communal dining area, where its former occupants are returned in the form of bone-in sirloins, ox cheeks w/ bacon & ale, and whole roast lamb legs.
Liverpool St
From now-a-legit-celeb-chef Jason Atherton, Social's the latest in his high-class pseudo-chain, this time however, he's thrown it on top of the 24th floor of Tower 42, where the views are accompanied by similarly lofty menu-fillers incl. lobster w/ duck fat chips, and smoked salmon w/ celeriac spaghetti & Exmoor caviar (you read that right, it's caviar... from Devon). The cocktails, meanwhile, have some pretty insane ingredients (from clear almonds, to strawberry paper, rhubarb bacon, and one simply listed as "British Summer") to make things like their "Vermouth? You can't handle Vermouth!" whose four types of herbal wine go toe-to-toe with a slug of rye whiskey.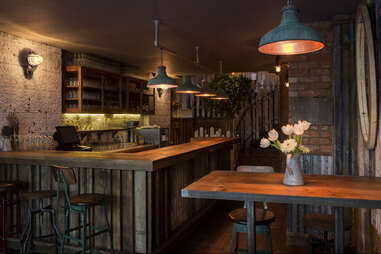 Fitzrovia
You know how award-magnet Dabbous is so fully booked it might as well be a library? Well, now Barnyard exists. It's from the same chef, it's just around the corner, and it's completely rezzie free, meaning the longest you'll have to wait for a table is the length of a couple of drinks at the bar. And as for those drinks, you can score a Barnyard Iced Tea (tea, lemon, whisky, beer), a bourbon-loaded popcorn milkshake, or even some damn mead. When you eventually hit the table, expect BBQ short ribs w/ mustard & black treacle, roast suckling pigs, and acorn flour waffles w/ chocolate & malt.
Vauxhall
Merely popping up for the time being (on weekends from May 23rd 'til July 6th), Dram'll be serving Scottish dishes from a custom whiskey barrel smoker (!) along side single malts and barrel-aged beers (!!) in a South London steelyard (!!!). In an apparent attempt to be the most Scottish thing ever, the food includes haggis bon bons, smoked venison haunch, and deep-fried Mars bars w/ shortbread ice cream ...and Irn Bru.