8 of the best winter pop-ups in London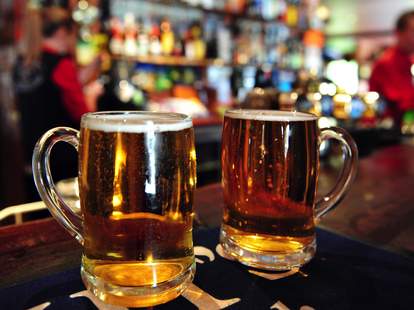 Usually when something pops up for more than a week, you should go and see a doctor -- but not this winter, because there are at least eight temporary spots hitting the capital that'll cure pretty much whatever ails you (so long as it's boredom/an empty stomach).
Popping up: Sept 12-Dec 20
What's the deal? The Kitchen Theory team is back and this time with a Nordic twist. Taking a nod from Noma in Copenhagen, expect an on-point seasonal menu filled with delicate flavours and a touch of molecular gastronomy (dehydrated pickled mushrooms! Leek ash!). They always sell out, so try to snag a ticket pronto.
Popping up: Oct 22-Late Feb
What's the deal? Taking over the roof spot at Selfridges, Le Chalet is another project from Des McDonald (Q Grill and The Fish & Chip Shop). With soft lighting, timber branches, and a menu filled with fondu, schnitzel, and apple streusel, the busy streets of the capital will fall far behind.
Popping up: Oct 31-Mar 31
What's the deal? Located in a heated tent up on the roof of the Queen of Hoxton pub, this pop-up ticks all the right boxes: fire pit, cocktail masterclasses, candle-lit decor, forage-inspired drinks menu, BBQ, and pretty people -- it is Hoxton, after all.
Popping up: Nov 12-Feb 28
What's the deal? Gordon Ramsay does hunting cabin chic. Sit back amongst rugs, animal skins, and taxidermy while sipping liquid warmth in the form of buttered-rum hot chocolate and meal-in-a-glass-style Bloody Marys and throwing back wild boar sausage, for example. 
 
Popping up: Nov 14-Dec 21
What's the deal? Embrace both portmanteaus and Scandimania, and get involved with some serious, all-you-can-eat smorgasbord action, Christmas ribs, Swedish meatballs, cocktails, and Glögg (it's Swedish mulled wine). Scandies have some of the most intense winters on the planet (hello 24-hour darkness!), so they have a vested interest in making happiness-inducing food.
Popping up: Nov 19-Dec 20
What's the deal? Get the best of Scotland without having to actually go there! Crowd in for some family-style eating with a liberal selection of booze, tartan blankets, and Scottish food. Think haggis bon bons, deep-fried Mars bars, gin on tap, Buckfast (it's a fortified wine), a whiskey den, and plenty of Highlands hospitality.
Popping up: Nov 19-Jan 30
What's the deal? Ditch the trek to the mountain, and head over to the Montague Hotel where they have revamped their deck space with drifting snow, woolly rugs, and steaming-hot (frequently boozy) bevies. Get a "ski pass" and grab a winter feast as well, with turkey burgers, bratwurst, and deep-fried Camembert.
Winterville
Popping up: Dec 2-Jan 1
Whats the deal? An alternative to Hyde Park's Winter Wonderland, Victoria Park will be filled with burlesque, karaoke, roller disco, club nights, and entertainment from the guys at Rebel Bingo and performances of Cutting Off Kate Bush, which knocked people's socks off at Edinburgh's Festival Fringe. Food -- in true East London style -- is from street fooders like Anna Mae's, Voodoo Ray's, and Madame Gautier, plus a craft beer area curated by Five Points Brewing Co.
Sign up here for our daily London email and be the first to get all the food/drink/fun in the city.