London has finally become obsessed with food, and a ton of amazing places have opened up recently -- but in all the chaos, many spots have been unfairly overlooked, perhaps ironically because they aren't hidden behind a toilet, or don't serve their burgers with gravy. That's why, in the name of culinary justice, we tracked down the capital's lesser-known hidden gems, whose reputations/fame deserve more, to try and restore the balance. 
Recommended Video
Art of the Meal: Chloe Rose Makes Super Mario Bros Art With Hot Sauces
Le Mercury
Angel
Le Mercury is one of those places that you've probably walked by a thousand times, while your gut prods you and tells you to eat there sometime. Well you know what? You're gut is dead on the money. With a super-simple, "are we still in London?!" pricing system (starters at a cool £4.45, mains at £9.95 and puds at £3.94), you'll get candles everywhere, crazy-fast service, and it's still pretty easy to get a table.
Cafe Chula
Camden
Lets just get one thing straight: Mexican food in London is not going to be like Mexican food anywhere else (except Chipotle, that's like everywhere else), because it's just getting going, and feels it has something to prove -- and Cafe Chula, tucked away by the Camden Locke, really gives you its all. The peeps who run this little spot figured out real fast what's important: great cocktails (with most of the booze made with home-infused/made/loved ingredients) and blindingly good tacos, they've been somewhat overshadowed by the Wahacas of this world, and undeservedly so. 
House of Wolf
Islington
To be clear: HOW is a perfectly well-known spot. The reason it is often underrated however, is that reviewers often fail to grasp the scale of what they're trying to achieve. It's far more than just a meal. It's a Blumenthal-esque journey into a food experience. There are hidden bar rooms, mind-blowing cocktails (that you hang from your neck, or drink from a flower pot), a constantly rotating roster of chef residencies, psychological experiments hidden within the menus, burlesque acts in the music hall, and an absolute dedication to pushing the culinary envelope.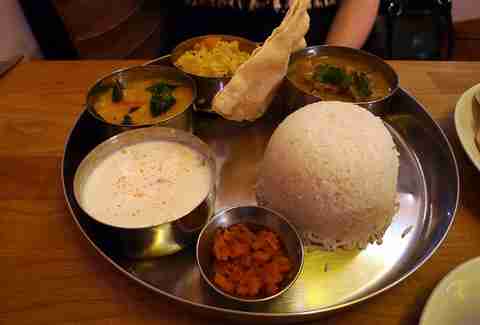 Ganapati
Peckham
Yeah, we know, Peckham isn't your first thought for some of the best South Indian food in London, but trust us, it should be. For the last 10yrs, Ganapati has been quietly surprising people with their breed of traditional eats served in a laid-back but trendy manner, like something that has been transplanted from California. We're talking Mini Masala Dosa, Andra Lamb Paratha, and Dark Chocolate Chilli and Cardamom cake.They also recently opened a little take away shop down the street as well (and they do delivery). Didn't see that coming outta' Peckham, did ya?
Mosob
Maida Hill
This small family owned resto is a bit like a walking, smiling, and freaking delicious history lesson to a country you've probably never heard of (it's Eritrea. Go point to it on a map.). With its roots in African culture, the Ethiopian influence comes as no surprise, but take a glance at their desserts -- Tiramisù Glacé? Tartufo Classico? Italy ruled them for a stint and left their best dishes behind. The portion sizes will leave you remembering all your new knowledge the next day with some delicious leftovers, too.
Tiroler Hut
Bayswater
If you lie awake at night craving more cow bell in your life, well, we have just the place for you. Seriously, Trioler Hut is famous for its live cowbell performances. This Austrian paradise is a little kitschy, yes, but they have maybe London's best fondue, some incredible schnitzel, and bloody Oompah band karaoke. Go grab a stein and join in. 
Scooter Caffè
Waterloo
Strong coffee. Strong drinks. Scooters. And a resident cat. What more could you ask for? Behind the fire engine red shop front is a cozy land of mismatched tables perfect for wasting away the morning. And afternoon. And a good portion of the evening. They have free WiFi, random movie nights, and even let you bring your own lunch -- as long as you clean up after yourself. More people should know about this place. 
Bar Story
Peckham
Bonus points for finding this place at all. Stashed beneath the railway arches at Peckham Rye station, this cocktail dive has most things covered, and a banging happy hour. They've got pizza, BBQ, and burgers (obvs), and then a cocktail list that will leave you blinking and wondering how this all comes out of a tiny bar with a fire pit (seriously) in their outside space. With a bit of an artsy following, this is a spot that begs for long Summer nights, but also completely works as a hide-a-hole from the glorious grey weather of Winter months.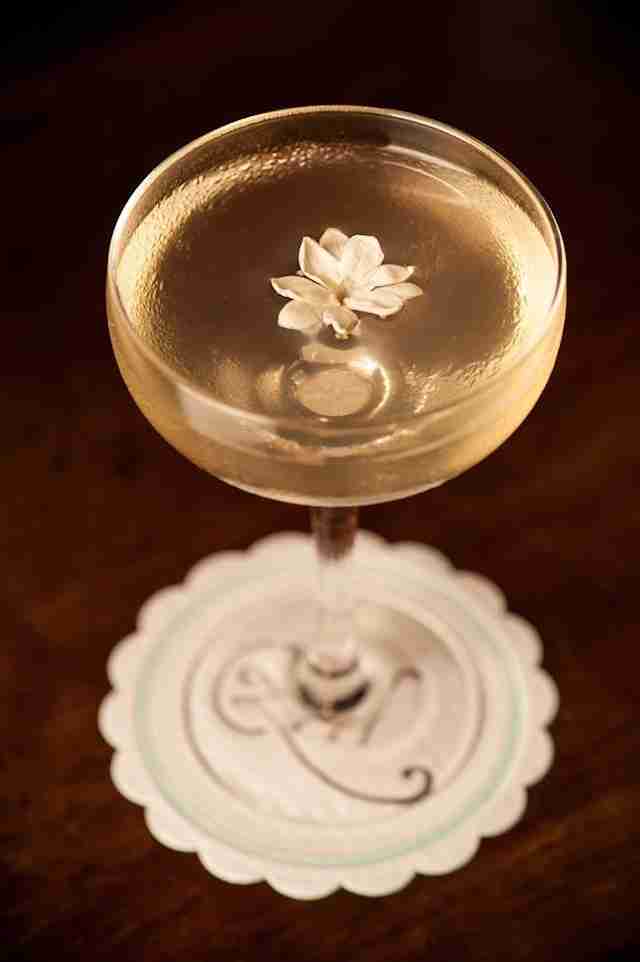 Zetter Townhouse Bar
Farringdon
Right, right, you're thinking. We already know they have a phenomenal drinks program courtesy of Tony C of 69 Colebrooke Row. We also already know that the decor gives you many things to look at (not even taxidermists have seen so much taxidermy). But almost no one who ventures here realizes that this cocktail bar has one of London's best chefs (award-magnet Bruno Loubet) in charge of the food. Sure, you could go across the street to his resto and wait a week to get a table, or you could just grab some brunch/lunch/dinner right there and wash it down with one of Tony C's cocktails.