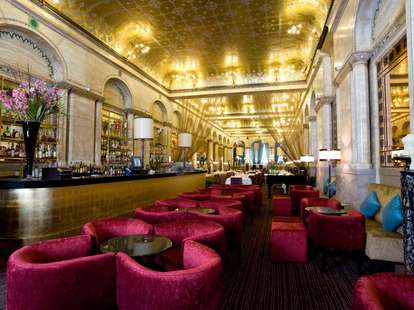 When London was founded, toilet paper would not be invented for another 600 years. Apart from how gross that is to think about, it also points to an inescapable fact: London is old. And in all the time it's been around, people have needed to eat, so we went in search of the places that served them (and are still open). Here are 10 restaurants where you can literally sit and soak in history...
Piccadilly
Opened: 1742
What you're getting: Oysters, crustacea, mollusks, and caviar
Although it's changed locations around Piccadilly several times through the last nearly 300 years, little else has actually changed. What started as a small food cart selling oysters blossomed into a fishmonger shop with an oyster counter and from there a full-fledged restaurant was established in 1840. Expect white tablecloths, a carving trolly, and a dress code. A "clubby" air still lingers around this place, although the newly renovated bar has spruced it up a bit.
The City
Opened: 1757
What you're getting: Check the daily special board
It's a bit of a mystery when this tavern transitioned from pub to restaurant, but little else has actually changed since it started as a Father-to-son gift. Called the "Oldest Chop House in London," it's got a mixed feeling of an eating hall and an old man pub (women weren't allowed in until 1916), and you can feel the ghosts of folks who lunched there in days gone by.
Covent Garden
Opened: 1798
What you're getting: Steamed Steak & Kidney Suet Pudding
Often cited as the oldest restaurant in London, it has been on Maiden Ln since Napoleon was still merrily invading his way across Europe. Starting as a humble oyster, porter, and pie bar, it quickly became a hangout for the young intellectuals of the time, solidifying its place in London lore. Over 200 years later, Rules is still keeping to its traditional roots with OTT comfortable luxury and a million staff on hand to take care of your every whim. Also, if you love game, then you'll be in good company when in season.
The Strand
Opened: 1828
What you're getting: 28-day-aged roast rib of Scottish beef
Before Angry Birds became everyone's second job, people would gather at SITS for vigorous games of chess to pass the day. Players' attention would be so singularly focused on the checkered tables in front of them, servers would bring would massive joints of meat to carve directly from a trolly to not interrupt the games. With a myriad of cultures finest having drifted through its doors like Vincent van Gogh, Charles Dickens, and George Bernard Shaw, expect top-notch service -- if not a bit stuffy.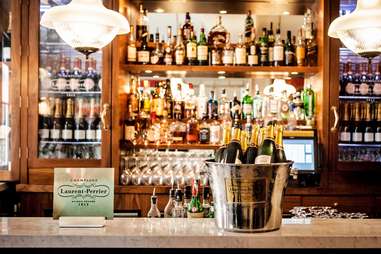 Soho
Opened: 1867
What you're getting: Lobster "Mac n Cheese"
Although it's gone though a few incarnations since Auguste Kettner (chef to Napoleon III) set up this Soho institution -- brasserie, brothel, and secret meeting place for King Edward VII and mistress Lillie Langtry, and of course the Pizza Express years -- Kettner's current setup harkens back to the 1930s, with candles, mirrors, and plenty of plush furniture. With eight private rooms upstairs and the buzzing Champagne bar, the party that started with Oscar Wilde is obviously still going.
Piccadilly
Opened: 1873
What you're getting: A steak from the grill
Opulence is the name of the game here. Marble, mosaics, mirrors -- this vast space was where Sir Arthur Conan Doyle imagined the first meeting of Sherlock Holmes and Dr. Watson, and has more recently served as a backdrop for screen classics like The Dark Knight & Downton Abbey. After several years in the ownership of Marco Pierre White (he sold it in '09), the food is still top-notch, and the menu is constantly being updated to reflect seasonal produce.
The Strand
Opened: 1890
What you're getting: Wine and cheese for days
While it's technically a wine bar, this iconic maze is so much more. With walls covered in memorabilia from the ages, faded newspaper clippings telling the story of yesteryear, and candles barely shedding light on rickety tables and chairs, people have been gathering for over a century to hide from the world while drinking barrels of wine. With nearly 20 different cheeses on hand to provide some well-needed ballast, plus some small plates of hot and cold food, you can settle into this time warp for a while yourself.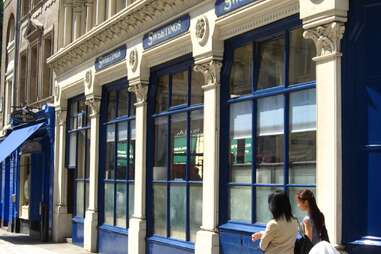 The City
Opened: 1889
What you're getting: Lobster Bisque and Dover Sole
This City institution has quietly been serving lunch to city folk, Monday through Friday, for over a hundred years. Sitting in a Grade II-listed building and smugly ignoring the rise and fall of skyscrapers all around it, it still sources its fish daily from sustainable sources, serves beer in pewter mugs, and resolutely doesn't take reservations.
Marylebone
Opened: 1914
What you're getting: Fish & chips with mushy peas
Tucked on Marylebone Ln, this no-frills chippy has been doing its thing since WWI, without much of a change. Frequently cited as one of the best fish & chips in town, it draws in locals and tourists alike, with fresh fish that can be fried or steamed and an easy BYO policy with only £1 corkage.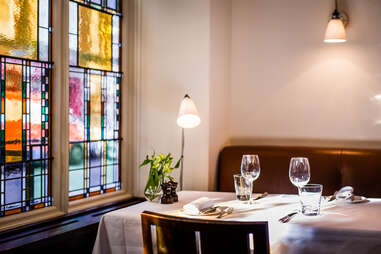 Soho
Opened: 1926
What you're getting: Squid, peas, monk's beard & wild garlic
Part private members club, part restaurant, QV has changed hands a few times over the years, including an especially rocky partnership between celebrity chef Marco Pierre White and artist Damien Hirst. Currently in part of the Hart Group (along with Fino and Barrafina), it went through a major restoration in 2008 and quickly became an easy (if not especially wallet-friendly) go-to spot for British food.
Sign up here for our daily London email and be the first to get all the food/drink/fun in the city.