London's Year In Fat: Our 8 favorite fatty foods from 2013
So, now that we've all made resolutions to go to the gym and cut down on the fatty foods (but, you know, for real this time), we thought we'd compile a rundown of the delicious, heart-clogging reasons we all needed to do that in the first place. Presenting: London's Year In Fat 2013…
The Bulgogi Fries
The Black Heart, Camden
Approximate Calorie Count: 550
The South Koreans are a pretty svelte nation, which is surprising, given that they apparently cover their fries in steak, sour cream, and kimchi. Also: why don't we do that?!
The Lobster Corn Dogs
Rock Lobsta in Mahiki, Mayfair
Approximate Calorie Count: 610
If you've never had a corn dog, it's basically the food they serve in the US that's responsible for how much everyone in the US weighs. Well, one of the things. These classy Mayfair versions take the most cholesterol-laden of crustaceans, wrap them in cornmeal batter, and deep fry them.
French Dip Burger
Dip & Flip, Battersea
Approximate Calorie Count: 651
Although you're probably already slightly fatter from just having looked at this burger, it's not even at its full calorific potential in this picture. The patty, melted cheese, secret sauce, and roast beef shavings sitting on top of it also get soaked in house-made gravy on their way to your mouth.
Fritz' Minis
The Wurst Club, The City
Approximate Calorie Count: 740
One sausage in your hot dog is normal, two is fat, three is awesome. Especially if they're covered in sauerkraut, which is technically a vegetable!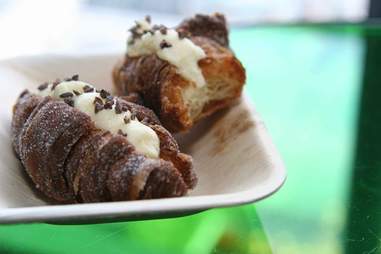 The Dosant
Duck & Waffle, Liverpool St
Approximate Calorie Count: 800
Step 1: take a croissant (which is already 50% butter), deep fry it, then jam it full of lemon cream, and serve them two at a time. Step 2: be incredibly grateful there's an NHS.

Fried Chicken
The Grafton, Kentish Town
Approximate Calorie Count: 1210
During the Lucky Fried Chicken pop-up at The Grafton, you could get a 21 piece barrel of their buttermilk-fried chicken, naturally sided by gravy.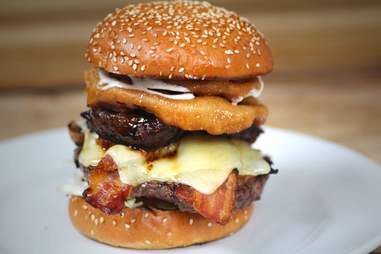 The Beef Royal
The Wargrave Arms, Marylebone
Approximate Calorie Count: 1251
This behemoth is loaded with short rib, bacon, cheese, onion rings, and mushrooms. Oh, and a burger.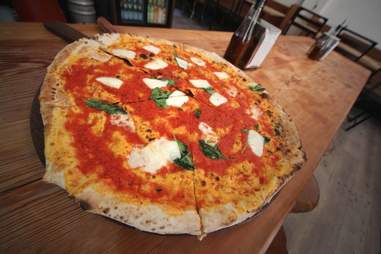 The Margherita
Homeslice, Covent Garden
Approximate Calorie Count: 4215
Taking the podium based merely on its size, this sourdough number weighs in at 20in across, and yes, you can order one just to yourself. Just be warned that if you don't finish it, you'll never be able to look another pizza in the eye again.