After a quarrel led to their head chef up-and-quitting, John Salt has now bussed in former Pitt Cue man Neil Rankin to bring his own beef to the kitchen, this time serving it as a 1k ribeye w/ bone marrow butter, plus additionals like salami-cured crackling, chicken skin hash, and whole coal-baked crabs slathered in bisque butter.
Recommended Video
It's Worth Getting Sloppy For This Grilled Cheese Taco
Previous Venue
Next Venue
Venue Description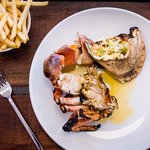 1. John Salt
131 Upper Street, , London, N1 1QP
When a place deliberately serves you food that's rotten, greasy, and certain to have you sh***ing bricks, you assume it's an Angus Steakhouse, but these are actually the bona fides of John Salt: a wood & concrete Islington warehouse pushing insane food & the booze to chase it.