This Hoxton enterprise one-ups Meat Liquor/Market, settling into a Christian mission building and keeping the classical architecture, huge stained glass window covering the ceiling, and attitude towards fruit -- and this time, making half the space reservation-friendly. The menu maintains a slew of faves (In-N-Out-honoring Dead Hippies, chilli dogs, etc.), while also adding new items like Monkey Fingers (boneless chicken pieces in buffalo sauce).
Recommended Video
Forget The Sandwich Debate. Is a Hot Dog a Snack?
Previous Venue
Next Venue
Venue Description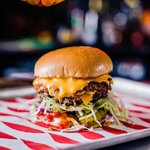 1. MEATmission
14-15 Hoxton Market, Hoxton, London, N1 6HG
Hidden just off Hoxton Square, this cult-inducing church of meat is the kind of place where no one will judge you for scarfing down your food. From the decor—classical architecture and a huge stained glass window covering the ceiling—you can see the restaurant's name is a play on Christian mission buildings. While the burgers are always delicious, chili cheese fries and monkey fingers (like buffalo wings, but with no bones to get in the way) steal the show from time to time. Feeling competitive? Ask about the fan favorite Triple Chili Challenge -- it's not for the faint of heart. This Hoxton post is from the vegetarians (kidding, of course) who brought you The MEATwagon, #MEATeasy, MEATliquor and MEATmarket.