8 new spots you need to know about right now
Bipolar weather, brown leaves crunching underfoot, and mince pies with sell-by dates well before Christmas making an appearance on store shelves: these things can only mean that Autumn is officially here. To help you through the chilly transition, we've put together a list of the eight best new bars & restos to cut the ribbon in our capital over the last couple of months...
The Flying Pig
The newest addition to the BBQ movement, Pig prides itself on its hefty lineup of craft brews, w/ 14 daily rotating taps putting out several local barley pops from Beavertown, Kernal, Redchurch, Weird Beard & more, all of which are backed up by 100 bottles from other UK hopsmiths (Dark Star, Tempest, Wild Beer, Pin-Up...), as well as European and US hop-houses. Soaking it all up is a fire-baptized menu of 'cue goodness such as pulled pork w/ maple bacon, baby back ribs, and huge cajun-spiced calamari.
Koya Bar
Koya Bar
This sophomoric offering from Koya has swung its doors right next to the original, but this time with a slightly different, more inventive approach; they'll still be serving a couple old favs (chilled udon noodles in hot broth, etc.), but in addition, they will be putting out English Breakfast (with egg, bacon, and udon), as well as a whole bunch of other newness, like venison miso, braised pork belly in cider, and even fish & chips.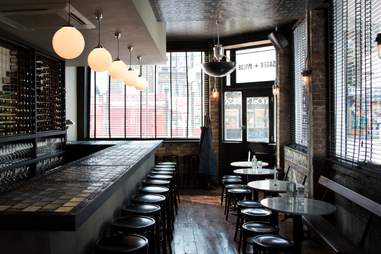 Sager & Wilde
Sager & Wilde
After a crazy-successful pop-up series last winter, husband & wife combo Michael and Charlotte Sager-Wilde have finally set up a proper brick & mortar spot out in Hackney, offering a bar full of 30-plus premium wines by the glass. The vino often comes in uber-small batches (that are thrown out of rotation once they're gone to make space for some other amazing grape-hooch), and they're also slinging a delicious lineup of cheese & meat charcuterie.
Gin Joint
Gin Joint
Situated in an area that was once known as "the gin capital of the world" (yes, Barbican. It seems so reserved now!), Gin Joint features -- surprise -- approximately 40 juniper juices, and even some Broker's on tap. Between 5pm-8pm, they offer a "Gin Democracy" (read: happy hour) where you can try any of the various bottles for £7.50, while in the food department, they've got you covered with a gin-influenced British menu for the likes of duck sausage w/ pickled shallots, scallop, and juniper.
Marianne
Marianne
After almost winning MasterChef: The Professionals, Marianne Lumb has gone and opened potentially the smallest fine-diner in London (or anywhere??) with only five tables and 14 seats. The dishes are all uber-seasonal, so right now expect rainbow chard, ricotta & Parmesan tortellini, and dressed Cornish crab.
Berners Tavern
Berners Tavern
Yet another spot from super-so-hot-right-now Chef Jason Atherton (of Little Social/ Pollen Street Social/ Social Eating House... basically anywhere social), this time, he's teamed up with Studio 54 founder Ian Schrager in the new hotel Edition -- think ornate ceilings, random portraits everywhere, massive bronze chandeliers, leather sofas, and delicious food like Orkney scallop carpaccio, chargrilled quail, and grass-fed beef.
Hoxley and Porter
Hoxley and Porter
Decked out like a '20s colonial chic adventurer's train carriage (harking back to a time when, if you were a real man, you would explore the jungle, discover a tribe, predict an eclipse, and contract a horrible tropical disease), H&P are serving up signature 'tails from their rum & gin-heavy bar, including a crazy colour-changing number (that gradually moves from blue to bright purple) garnished w/ an absinthe-coated scorpion, while the solids have cider-braised pork belly and a massive pan-fried sea bream.
Bo Lang
Surrounded by dark leather and velvet, Bo Lang backs up its crazy-sleek Chelsea atmosphere with delicious dim sum (blue swimmer crab, short rib puffs, etc.), their own house-smoked duck, and an equally slick bar-full of Oriental-inspired cocktails.