Food, booze, and wakeup juice in a Shoreditch railway arch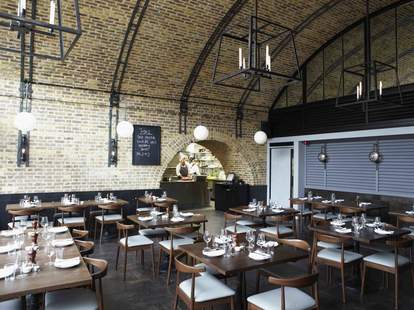 Considering it's set within a trio of Shoreditch railway arches, it's fortunate the owners of Beagle have a great track record (heyo!) with spots like Bonnie Gull, and they're putting that expertise to good use by converting said arches into a bar, resto, and coffee shop.
The cavernous interior's bare-brick walls & cast iron fittings evoke the stark industrialism of Victorian-era Britain, softened by a curved ceiling and a floor made entirely from old railway sleepers.

The daily changing menu navigates British & Mediterranean territory, with loads of edibles scorched on a wooden grill. Look out for the likes of huge beef fore ribs w/ duck-fat chips, or this whole lemon sole, w/ brown shrimp & monk's beard -- an Italian spinach-like veg that should definitely be part of your order.

Smaller-scale goodness comes from the bar menu, where they'll serve you lambs' tongues (and you know they're tasty), this beetroot & bitter leaf combo with soft-boiled eggs, or a healthy (well, unhealthy) portion of pork fries

Oh, and the bar also has cocktails! Notably this Apples & Rye (whiskey & Somerset brandy), plus more unusual stuff like a sour w/ quince liquer & fennel, or a number made w/ pine-infused gin. They even have a special section dedicated to "hangover drinks" (like their gin/ tomato/ red pepper Snapper), though, in sufficient quantities, they're all hangover drinks.

The coffee shop'll serve up pastries, plus Climpson & Sons beans, whose beverages will be more than welcome, considering the place is already filled with sleepers.