Introducing the crowdsourced (thankfully not crowd-sauced) restaurant: The Clove Club's a collab between a Dalston pop-up of the same name and a lauded group of chefs know as The Young Turks, who stood up to the Ottoman Empire with a secularist reform movement banded together and secured the funds for their eat-capade via Kickstarter-style online soliciting. The space, set within Shoreditch Town Hall, is a huge, Grade II-listed beauty, with high ceilings, large windows to match, and an open kitchen in the back, which, like the chefs, they've dressed in blue & white. The culinary crew has some serious pedigrees, having collectively served stints at Noma, The Fat Duck, St John, and The Ledbury, resulting in dishes like these radishes with what looks like cigarette ashes (but is in fact an equally addictive combo of black sesame & Korean spices) or some wood pigeon sausages, fried chicken & pine, or raw bream w/ blood orange. Hit cocktails like the Air Mail, filled w/ rum, honey & lime, or this whiskey & Italian brown vermouth'd Left Hand, or opt for craft beers like Williams Ceilidh -- pronounced "Kay-lee" -- unless you find yourself sauced, in which case it's "gimme that one!"
Recommended Video
Attention All Wine Drinkers: This Is the Pasta You've Been Waiting For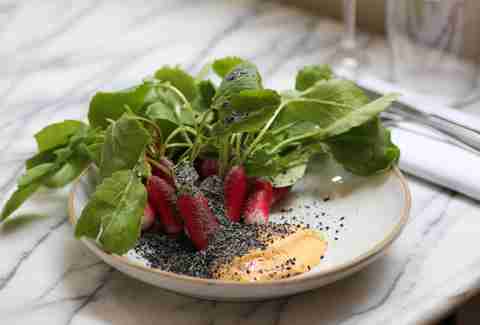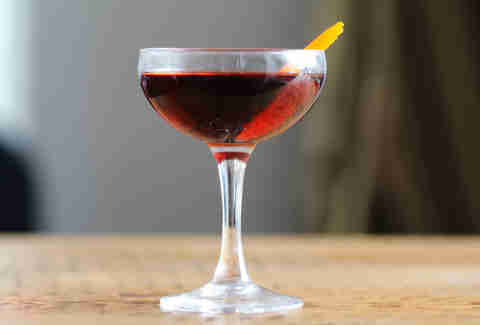 Previous Venue
Next Venue
Venue Description
1. The Clove Club
380 Old St, , London, EC1V 9LT
Set within set within Shoreditch Town Hall the Clove Club pulls off an elegant, rustic vibe with high ceilings, large windows, and an open kitchen in the back, serving up brilliantly crafted British fare and exquisite cocktails. The reservation system is a bit different—you buy tickets like you would for a show—because the name of the game here is a tasting menu; Block off a good chunk of time to get acquainted with Michelin star British cuisine like Cornish mackerel and Yorkshire suckling pig. Or, the bar menu features plenty of fantastic drinks and snacks—light and crispy buttermilk fried chicken is a must-try—you'll wish you could order by the bucketful.