Go to a world record-breaking, 193-course meal
Starter for 10: what do you call the courses in a 193-dish banquet? Because that's exactly what you'll be getting, if you head to Unearthed's gigantic, record-breaking, globe-spanning, tongue-challenging pop-up on the weekend of June 14th.
They'll actually have Guinness there to officiate for the world's longest tasting menu, on which you can taste things like this Romanian Bird's Milk (it's cool -- it's made from regular cow udders; not even a Great Tit produces milk).
The reason they chose 193 courses is, in fact, because they want to rep each country in the world (assuming those countries still exist -- *cough* North Korea *cough*) -- so you'll find obscure favourites like this "Meat Gutab" from Azerbaijan.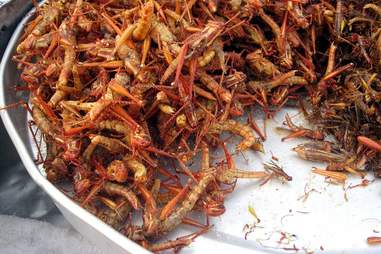 And if you're feeling frisky, why not try some Congolese grasshoppers?
If you want to attend, you can buy tickets in hour-long blocks, and feast on the likes of this Malaysian durian fruit, which, while delicious, is actually banned on public transport there because of its smell. So, uh, maybe skip that hour?