Street-food settles down in Shoreditch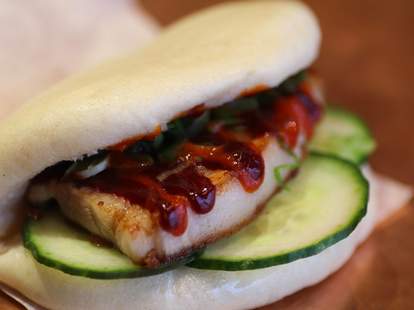 Reinforcing the ancient adage that mankind simply cannot resist steamy buns (didn't Socrates say that?), the success of award-winning street-food-ery Yum Bun has led to an inevitably delicious permanent location in Shoreditch.
The space is small but well-conceived, with a long copper bar over which the buns will pass -- turn 90 degrees, and you'll find an unmarked doorway to The Rotary Bar, where the yeast is put to a different use (the beer kind)

They're wrapping fluffy white clouds of dough around fillings like braised ox cheek to go into yours, slow-roasted pork belly to... also go into yours, and Japanese fried chicken to go into your... moving on!

If you'd like a little something extra, they'll also slap together a bento box, with two buns, miso soup, and gyoza. And if you're looking for something extra-extra, they've got ice cream sandwiches, w/ coconut meringue enveloping Sorbitium's ever-changing list of flavours (cherry & almond, Sherry & poached apricot, etc.), and marking the first time frigid buns sounded so enticing.