5 things the Pizza Pilgrims are doing better in their new spot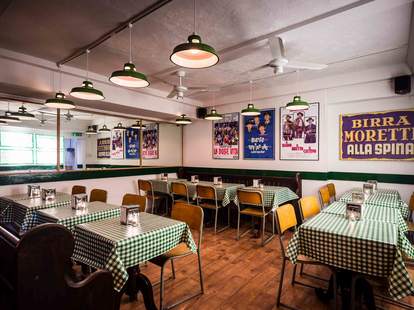 Because nothing says "pilgrims" like staying in a fixed location, the folks behind PP have finally upgraded their 'za-slinging van and opened up a permanent bricks and mortar in Soho. How are they exploiting the upgrade? Let's take a look…
1. More, better pizzas
The van only had two, maybe three, ever-changing toppings per day. The resto now has ten menu regulars, all 90 second flash-cooked in their newer, larger, hotter oven (it goes all the way to 650 degrees), including favourites like this marinara…
… plus newness like this fennel sausage and broccoli number. You'll also find an artichoke, ricotta, and smoked garlic-covered disc, as well as one loaded with portobello 'shrooms, and truffles.
2. Stuff that isn't pizza
Their pizza selection wasn't the only thing that got an upgrade -- salads and snacks now have earned themselves a spot, such as this Panzanella (a traditional Tuscan bread salad), and a Fennel Grissini with prosciutto.
3. Refrigeration
Modern plumbing and refrigeration (!) means that they can now put out desserts too, such as these mini gelato cones (from Gelupo, naturally), or a Nutella pizza ring. That's right. Nutella pizza ring.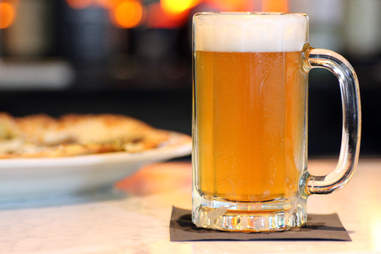 4. Booze!
They've got red/ white wine and Prosecco on tap, and they're serving their draught Italian beer in frozen mugs.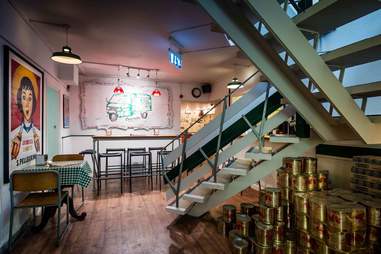 5. Space
Finally, as an added benefit, you can actually sit down in this huge, bi-level space, because sometimes you just want to stay in a fixed location yourself.