Classic Fulham pub gets a Michelin-starred overhaul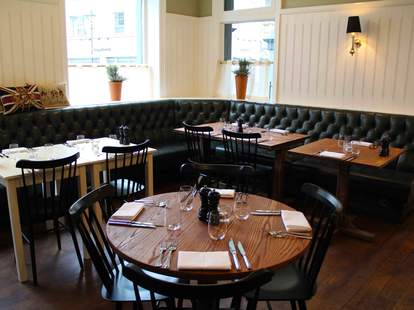 From the double-Michelin chef behind Wimbledon gastro The Fox & Grapes (which actually did turn out to be totally sweet, and even kinda foxy), Malt House's Fulham boozer has now gone similarly classy, with a cleaned-up interior and fancied-up food

The whole spot's been given a polish, w/ fresh wooden furnishings, a steep bartop, and a big screen for big games, which is ironic given that it's in Fulham (zing!)

The daily changing menu sees Anglo-French stalwarts like this mutton hotpot w/ apricot, plus a bavette of beef toasted in hay, and some poached Cornish pollock w/ black grapes that will make for some very Happy Mondays.

For dessert, get yourself this dark chocolate delice (French for "ultra-rich mousse") w/ bay leaf ice cream, or perhaps a Yorkshire rhubarb & cardamom trifle that'll go by gums quite nicely.

Of course there's a hefty wine list, plus classic 'tails like this mojito (Hello? More limes please... ), and half a dozen beer taps.

Like the Fox, there are also some simply furnished, traditional inn rooms upstairs, just in case the grape juice proves a little too sweet. Hopefully you already found someone foxy.