The 8 Best New Restaurants in London
The London restaurant scene is competitive, and occasionally a few of the older spots get sent to a farm where they have room to run around and can play with lots of other snack bars. In their place, a bunch of bright-eyed, bushy-tailed new spots line up to fill your belly. Here are the best right now...
Fitzrovia
Did you know that, outside of the US, France has more McDonald's than any other country? Well, you do now. Burgers have become insanely popular across the Channel over the recent years, and now their love of the beefy bun is beginning to spread. Fernand is one of the more vaunted burger joints in Paris, so prepare yourself for a Charolais/Angus blend patty (cooked blue, if you'd like) covered in unpasteurized cheese, and some grilled courgettes...
Joe's Oriental Diner
Chelsea
From Scott Hallsworth (of Kurobuta fame), Joe's is a strange mix between a dive and a pan-Asian restaurant, serving top-notch food -- duck leg red curry, short rib rendang buns, Singapore chilli lobster, etc. -- in a dark & moody atmosphere. And it's all on the Kings Rd, no less.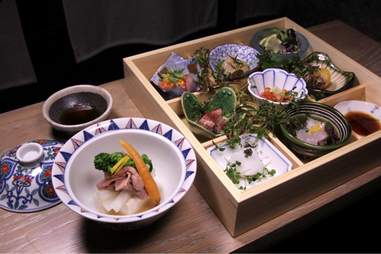 Courtesy of John Charles Media
Soho
Proudly labeling itself "The Kobe beef restaurant," Engawa serves essentially, just that. Expect melt-in-your-mouth Kobe rareness like the Kobe Daikon (slow cooked with dashi), the Yukhoe (thinly sliced and garnished with grated yam), and of course, the good old-fashioned steak.
Soho
Founded by three ex-Hawksmoor chefs, the Blacklock formula is pretty gloriously simple: take meat (in the form of chops), and add fire (in the form of a cast-iron grill). It even uses an old-fashioned iron, pictured above, to press it down. And the best part? It's ludicrously cheap. A single chop costs £4, and stack costs £15. Even cocktails are only a fiver. And they're good!
Spitalfields
After honing their skills in the American Deep South, the folks at Hotbox returned to London to set up one of the most authentic BBQ joints in the capital. The meat's all brined over two days, then scorched on an oak wood fire for 12 hours before it hits the plates. Expect beef short rib, hot link sausages, smoked chicken thighs, and deep-fried Oreos to finish. Oh, and there's a hidden bar underneath.
Courtesy of Jar Kitchen
Covent Garden
From a pair of first-time resto runners (who've wisely hired an ex-Dinner by Heston chef), JK is no joke -- the place looks gorgeously wood-hewn, and has a modern British menu including the likes of slow-cooked duck egg breakfasts, daily changing lunches, and pork belly dinners w/ smoked grilled cabbage & hazelnut crumble.
Courtesy of Jago
Shoreditch
Set in a striking Shoreditch building (in a neighborhood where everything's kinda striking), Jago delivers all-day European & Middle Eastern eats, like veal cheek goulash w/ sour cream, and grilled lamb steaks w/ wild garlic & anchovy.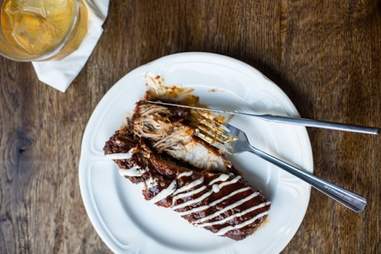 Courtesy of Bad Egg
The City
From chef/prodigy Neil Rankin -- whose illustrious career has seen him thus far work under Gordon Ramsay, Nuno Mendes, Adam Perry Lang, and head of the team at Pitt Cue -- Egg specializes in, well, eggs, throwing them into dishes like pulled pork & kimchi hash, sambal telur (w/ deep-fried eggs), and its 'nduja-loaded burger.

Sign up here for our daily London email and be the first to get all the food/drink/fun in the city.