Chinatown: we've all heard its call, and walked between those beautiful, towering gates in search of some Oriental sustenance... only to be paralyzed by choice. It's like food roulette. There are so many options, and they all kinda look like the same thing in a different dress, but take it from us, they are NOT. This street has the full gamut; the delicious highs, the stodgy lows, the finger-licking middles, and we've broken them all down for you.
A brief note before we begin: yes, when we say "Chinatown," what we mean is "Gerrard St," otherwise this article would be about six times longer. We're starting our stroll at the Northeast end (by that gate) and working our way down, then back up along the other side.

Number 48
The vibe: Family-style. The ground floor is mainly for tourists, while the Chinese eat in the basement. They also have two different menus -- black for novice, and red for expert. You want the basement if possible, and always get the red menu.
What to get: Sichuan hot pot. Chillies are king here.
Anything to avoid? Dim sum is not their strongest point.

Number 47
The vibe: This institution is a bit hit or miss, depending on your level of understanding/tolerance of their style of banter, but the food is generally alright.
What to get: It's all pretty cheap and cheerful.
Anything to avoid? Just check the bill before you pay. They seem to mix up things a bit and have been known to overcharge.

Number 46
The vibe: The last time they decorated may have been 20 years ago, but the very efficient staff gets the job done... most of the time.
What to get: Dim sum on the cheap, although the quality has been a bit hit or miss recently.
Anything to avoid? It can be good, but it's not going to blow your mind or anything. Check your expectations at the door.
Number 42
The vibe: Aside from being blinded by the purple carpet from a recent refurb, it's pretty traditional Hong Kong style. Attached to a solid Chinese supermarket, too.
What to get: Go before 5pm for some of the best dim sum in Chinatown.
Anything to avoid? Nothing! They're the quintessential all-rounder.

Number 41
The vibe: Having been around for 30 years, but recently under new management, which has been dividing their previous customers. Very relaxed -- in a cafeteria kind of way, but maybe not the fastest service.
What to get: The crispy duck does good things for the soul -- if not necessarily for the heart.
Anything to avoid? Expecting to be waited on hand and foot. They bring you food, what else do you want, your majesty?
Number 39
The vibe: Really more of a Japanese wolf in Pan-Asian sheep's clothing, Suki claims to be a mix of Cantonese, Thai, and Japanese with dim sum, however their entire top floor is dedicated to shabu shabu (Japanese hot pot), so that tells you something. Perhaps all the acting is getting on the nerves of the staff, as they're known to be less than smiley.
What to get: Top floor shabu shabu.
Anything to avoid? Stick to their Japanese options, the rest is a bit on the shaky side.

Number 37
The vibe: They went through a name change last year, but the menu, waiters, and owners are all the same. Was "meh" before and is still much the same.
What to get: Well, you can generally get a table...
Anything to avoid? Walking in to start with. Just not worth it.

Number 31
The vibe: These new kids on the block still have a lot to prove, which means they're still trying, which is a good thing! At least for now.
What to get: While they have all the usual suspects, they specialize in regional dishes that are a bit on the unusual side. Unusually tasty, that is.
Anything to avoid? So far they seem to be a pretty safe bet. Be cautiously optimistic.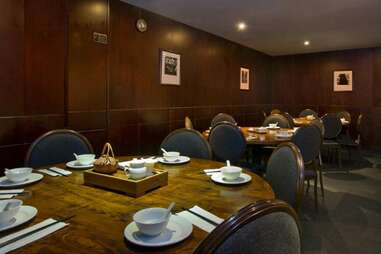 Number 30
The vibe: The second in the "dragon" triptych, Royal is one part karaoke, one part standard Cantonese resto. A touch more expensive then other places, but certainly good enough.
What to get: The Peking duck is consistently great.
Anything to avoid? The prawn crackers have a tendency to be on the stale side. It sounds trivial, but that can be a meal-ruiner.

Number 28
The vibe: It's a massive place that really tried to cover all its bases, and almost fails at all of them. It won't destroy your life, but don't expect any revelations, either.
What to get: Traditionally only do dim sum for lunch, but the Pecking duck can be pretty alright.
Anything to avoid? Why settle for middle of the road when there are other options? Just sayin'.

Number 27
The vibe: They spent the budget picking this stunning name; it's cheap as chips but still pretty reliable both in terms of food and service.
What to get: Dim sum is king here, so shoot to order pre-4:45 to load up.
Anything to avoid? Stick to weekday dining. They lose their cool a bit on the weekend.

Number 30 (We've now reached the end, and need to head back up the other side of the street.)
The vibe: This friendly favorite has been in the game for a while, with pretty great food over all, and fairly attentive service (for Chinatown that is). The fact that they have free WiFi also helps.
What to get: Crispy duck, every time.
Anything to avoid? The dim sum seems to be a bit hit or miss, but there is better elsewhere.

Number 21
The vibe: Half bakery, half buffet, Kowloon tries to be both, but drops the ball. The bakery is quite good -- but better in a take-away capacity.
What to get: Sesame balls with red bean paste.
What to avoid: The "restaurant" side. Full stop.
Number 20
The vibe: Fine dining. It's one of the nicer looking spots on the street, and the food's pretty great.
What to get: The dim sum.
Anything to avoid? It can get a little overpriced, so don't over-order. The portions are generous enough.

Number 18
The vibe: Has a bit of a cafeteria thing going on, with surly, but alright server attitude. Pretty good portion sizes, with prices decidedly mid-range.
What to get: Roast duck.
Anything to avoid? The dim sum is actually alright and quite cheap -- but the portions are a reflection of that price. As in you may need a magnifying glass.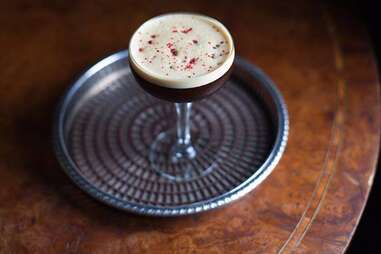 Number 16
The vibe: This speakeasy and dim sum parlor is by the same peeps as Salvador & Amanda, plus veterans of Lab -- so you know their drinks are going to be pretty stunning. Sophisticated, bordering on pretentious, but in a classy way, hidden behind a jade door with an imposing doorman.
What to get: Cocktails and dim sum.
Anything to avoid? It's great, but there's a price tag for that greatness, so just bear that in mind.

Number 15
The vibe: This massive place isn't exactly known for their service, but people love their dim sum. Too bad those little parcels of yum are only served until 5pm.
What to get: Dumplings, obviously. Specifically, Xiao Long Bao.
Anything to avoid? Going in the evening. The rest of the menu is pretty lackluster.
Number 15a
The vibe: A bit of an institution, Golden Pagoda seems to have good days and bad ones. When it's good, it's great (the service still sucks, but this is Chinatown. Get over it.) and the food is fantastic. Most often enjoyed at midnight at the end of a night drinking when you're not thinking about value for money ratio. Also, no those are not swastikas above the door.
What to get: The food is clearly tailored to a Western palate, but it's still good stuff.
Anything to avoid? Well, everything's a bit middle of the road.

Number 13
The vibe: With a fairly sleek interior, it goes without saying that they're aiming high, and almost getting there. Solid eats at quite reasonable prices. Their bakery is what gets high marks though, and perfect for grab & go scenarios.
What to get: PORK BUNS. Huge and tasty pork buns.
Anything to avoid? You can get way better dim sum in other places, but whatever.
Number 12
The vibe: The decor is a bit tired, but this isn't the type of place to be wowed by the tables and chairs. Having recently upped their prices, it'll cost you a bit, but the food totally justifies it.
What to get: Considered by many to be the best roast duck in London -- plus they debone it, unlike a lot of other spots.
Anything to avoid? Honestly, you're here for the duck. The rest is perfectly nice, but you don't order fish at a steakhouse.

Number 11
The vibe: A bit old-fashioned looking, but with surprisingly good food at reasonable prices. You may get slightly bigger portions elsewhere, but their dishes are remarkably consistent in quality. With a kind of fusion menu of Szechuan, Cantonese, and Fujianese, they're known for bringing the heat, and attempting to immolate your tongue with chilli.
What to get: If you can handle the tongue-numbing charms of Szechuan food, this place is for you.
Anything to avoid? The Kung Pow Sweet & Sour is the only weak link in the chain.

Number 10
The vibe: After having been "New" for many years, they changed hands last year bringing much sadness to their once loyal following. Now is a bit on the hit-or-miss side. Connected to a rather busy market, it would be just as easy to get the ingredients and cook at home.
What to get: Uh, screw cooking at home. Order from the seafood menu, it's pretty solid.
Anything to avoid? Overall, not one of Chinatown's best.

Number 8
The vibe: Vaguely fusion, almost fine-dining. They certainly went for the pretty factor when it comes to their food. Good thing it's pretty damn tasty too. Sure, it's not the cheapest spot on the row, and the service is only a hair above Chinatown standard, but it's a solid bet.
What to get: Their grilled scallops keep peoples tongues wagging.
Anything to avoid? Don't bother with the pot stickers. They have a tendency to be greasy.
Number 7
The vibe: It's pretty generic its design, but these guys know how to make a good duck. It won't be fancy, but this should sort out your craving STAT.
What to get: Believe it or not, their dim sum is pretty good also.
Anything to avoid? Veggies are not really their strong suit.

Number 6
The vibe: Like something out of a film, this rather ornate red and gold number, with an abundance of dragons, lanterns, and the like, is more than just a restaurant: they also do karaoke! With a good selection of songs they keep kind of up to date.
What to get: Crispy duck
Anything to avoid? The roast chicken has a tendency to be on the dry side.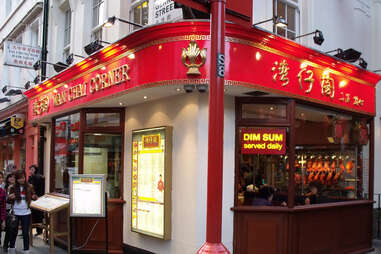 Number 3
The vibe: Previously known as China Corner, they only recently added dim sum to the menu. It has three floors with the top two being a bit quieter with a distinctly fewer amount of kids. Overall, very consistent, with less frowns from the wait staff -- although don't expect them to hug you when you walk in.
What to get: Overall, pretty good, with dim sum being the star
Anything to avoid? Leave your vegetarian friends at home (actually this doesn't just apply to this restaurant).
Sign up here for our daily London email and be the first to get all the food/drink/fun in the city.