Hog gold. Back bounty. Oink strips. Swine sweets. Pig gulps. Whatever you call it, bacon is delicious. And while having it with burgers & breakfasts are great ways to get your recommended daily intake, those are but a drop in the bacon bucket that's out there: here are eight of the best ways this city's chefs prepare it...
Bacon Naan Roll
Dishoom (address and info)
Various locations
Naan in its own right can be a pretty magical experience, but Dishoom raises it to the next level with five-day, salt-and-sugar-cured bacon, which they then cold smoke over oak chips. Throw in some chili tomato jam and you're golden.
Bacon and Egg Martini
The London Cocktail Club (address and info)
Various locations
With Raymond Blanc as a partner, it's no surprise one of JJ Goodman's signature drinks reads more like a meal. Basically a twist on a whiskey sour, he infuses the brown booze with bacon before adding maple syrup, lemon juice, egg white, and some bitters. Served with a side of bacon and a mini gummy sunny side up, naturally.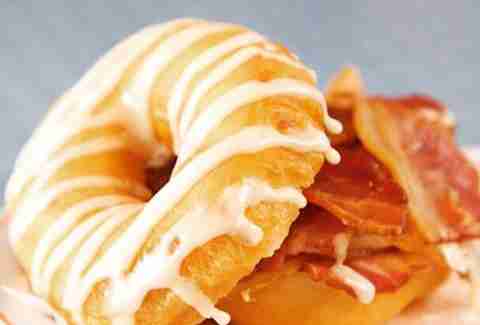 Doughnut Buttie
BIRD (address and info)
Shoreditch
While chicken may be the name of the game here, there's a piggy gem hiding out on its breakfast menu that's worth getting out of bed before noon for. They take a super-fresh (baked on site) donut and fill it with thick-cut bacon and then drizzle it all over with a maple syrup glaze.
Bacon Jalapeño Tater Tots
The Diner (address and info)
Various locations
Tater tot: a deep-fried grated potato bite. Bacon Jalapeño Tater Tot: a humble tater tot wrapped with jalapeños and bacon, then fried and smothered in a cheesy sauce, then probably washed down with a bacon-garnished Bloody Mary, too.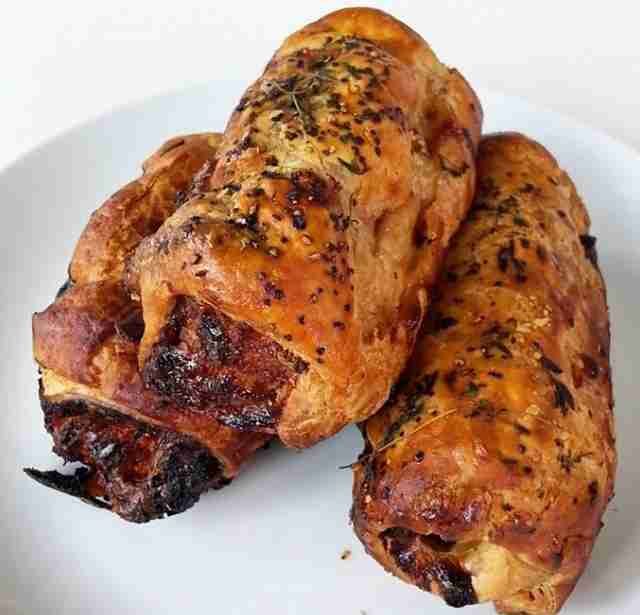 Sausage roll
Lily Vanilli (address and info)
Shoreditch
This little cake shop has so much more going on than just sweet treats. Its sausage roll is loaded with little bacon chunks, as a little bonus for surviving the Columbia Market (should you make the schoolboy error of going on a Sunday). With a cider vinegar deglaze giving you a slick finish, you'll never want to eat regular sausage rolls again.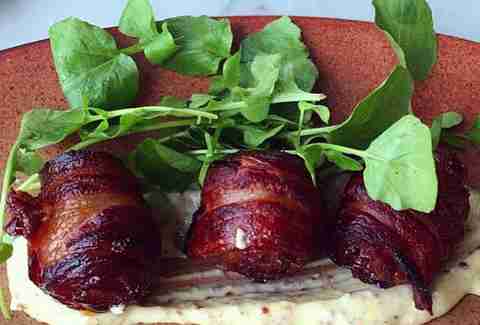 Bacon Wrapped Dates
Duck & Waffle (address and info)
Liverpool Street
Also known as devils on horseback, these little mouthfuls are absurdly good, although blindingly hot if eaten too quickly, which you will be tempted to do, because they're absurdly good. The sweetness of the dates, with the salt from the bacon & linguiça, and the creaminess of Manchego cheese combine to make a Voltron of deliciousness. Also, incidentally, a great date food.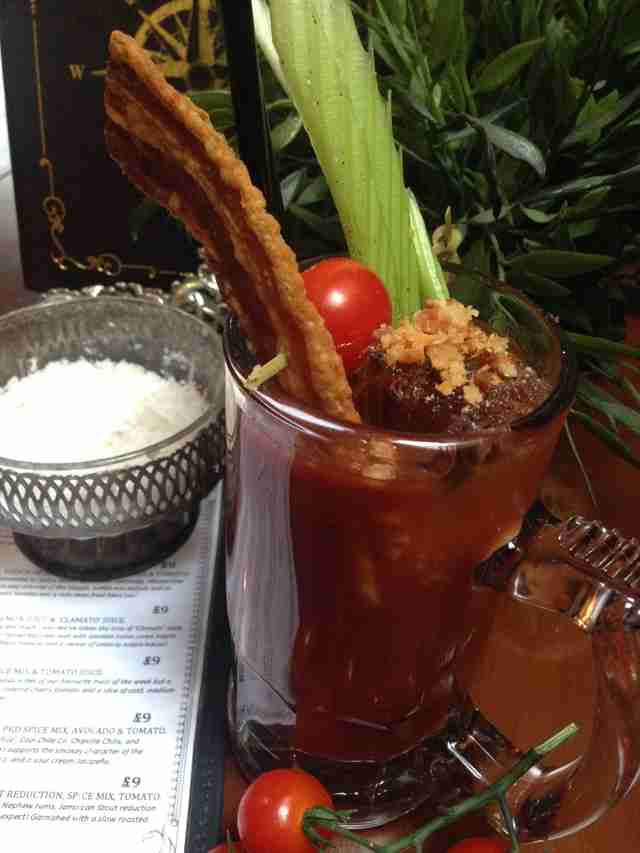 Bloody Caesar
Powder Keg Diplomacy (address and info)
Battersea
Giving a shout out to the Canadian "delicacy" of Clamato juice in the form of their lobster bisque, the PKD boys mix bacon-washed vodka, a dash of their special spice mix, a roasted cherry tomato, and garnish it all with a strip of maple-cured crispy bacon.
Candy Bacon
Mother Flipper (address and info)
Various locations
This food stall has one hell of an ace up its sleeve; it's called Candy Bacon, and its made by caramelizing some streaky goodness in maple syrup. They then add it to their (already delicious) burgers, and you add it to your belly. 
Sign up here for our daily London email and be the first to get all the food/drink/fun in the city.