Few people understand the blood, sweat, and tears that go into really good BBQ (we are of course talking about delicious metaphorical bodily fluids here, not the real, gross kind), but thanks to a recent boom in authentically Southern, US-style meat scorching, there are now a select few London spots that truly do -- this is where to get the best BBQ in the capital...
Brixton
What you're getting: BBQ 16 Hour Pulled Pork
It all started when a chef met a baker. One made amazing slow-cooked meats and the other perfect buns, and together, The Joint was formed. While they started being open on essentially random days/ times down in Brixton Market, thankfully success has settled them into a brick & mortar w/ slightly more reliable opening hours, where you can snag their delicious pulled pork, and its apple candied bacon garnish.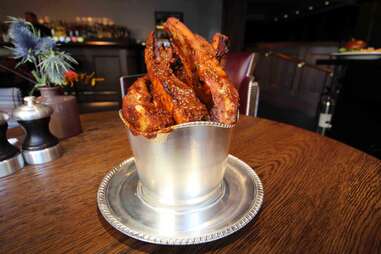 Westminster
What you're getting: Pulled lamb shoulder
Picking up where Guy Fawkes involuntarily left off, The Blue Boar has brought BBQ to Parliament. Set in a polished & buffed St. James spot, you'll find a menu of smokehouse classics including 24-hour smoked ribs (served, naturally, in a silver top hat), an unbelievable pulled lamb shoulder, and a huge carpetbagger steak stuffed with oysters.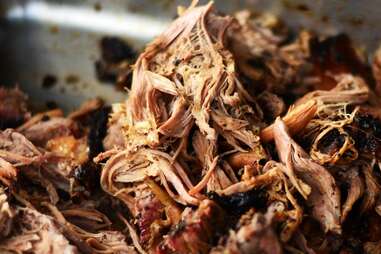 Pop-up
What you're getting: Bad Boy Beef Ribs
These cats are rovers, taking their expertly smoked meat around London to various street food gatherings. Most frequently caught at KERB and Brixton Market, they painstakingly slow cook everything with real wood smoke so the flavors run deep and the meat falls off like a prom dress. Their Bad Boy Beef Ribs are a thing of legend with the sweet and tangy taste giving way to a bit of heat from their rocking Scotch bonnet pepper sauce.
Soho
What you're getting: Pulled Pork
With only 30 seats, there is still always a queue, but you know what? Knock back a bourbon and/or one of their several beers (including a rather tasty house brew), and the time flies. Besides, once you have a plate full of succulent pulled pork with burnt ends mash, you'll forget you even waited at all. Come for the pulled pork, stay because you've eaten so much pulled pork you're essentially immobile.
Pop-up
What you're getting: Flintstone Rib
Thanks to these dudes' frankly unhealthy obsession with size, you can get a mammoth-sized "Flintstone Rib" cooked in a gigantic 4.5 tonne custom-built Texan BBQ smoker that looks like a train, where even the more modestly sized hunks of meat get a minimum of 12 hours cook-time. You can catch this monster mainly at Street Feast, but fingers crossed, they'll be branching out to other events soon.
Hackney
What you're getting: Duke's Greatest Hits
As HQ of the Beavertown Brewery, Duke's has you covered with loads of locally brewed craft beer (and a list of 50+ others) to accompany meat smoked for 20hrs over various fruit tree chips (apple, cherry, etc.), producing a sweet and strong flavour. You'll want to score one of their appropriately named Greatest Hits platters, just to guarantee you're not missing out.
Shoreditch
What you're getting: Beef Brisket
When Joe won a deal on Dragons Den to produce his Original Jerky, it became pretty clear that this dude knew what was up when it came to smoked meat. After doing the market stall game, Joe has now laid down proper roots through a partnership with BrewDog having mini homes in both the Shoreditch and Shepherd's Bush locations. Wrap your mouth around his brisket, be it on a platter, sliced, or chopped on a bun, and let the smokey goodness fill your soul.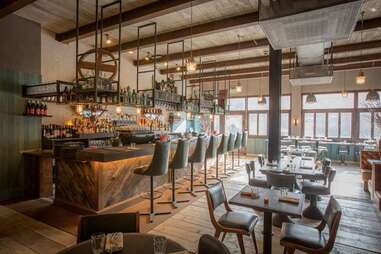 Camden
What you're getting: Bag of BBQ Cornish Hen Wings
From the man who brought you Islington's Fish & Chip Shop -- who took a turn somewhere on his way to Camden and opened this Memphis-style BBQ joint -- Q's brand-spanking-new 'cue shack has already hugely impressed with its flame-kissed hunks of meat (the short ribs are spectacular, with just enough fat to keep things moist)... but what really steals the show here is their bag o' wings.
Sign up here for our daily London email and be the first to get all the food/drink/fun in the city.