London Forget energy drinks, it's fried chicken places that give you wings, and we mean in both the literal and symbolic sense. Here are the 10 best spots in London to get the stuff... More Stuff You Will Like
Recommended Video
Acquired Taste: Blood Rice Cakes With Timothy DeLaGhetto and Justina Valentine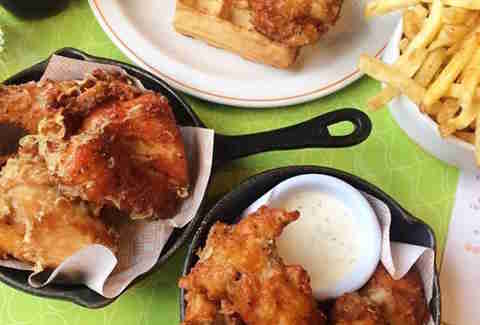 Shoreditch   What you're getting: Chicken & waffles It's really all in the name here -- all chicken, all the time -- plus some pretty great donuts. Cooking up only the best free-range birds, the meat is juicy, tender, and packed with flavour. While the wings and basic fried pieces are delicious -- you can get picky with sauces and light vs. dark meat -- it's the chicken & waffles that take the cake. Also, a heads up -- the shop's about to open two new wings in Camden and Islington. Continue Reading
  Kentish Town & Covent Garden   What you're getting: Southern fried chicken This is the deep south at its finest, and this place has rolled out all of the American chicken classics; buns, grilled, fried -- you name it, there's a chicken done exactly how you want it. The classic southern fried is tea brined for 24 hours before being loaded up with spices and fried to perfection.
  Carnaby St   What you're getting: Roasted beer can chicken There are zero punches held at this chicken palace hidden just off Carnaby. Celebrating the time-honored tradition of shoving a whole beer can into a bird and letting all those glorious flavours infuse into the meat (with a little combustion of course), this thing is moist and manly.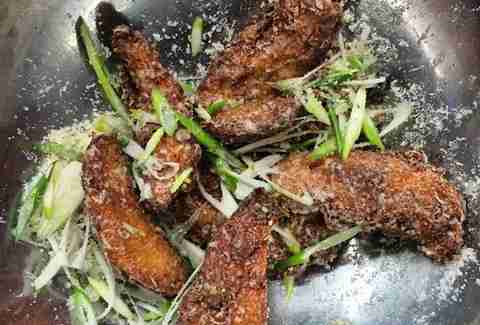 Shoreditch   What you're getting: Curry leaf sesame Love Me Tenders These guys take a very playful approach to a very serious selection of chicken. Love Me Tenders (breast fillets), Put A Wing On Its (wings), and Happy Hens (whole birds and then some), are loaded with imaginative flavours like curry leaf & sesame, peppery buttermilk, and lemon & Parmesan.
  On the move   What you're getting: Southern strips These guys don't believe in doing things by halves, apparently -- and they prove it by tea brining, milk soaking, and then twice-frying their chicken. Serving from a converted ambulance at places like Street Feast and Kerb, they've also taken over the reigns for the kitchen at the Cat & Mutton in London Fields.
  Farringdon & Shoreditch   What you're getting: Korean fried chicken Jubo has somehow mastered chicken that is not only super crispy, but also smothered in a flavorsome sauce using what must be some kind of dark magic. Specializing in Korean fried chicken -- aka yangnyeom tongdak (now say that 10 times fast) -- the resto started out as just a pop-up inside Bedroom Bar on Rivington and now has branched out to Exmouth Market as well. More chicken for everyone.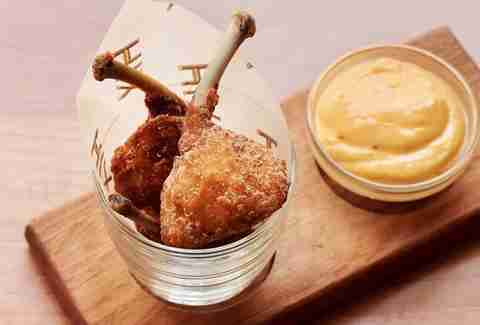 Shoreditch & Bankside   What you're getting: Buttermilk fried chicken In a land of only two options -- chicken or steak -- it's a good bet that this place delivers at both. These buttermilk fried chicken bites are no different, but really it's the sauce that makes these things so good. Served with The Ribman's "Holy F*ck" sauce, you'll completely understand once you get it in your mouth.
  Marylebone   What you're getting: Southern fried chicken This is the real deal. Mississippi born-and-bred, Chef Brad McDonald is the brains and palate behind this spot so you best believe it's going to be authentic. Letting the food speak for itself, this place is refreshingly gimmick free, with your fried bird served with just collard greens and coleslaw.
  Dalston   What you're getting: House fry Another pop-up done good, C'n'S focuses on two things and does them very well: fried chicken and cocktails of the sour variety. Right next to The Hagerstown and Rotorino, this is hipster central, but in the best possible way. Sign up here for our daily London email and be the first to get all the food/drink/fun in the capital. Haley Forest is a London writer who thinks the Colonel is overdue a promotion. Follow her on Twitter at @HCForest.