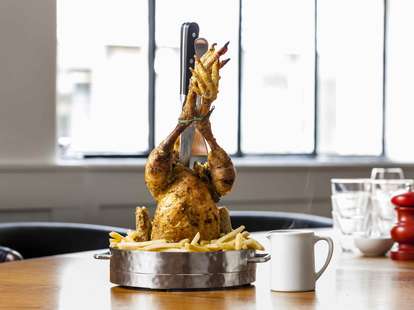 Courtesy of Hixter
Courtesy of Hixter
Chips, fries, ketchup paintbrushes, whatever you want to call them, those little crispy pillars of potato are more than just a mere side dish. Yet sadly, they're the most frequently neglected by the chefs... unless, that is, you go to one of these places.
Triple Cooked Chips
Hawksmoor (address and info)
Various locations
We all know that the meat at Hawksmoor is top notch. Ditto for its cocktails. So it only makes sense that its chips are frequently touted as the best in town. With a super-crunchy shell and soft innards, this stick of potato gold is just the perfect size -- not so thick you're gnawing on a wedge, but not so thin they break -- to load up on its out-of-control sauces. (The sauces alone cost a pretty three quid, but it is actually worth it.)
The Dirty Fries OR the Marmite Fries
Meat & Shake (address and info)
Tooting Bec
While these guys might have the best under-the-radar burgers in town, their Marmite Fries are worth making the journey South for in their own right. Tossed in a slightly sweet, yet wonderfully salty/bitter, "love it or hate it" sauce, these bad boys somehow still retain a perfect crunch. That said, you can also get a bowl of nach-style Dirty Fries, covered in chili con carne, jalapeños, cheese, mustard, and sour cream.
Chili Cheese Fries
MEATliquor (address and info)
Various locations
Get ready for some heat. Beef chili, onions, jalapeños, and French's mustard, plus melted cheddar cheese smothering skinny fries that start crispy and slowly soak in all that spice-laden flavour. Big enough to be a meal by itself, you might not even need a burger after finishing these suckers.
Rosemary Salted Chips
Honest Burgers (address and info)
Various locations
Rosemary can be a divisive flavour, and the line between "not enough" and "waaay too much" can be very fine. This mini burger empire walks that line with grace and style in the form of its pretty mind-blowing house chips served with every burger and liberally seasoned with rosemary salt. Thin, crunchy, and perfect.
Aspen Fries
Hush (address and info)
Mayfair
Located in one of the maze-like tiny pedestrian streets behind Bond St, Hush is part brasserie, part cocktail lounge, and all opulent -- especially when it comes to its fries. Thin enough to maintain that perfect crunch, they are then loaded with truffle oil and Parmesan cheese, giving them an earthy, deeply satisfying flavour. Available both in the main dining room, as well as the bar.
Chips (with chicken)
Hixter Bankside (address and info)
Bankside
When Chef Mark Hix does something "simple" like chips, you know there's going to be nothing simple about it. Fried in chicken fat, they go pretty much perfectly with the roasted chicken they're served with.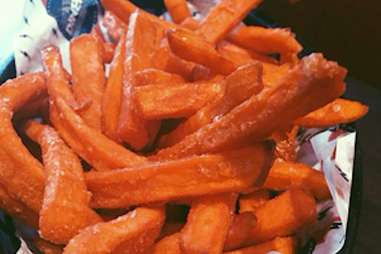 Sweet Potato Fries
The Diner (address and info)
Various locations
It seems like a no-brainer that a place called The Diner would do justice to the American classic of fries. Sure, its Diner Fries are pretty awesome, but if you really want to go for gold, grab a basket of the Sweet Potato Fries (and be sure to ask for the Cajun seasoning).
The Bulgogi Fries
Kome (address and info)
Various locations
How do the Koreans do their fries? Well, in a mind-bogglingly good move, they cover them in steak, some sweet & garlicky soy sauce, Chihuahua cheese, spring onions, Sriracha sour cream and homemade kimchi. And Kome's LA-tilted take on them is delicious.
Sign up here for our daily London email and be the first to get all the food/drink/fun in the city.