The classic, full English breakfast is amazing, but it isn't for every day -- unless you want to treat your arteries like they insulted your Mother. So when you do have one, you need to make sure it's damn good. Thankfully, we're here to help ensure that happens...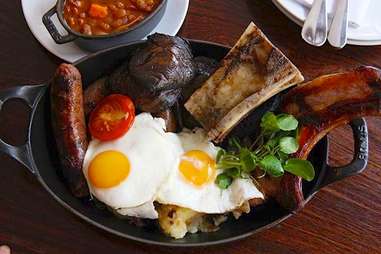 Guildhall
As one of the masters of meat in the capital, it comes as no surprise that their full English is pretty next-level -- it comes with all the usual moves, plus a short rib bubble & squeak, smoked bacon chop (!), and grilled bone marrow. They naively label it "to share", so make sure the waiter knows you mean business.
King's Cross
Housing its own coffee roastery and all-day kitchen, you know Caravan takes their fast-breakers seriously, and the full English doesn't disappoint. It's got the standards (field mushrooms, eggs, sourdough toast) along w/ modern flourishes like tomato compote, and if you want them (you do), boar sausages.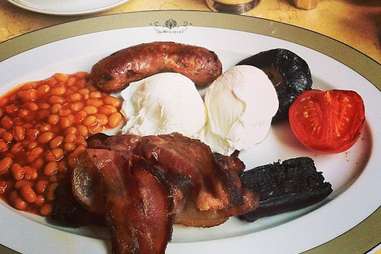 Mayfair
Attempting to give the rough, lowest-common-denominator edges of the full English an elegant finish is not an easy task... so to their great credit, The Wolseley doesn't try. They stick to the tried and true formula of good old-fashioned beans, bacon, eggs, etc., without trying to add any unnecessary flourishes, and it's delicious.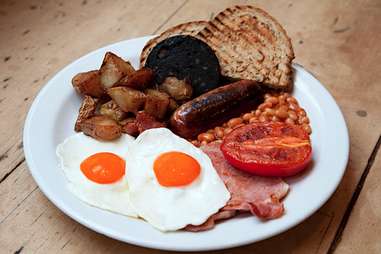 Spitalfields
When you call yourself The Breakfast Club, you promise two things: a ton of Judd Nelson quotes, and a fantastic morning meal. Thankfully, they don't disappoint, and their Full Monty has everything you're looking for (except a brooding loner stuck in detention).
Ealing
Homemade bubble & squeak? Ham on the bone, that's been soaked overnight and slow-roasted for six hours? Literally Marco Pierre White's favourite restaurant, and whose massive breakfast still costs less than six quid? This, friends, is worth going to Ealing for.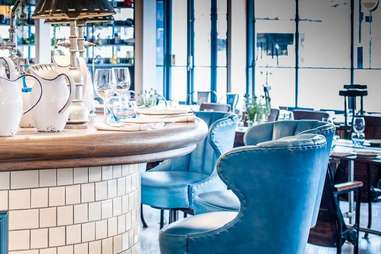 Fitzrovia
Their Full & Proper is really just that, with each of the ingredients pulling their weight (the sausages are from Lincolnshire, the tomato is slow-roasted, the mushrooms are field mushrooms), coming together to make a breakfast that's better than the sum of its delicious parts.
Clerkenwell
Fully exploiting their market-centric location, Smiths pull in daily freshness like bacon from an eight-generation butcher, and the same sausages that were served on the Concorde for one of the best breakfasts in London.
Westminster
This place may not have had a refurb since it opened in 1946, but frankly no one is there for the decor. A mere £6 gets you the works, but throw down an extra 90p and add some of the best (read: fluffy and amazing) hash browns in town. This spot, and this breakfast, are about as classic as they come.
Sign up here for our daily London email and be the first to get all the food/drink/fun in the city.