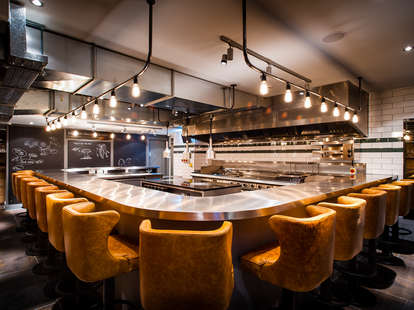 Kitchen Table
Kitchen Table
However many restaurants you think London has... it has more. Because there are a few eateries that brazenly dismiss passing trade by almost entirely concealing themselves from view. And because one of our best qualities is that we're terrible at keeping secrets, we're giving you the lowdown on them right here...
Shoreditch
What you're getting: Whatever they've got going that day
If you're available for breakfast or lunch, Monday-Friday only, don't mind a daily changing menu of only a handful of dishes, and are fine with ringing a buzzer on the back gate to a primary school, then Rochelle Canteen is going to be perfect for you. Housed in the school's former bike shed, the interior and style will feel a bit like St. John Bread & Wine, which is appropriate, because the Canteen comes from the talents of Margot Henderson and Melanie Arnold, which means you can expect farm-fresh dishes and a distinct lack of frills.
Soho
What you're getting: Tacos. All of them.
Odds are you've walked past the brightly lit cafe on Moor St and are thinking this is anything but hidden. Well, that's just a bluff! Go around the corner, onto Old Compton St and find the neon-lit sex shop. Now that's where you'll get your jollies off -- in the culinary sense. Make your way down into the cellar, where a gorgeous den of Mexican goodness awaits.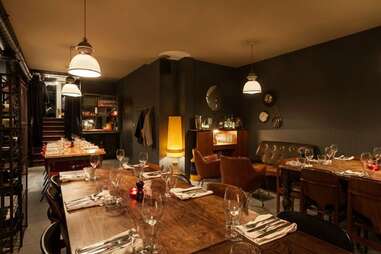 Brick Lane
What you're getting: Tasting menu
At the very top of the hipster end of Brick Lane is a rather eclectic clothes shop called Ante, however if you pop round Wednesday-Saturday after 6:30pm, don't be surprised to find it still open. Keep your eyes front and center and head to the back where candlelit tables are set (and generally packed), covered with seasonal dishes. This almost full time resto is from the creative brains of the Disappearing Dining Club, so you can expect a rotating assortment of dishes like scallops w/ white chocolate and caviar, BBQ pulled pork, and chorizo-crusted salmon.
Notting Hill
What you're getting: Lots of pintos
By now we have all seen the pin cushion-looking plates at the various Pix restaurants that have been popping up around town. Little skewered bites of Brie, bacon & foie gars, garlic mushrooms & chorizo, honey-glazed cod fritters, and the like. While the atmosphere of these joints are fine, their Portobello Rd location has a special something hiding down below; a secret confessional, big enough for eight guests, with menus in hollowed out Bibles, served through a small hatch in the door.
St. John's Wood
What you're getting: Beef Wellington
Situated just off Regent's Park, this classic French restaurant has been quietly doing its thing for 40 years to much success, despite the fact that most people don't know it exists. There is a large block of fairly grim residential flats, which somehow house a restaurant that the changing of time has forgotten, still clinging to peach shades your great aunt Jane might think is charming. The food, however, is still showstoppingly great, and very reasonably priced at that.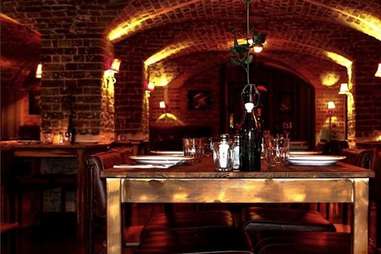 Brixton
What you're getting: Huevos Rotos Con Txistorra (that's cracked duck eggs with txistorra sausage)
It's time to go to to church. St. Matthew's Church, in fact, over in Brixton. But instead of heading in the main door, instead go through the big creepy-looking gate to the side, and down to the basement where a wonder of Spanish tapas awaits you. The interior is an atmospheric mix of melting candles and exposed brick work, while the huge menu boasts cured meats, grilled fish, and some fantastic veggies.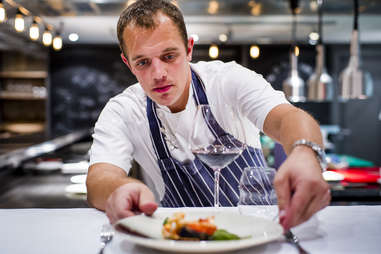 Fitzrovia
What you're getting: 12-14 courses of whatever they want to send you
While Bubbledogs is practically a household name these days (hooray for Champagne and hot dogs!) tucked back by their kitchen -- just ask the waiter to guide you there -- is actually a Michelin-starred restaurant that showcases the real talents of James Knappett and his team, sitting guests around the steel countertop, and serving them pretty much directly from pan to mouth.
Vauxhall
What you're getting: The lasagna
Tucked on a little side street off Embankment is a massive serviced office block that looks more like a correctional facility rather than anywhere a restaurant should be. Hidden underneath, and accessed through cold stairs with peeling paint and metal bannisters, however, is a quirky Italian spot that generally goes against everything we know in a modern culinary world, yet thrives on a heaving lunchtime business thanks to a solid lineup of classics like Spaghetti Bolognese, Pizza Vivaldi, and Pollo Alla Milanese.
Sign up here for our daily London email and be the first to get all the food/drink/fun in the city.