They say variety is the spice of life. Of course another, more accurate way of putting it would be to say that spices are the spice of life. And variety can be a little overwhelming, especially when you're hungry for said spices, which is why we've narrowed down the city's restaurants to the best example from each category...
Recommended Video
Acquired Taste: Blood Rice Cakes With Timothy DeLaGhetto and Justina Valentine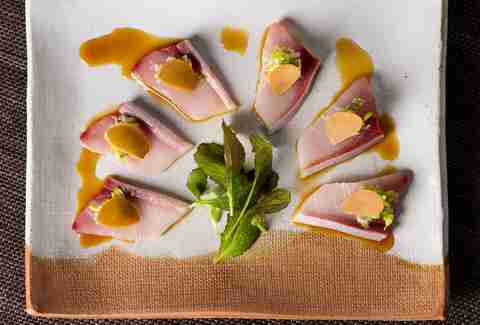 Best Japanese: Zuma
Knightsbridge
What you're getting: Black cod
In an era when "contemporary" can often mean "pretentious and over priced," Zuma keeps it very, very real. With locations all over the world, not to mention sister joint ROKA here London, it's figured out how to walk that line between swish yet completely reasonable. Focusing on bolder flavours, it's also kept an eye on the classics, plus a seriously impressive wine & sake list.
Various locations
What you're getting: Breakfast Club Club Sandwich
Starting 10 years ago with a tiny cafe in Soho specialising in breakfast, it quickly branched out with a broader menu and secret cocktail dens around the city. While still reigning with some of the best American-style breakfast, its dinner menu is nothing to frown at, with top-notch burgers, wings, and even a couple of salads to get your American dreams flowing.
Soho
What you're getting: Gnocchi with ragu
If you want scarily authentic italian, BDL can sort you out. Half of its ingredients are flown over several times weekly, so its regional dishes are as fresh and bright as if Mamma had made it herself. Pro-tip: sit at the counter in front of the kitchen. West End shows are no competition.
Covent Garden
What you're getting: Enchiladas
Mexican in London is always a bit of a stretch, but if you're looking for something akin to what you've had in warmer lands (not counting grab-&-go burritos), this deceptively large restaurant tucked down a small side street should be your obvious destination. Get seriously stuck in with lots of agave (hello margarita!) and all the salsa you can dream of.
Whitechaple
What you're getting: Lamb Chops
Having been doing its thing off the beaten path since 1972, it doesn't really care about service quality. Lucky for you, it really does care about its food, which is outstanding. While its curries are next level above anything you'll find on Brick Lane, it's the grilled meat that leaves tables sitting in silence, mouths full. Its BYO policy also comes in handy, making the whole affair very bank account friendly.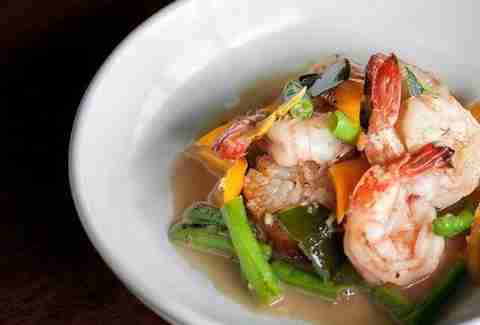 Various locations
What you're getting: Scallop and Prawn Stir-fry
Yes, it's a chain. But you know what? Each location is just as damn good as the original location and each routinely has massive queues. The menus are comprehensive, consistent, and full of authentic flavour with dishes to please not only entry-level diners, but Thai virtuosos.
Brick Lane
What you're getting: Coq au vin et tagliatelles
On a street that's known more for dodgy curry is a secret portal to the French countryside. Full of easy French charm, the food is simple and perfect, and loaded with flavour while keeping a reasonable price point as well.
Holborn
What you're getting: Tasting menu (trust us, you'll want to try everything)
Hidden deep in the side streets between Holborn and Chancery Ln, this gem has been flying under the radar for quite some time. The plates that Chef Graham Long is putting out are nothing short of extraordinary and you will want to try them all. Think ash crusted venison with beetroot, dates, walnuts, and goat cheese; Halibut with nasturtium, spiced cockles, and roasted cauliflower; and suckling pig with figs, ham, mead, and sprout tops... the list goes on.
Best food truck: BBQ Lab
Various locations
What you're getting: Pork Cheek Sub
Get ready for next-level meat out of an old-school ambulance. The menu constantly changes, from 77-hour ribs to smoked hanger steak to pork loin pops (which is exactly what it sounds like), and more. Matt Harris (aka "Dr BBQ") has a sous-vide station and liquid nitrogen kit set up, and every Tuesday he unleashes #ExperimentalTuesday when you get to be a very happy guinea pig on his latest efforts.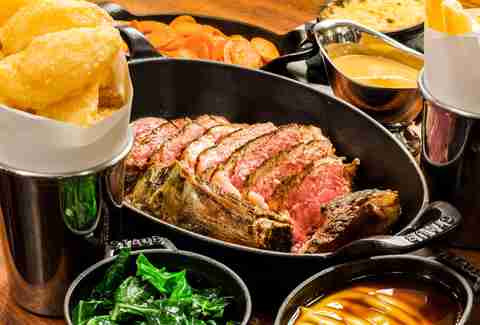 Various locations
What you're getting: Bone-in Prime Rib
At one time, steakhouses were reserved for suits splashing cash and guzzling red wine. Not to say this doesn't still happen, but Hawksmoor pretty much single-handedly opened up the land of properly cooked, ethically raised, tasty meat, showcased in effortlessly cool venues, with alternative waitstaff and outstanding cocktails.
Various locations
What you're getting: Prawn Dumplings
It's like some unwritten rule: when you want good dim sum, be prepared to forego good service. Such is the case at here, but that doesn't get in the way of people flocking on a Sunday morning to get their fix. It's a disorganized affair, but once you start stuffing your face with all those parcels of goodness, you will cease to care.
Sign up here for our daily London email and be the first to get all the food/drink/fun in the city.