The 7 best London restaurants outside Zone 2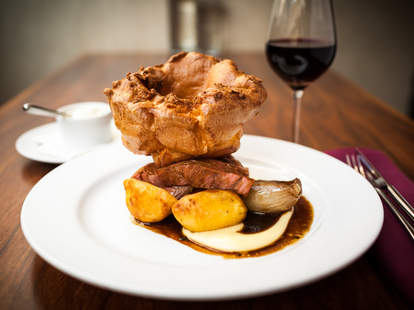 As far as the vast majority of Londoners are concerned, people work in Zone 1, live in Zone 2, and Zones 3-8 are the box it all comes in. Well, believe it or not, there is life out there -- and it includes some truly great restaurants. These are the best...
Wandsworth
Fast becoming a bit of an institution, Chez Bruce has been pulling in regulars since 1995. Despite their crisp, white table clothes & Michelin star, it still manages to keep a relaxed, almost laid-back atmosphere, helped by decidedly unpretentious Mediterranean dishes like crispy pork bell w/ salsa verde, and grilled duck hearts. For its efforts, it was even voted "Londoners' Favourite Restaurant" in '06, knocking The Ivy off its long-held top spot.
Finchley
This neighborhood pub may look a bit out of place amidst the mini cab offices and estate agents near Finchley Central, but they take their pub food up several notches (exhibit A: the grilled pork & chorizo burger), and have drinks to match, including a fantastic craft beer selection (Flying Dog, Delirium, etc.). Plus? Regular live jazz to wash it all down with.
Thames Ditton
When the cast of The Avengers 2 was in town, this is where they had dinner. Hidden quite literally in a nursery just outside of Richmond, this cafe bagged themselves a Michelin star, despite being in a literal green house furnished with rickety tables and casual staff. Their incredibly seasonal (day-by-day seasonal) menu is inspired predominately by produce from their garden (occasionally buttressed by small additions from local artisan producers) to produce food like pan-fried wild sea bass sided by white sprouting broccoli, and Angus beef fillet w/ artichoke & potato al forno.
Hampstead Village
If you like good Japanese food, but don't entirely fancy doling out Nobu prices, head North to Heath St. Their robata grill is the main focus, centerpieceing both the decor and the menu with the likes of scorched ox tongue, chicken skin, and duck, while the sushi is some of the freshest & best in town.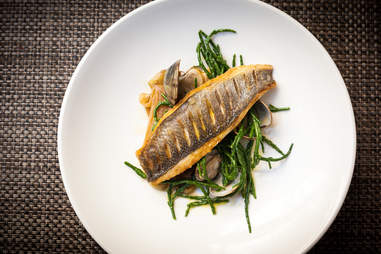 Charlotte's Bistro
Chiswick
This is one of those spots that just does everything really well. They've nailed it on food, cocktails, roasts, wine list, craft beer, gin masterclasses -- the works. It's an easy, comfortable venue, which feels at once familiar and special. Great for grabbing drinks at the bar, or sitting under the massive skylight in the back for a full-on meal, and score some herb-cured beef, braised lamb shoulder, and roasted skate wings.
Stratford
With a rather epic view of the Olympic Stadium just across the canal, this is pretty much a requirement for those after a solid brunch place. With tables floating on a deck literally on the canal, this is an ideal spot to sit in the sun, drink coffee (from their very own roastery), and chase away hangovers. Being connected to the Stour Space gallery, there is a good mix of creatives and PYTs hanging around too, which makes the people watching pretty spectacular without being obnoxious.
Blackheath
This microbrewery is a bit of a surprise. The decor, being from the apparently neon-obsessed turn of the millennium, requires a stiff drink -- but their food and brews keep tongues wagging, and the recommendations coming. You can get kilo pots of mussels, a choice of two dozen pizzas, and the freshest beer literally possible to pair them with. 
This list -- and all the rest -- look even sexier in our iPhone app. Get it now!