Lunch is probably the most underrated of meals (no brunch, you get plenty of attention already, stop it), so it's no surprise that people all too frequently settle for a poor excuse for a sandwich to fill it. Well, no more. Here's where to upgrade your midday meal, wherever you are...
Shoreditch
Boxpark (address and info)
What you're getting: Pad Thai from Thai and Lao or burgers from Bukowski
While the lower level of this semi-permanent pop-up mall is predominately retail containers, it's the top deck that houses the food. There are 15 different containers filled with almost anything you could be craving, from Sushilicious to Voodoo Rays to Korrito and many more.
Covent Garden
La Perla (address and info)
What you're getting: Beef & chicken fajitas
High ceilings and skylights above the dining room make this place always feel light and airy, even when the outside world is gross. It could also be its insane tequila and mezcal collection, but even if you're skipping a 'rita on this visit, the food is an absolute knockout. It's authenticity is no surprise, especially considering its owned by Tomas Estes, founder of Tequila Ocho and one of two Tequila ambassadors appointed by the Mexican government.
Connected to the award-winning organic farm in Gloucestershire, everything here tastes like it, well, came from an award-winning organic farm in Gloucestershire. Connected to a grocery where you can find all the best ingredients to try and recreate its menu at home (good luck), the restaurant itself is bright and airy while the dishes are simple and perfect, ranging from heritage tomato salads to full-on comfort food like roast cod with a lemon butter sauce.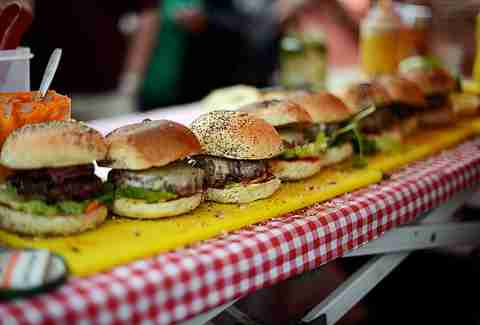 King's Cross
KERB (address and info)
What you're getting: Everything
Sometimes you don't know what you're craving, and you certainly don't want to eat the same thing every day... and that's where Kerb comes in. Burgers, pie & mash, pizza, Filipino, Taiwanese, Korean, sushi, BBQ, Scotch eggs, and so many more. Pro tip: on Mondays, everything is just £5.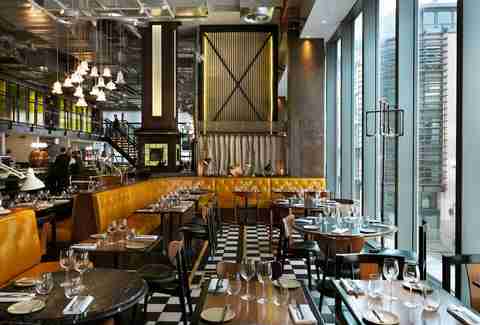 The City
Bread Street Kitchen (address and info)
What you're getting: Short rib burger with Monterey Jack cheese and Sriracha mayo
First off, this joint is a Gordon Ramsay number, so obviously the food is going to be good, but expensive. Use sparingly. Next up: it's beautiful. And massive, which means you can always get a table, no matter how busy it may seem. Floor-to-ceiling windows let in all the light and give a perfect outlet for people-watching, although the sights inside can be pretty spectacular as well.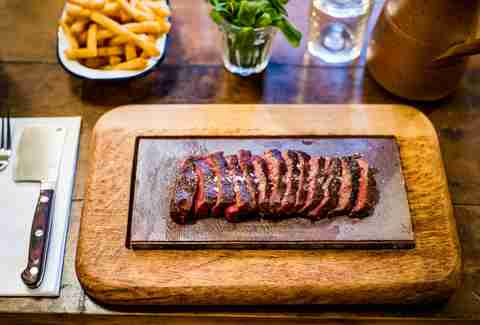 Soho
Flat Iron (address and info)
What you're getting: A steak
One of the vanguards of the single-item-menu places London is now littered with, Flat Iron will furnish you with a delicious, cheap, and conveniently quick steak for a mere tenner. It costs a shade more than a sandwich, but you get free sides, and a sense that you've actually eaten something.
Clapham
The Rookery (address and info)
What you're getting: A recommendation from the waiter
One of the better gastropubs in the city, The Rookery takes its food as seriously as its drinks, and its ever-changing menu reflects that. If you ever feel like having a sit-down meal when you're south of the river, this is where you need to go.
Mayfair
Nagomi (address and info)
What you're getting: The pork & chicken ramen
Not only are you getting some of the finest ramen in the square mile for less than the cost of the average Mayfair mineral water at this place, but you're also getting a side dish and four deep-fried dumplings thrown in for good measure.
Broadway Market
La Bouche (address and info)
What you're getting: Daily specials
One part shop, one part deli & cafe, this spot is slinging sandwiches, salads, soups, pastries, wraps, meat, cheese, chocolate, coffee, whatever. There's a smattering of tables outside and a communal table inside, but it's the window seats that win -- prime for watching the world of Broadway Market go past in all its glory.
Peckham
Petitou (address and info)
What you're getting: Tart of the day
It may be suuuper residential over here, but tucked between the Victorian buildings is this totally underrated cafe away from the bustle of real life. It's the kind of neighbourhood place that's easy to lose time in -- start with lunch, the tarts are very more-ish, and you can sip coffee through the afternoon. You'll feel like you're in another world. Or at least, not in Peckham.
Greenwich
Greenwich Market (address and info)
What you're getting: Ethiopian, Indian, Polish... take your pick.
Greenwich Market proudly states that it is the only market to be located within a historic site, so you can consume some culture with your lunch. There's a huge range of food crammed into this little space, so go with an empty stomach and get everything.
Chelsea
Tom's Kitchen (address and info)
What you're getting: Steak
When Tom Aiken was just 26 he bagged two Michelin stars, making him the youngest to do so. While his self-titled masterpiece is currently looking for a new home, his more casual Tom's Kitchen will totally keep you satisfied and then some. Steak is really the way forward here, with some of the best-sourced meat in town, grilled to perfection and served with care. Relaxed, yet on point, Tom's is a great place to spend an afternoon.
Angel
The Elk In The Woods (address and info)
What you're getting: Elk kebab with maple syrup-brushed apple and smoked bacon
Over on Camden Passage, this place is all quirky wallpaper, taxidermy elk heads and skulls, mirrors, and show-stopping food. Crab burgers, pulled duck rolls, elk kebabs, plus slightly more familiar things like grilled chicken and meatballs are all executed pretty much perfectly.
Brixton
Brixton Market (address and info)
What you're getting: Everything
Here's the thing about Brixton Market -- it really has everything. It's kind of the be-all end-all of markets with that perfect combination of brick-and-mortar places where you can sit and feel civilized and street food stalls selling food in boxes so you can walk and munch everything in between. There's the old standbys and the new kids on the block trying out new things. Just go and immerse yourself in it and eat everything.
Fitzrovia
The Riding House Cafe (address and info)
What you're getting: Superfood & Herb Salad
This long-rambling space ticks so many boxes, it's hard to know where to even start. With a long bar, massive communal table, lounge area for liquid lunching, and even a slightly separate dining room for when you need to impress, you can always find an appropriate spot. The menu follows a similar idea with small plates, large plates, and some of the best damn salads (yes really) in town.
Sign up here for our daily London email and be the first to get all the food/drink/fun in the capital.