So the good news is Piers Morgan got sacked again. The terrifyingly bad news is that he might be coming back to the UK. If he does, we'll obviously all have to comfort-eat ourselves into oblivion (as if we weren't doing that already), but luckily over the last couple of months, the capital's resto-runners have cut the ribbons on a whole slew of shiny new spots to help you do just that...
Recommended Video
The History of Delivery & Takeout
House of Ho
Soho
Despite being in Soho, the House of Ho is actually a restaurant -- it's helmed by a half-Chinese, half-Egyptian chef born in New Zealand, and they serve Vietnamese food. In fact, the head man is kiiind of a big deal back in Hanoi, where his eatery has become something of an institution. This new spot mixes sleekly modern low-lighting w/ rustic wood/bamboo fittings, while the menu puts out modern Viet goodness like five-spice quails on crispy noodles, apple-smoked pork belly, and classic shaking beef (referring to wrist action with the pan, not the cow when it learns what's for dinner). There's a solid wine list to accompany, and there are even signature 'tails like the 'Ho'groni, mixing gin, Campari, and pomelo bitters.
Blackfoot
Clerkenwell
Taking over the space that was the Old Pie & Mash shop on Exmouth Market, Blackfoot's kept the white tile look -- but this place is allll about the pork. They're even named after a fungal infection breed of pig, and they're pretty obsessive about sourcing the best quality oinkers to fill out the menu. Highlights include their crispy-skinned, moist in the middle porchetta, a huge spare-rib steak ("otherwise known as a pork ribeye"), some pulled pork tacos, and whole belly rubbed w/ Sichuan spices and black treacle, then slow-cooked over applewood chips for six hours. Drowning it all, they've got a menu of draught/bottle ciders including Broome Farm's rum-barreled number.
The Lobster House
Wandsworth
Pretty much doing what it says on the tin, TLH serves up pretty competitively priced crustaceans, matching Burger Lobster, but adding a little more variety. You'll find lump crab cakes, new England clam bakes (w/ lobs, clams, corn, fries, etc.), and a waaay cheaper burger. The real star of the show, however, is the location; they're on a Putney pontoon slapped right on the river, and with floor-to-ceiling windows for good measure.
Bones
Dalston
Dalston on the outside, and Dalston on the inside, Bones is decked out with bare brick walls, low-wattage bulbs, exposed pipes, and the occasional splash of neon to pretty slick effect. The menu throws its emphasis on sharing, with whole rotisserie chickens underscoring smaller dishes like three-day marinated bavette steaks, and chorizo sourdough bruschetta.
Dirty Bones
Kensington
Right across the other side of London, Kensington's Dirty Bones is handsomely decorated in a muted palate of zig-zagged tiles, while the menu is all about the dogs. They've got a globe-spanning list of bunned sausages with everything from the Brit (w/ treacle bacon & curried gherkins), to the Mexican (pulled pork covered in cactus salsa). There's even a "burger dog", where an aged bavette & beef fat patty is topped w/ beer cheese. Other items include short ribs & spice-fried chicken, while the barkeeps will mix you a range of signature 'tails including the "Down Boy!", whose cider brandy and Kamm & Sons (a local ginseng spirit) is paired w/ Brooklyn lager.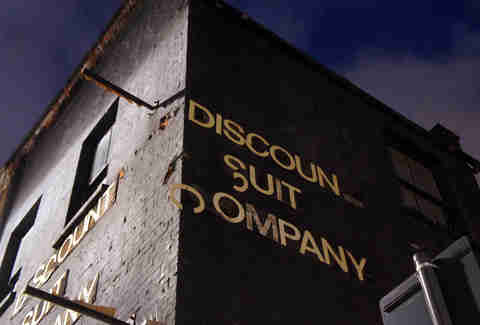 Discount Suit Company
Aldgate
Housed in an Aldgate basement, DSC isn't just a name; the place really does provide discounted suits was once a tailor's stock room, and in fact, it's still surrounded by cloth-cutting businesses. Now, however, you'll find an awesome speakeasy vibing cocktail den, where the house signatures (the Goldfish Bathtub has Earl Grey-infused rum, apricot brandy & lemon) meet a list of forgotten classics (the once-crazy-popular Bebbo cocktail makes a comeback w/ its gin/honey/blood orange). They're quick to point out, however, that drinks don't come strictly "off the peg", and they can be "tailored to your taste", presumably because they couldn't not make that joke.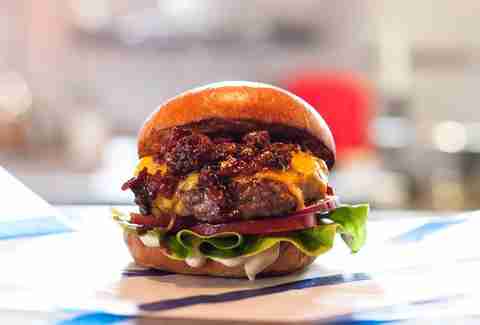 BOOM Burger
Notting Hill
The now-permanent Portobello site of a former pop-up done good, BOOM's the work of a globe-trotting burger-addict who settled on the flavours of his Jamaican home as the perfect bun-fillers. The signature number comes loaded w/ bacon jam, while the Jerk BOOM has spiced chicken covered in mango & fried plantain. There's even a red snapper burger, and the house mayo is punched up with some scotch bonnets.
Canvas
Marylebone
Billed as London's first "choose your own tasting menu", Canvas does just that, and only that. Get anything from 3-10 courses by just picking whatever you like the look of, and the chef will decide what order you eat everything in. The menu's got just five core dishes, with the remaining selection rotating continuously, and repping anything from foie gras w/ rhubarb to a beef tryptych (sirloin, rib, and tail) w/ pureed potatoes.