Sure, London loves a good food trend (we're only using locally sourced, organic nouns in this article), but ramen has been doing it the hard way, slowly winning the hearts, minds, and bellies of its diners for the past couple of years now, and is finally here in force. Here are the finest spots to get a steaming bowl of nourishing Japanese goodness in the capital...
Recommended Video
Acquired Taste: Blood Rice Cakes With Timothy DeLaGhetto and Justina Valentine
Soho
What you're getting: Tonkotsu ramen
Some may say that Bone Daddies isn't as authentic as others, but you know what? Its tonkotsu broth can run circles around any other. Slowly made over the course of 20 hours, it's so rich and creamy, you'll wonder how there's no dairy in it. With its silky noodles, melt-in-your-mouth pork chashu, ridiculously good eggs, and fried garlic, this rockabilly ramen bar doesn't mess around.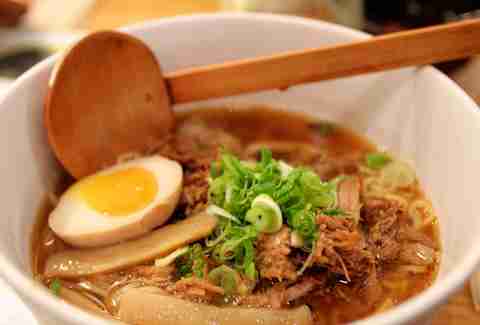 Various locations
What you're getting: Tokyo Ramen
The noodles here are really a game changer. After six months of painstakingly perfecting its own recipe, it has an original ramen noodle machine straight over from Tokyo. With a very distinctive "bite," its noodles are bouncy and delicious. The Tokyo Ramen is packed with flavour starting from the soy sauce-based pork & chicken stock, plus pork belly, seasoned soft egg, and menma.
Islington
What you're getting: Spicy Sichuan Tantanmen
After a series of sell-out pop-ups, these guys finally secured themselves a spot on Upper St in order to bring their slightly strange breed of mashup ramen to the street. Although they give space and respect to the traditional classics, it's their new breed of inspired noodles that keeps eyebrows raised. The Yankee Doodle, for instance, involves BBQ pulled chicken, and the Spicy Sichuan Tantanmen takes a big influence from China with spicy ground pork, chilies, and spicy sesame.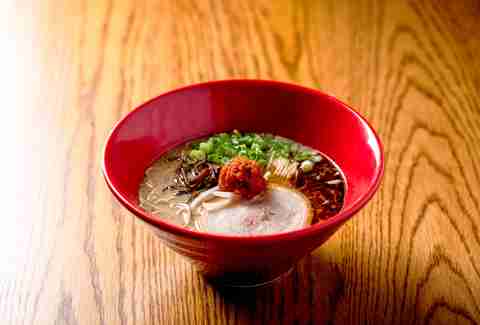 Bloomsbury
What you're getting: Akamaru Modern
With countless locations all around the world, Ippudo made many expats rejoice when it finally opened in London last year. While it received mix reviews from Londoners, the devoted followers were unfazed and flocked in droves. The Akamaru Modern is based on the thick tonkotsu bone broth but with the added goodness of a secret umami dama paste, sesame kikurage mushrooms, and some seriously fragrant garlic oil.
Bloomsbury
What you're getting: Original Ramen (with Hanjuku eggs extra)
Another Japanese chain that has put a foothold on British soil, KY keeps things short and sweet, with only a few differences in ingredients for its tonkotsu broths. The main catch here is that it doesn't include its signature Hanjuku eggs, which you would be a fool not to add on. Another cool thing here is that you can order how you like the noodles: extra firm, firm, regular, or soft.
Various locations
What you're getting: Kotteri Hakata Tonkotsu
Get ready for some seriously rich, cloudy, creamy, gorgeous broth. It takes the tonkotsu to another level of richness with a more meaty taste and double the nitamago eggs, which are pretty phenomenal. It puts a fair few veggies in there -- with the bean sprouts adding a solid crunch, but there's such a good amount in the bowl and we would high-five you if you actually polished it all off.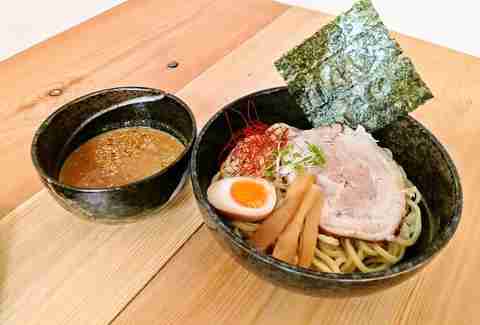 Soho
What you're getting: Dipping Ramen
While it doesn't do the creamy tonkotsu style that is so popular, it's made up for by its lightness. The soy-based Shoyu Ramen is a departure from the richer styles and leaves you without the food coma that can happen at other places. The best part is its interactive qualities, allowing you to judge the exact amount of broth you want.
Soho
What you're getting: Shoyu Ramen
This place has been around the block for a while, and it really doesn't have much to prove, which is why it keeps drawing us back for its simple-yet-delicious miso-based noodles. You can even get extra noodles at the end if you don't finish it all off -- no judgements included.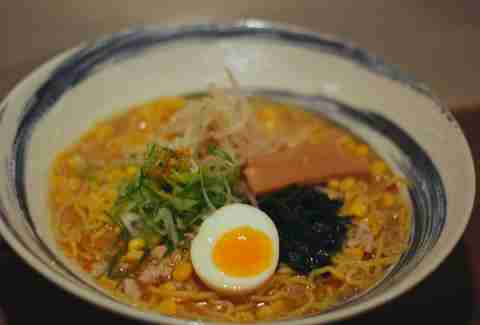 Soho
What you're getting: Special Ramen
Another of the anti-tonkotsu establishments, Kirazu has been quietly wowing us for a while now. Although its Miso Ramen is pretty spectacular, it's its daily specials that keep us coming back with loose-waisted trousers and high expectations. Pork belly, sesame, extra spice -- it'll all be dependably great.
Sign up here for our daily London email and be the first to get all the food/drink/fun in the city.