Allow us to introduce The Betrayer's Banquet: a gothic-esque, 32-course feast held in a secret location and waited on by hooded servers, with an opportunity to mingle with 47 other people. But there's a serious catch...
Recommended Video
This DIY Pho Bar Lets You Customize the Perfect Bowl of Pho
So here's the deal: At the top of the (very long) table, all the courses will be "exquisite". We're talking food as good as what you would expect from the best restaurants in London.
Meanwhile, the other end of the table receives "barely edible" crumbs... and each pairing in between sees the full spectrum of quality gradually increasing/decreasing between the two extremes.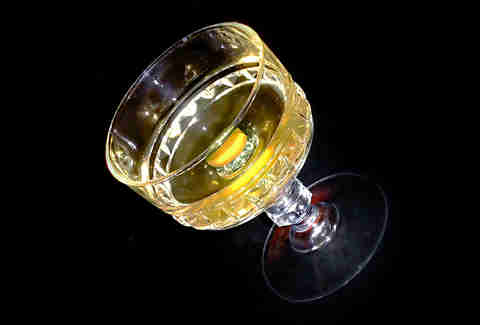 So how do you ensure that you're getting the best food? Well, this isn't called "the steadfastly loyal friend who maybe even slightly has the hots for you" banquet. No, each diner gets a special goblet with a small wooden coin. After each course, when you and the person sitting opposite of you have both downed your drink, you use the coins to play a game of Prisoner's Dilemma.
A brief refresher on Prisoner's Dilemma: You can either "betray" or "cooperate". If one person betrays, and their partner cooperates, the betrayer moves up ten seats, and the cooperator moves down the same. If both partners cooperate, they both move up five seats. And if they both betray? Both of their backstabbing arses are bumped down five seats.
Simple, huh? Added to all the backstabbery will be "a pair of dour, unsympathetic masters of ceremony", and no, your own senses don't betray you -- they will be punctuating the evening with speeches about "the discovery of the game in the court of Charlemagne in the 8th century".