London's biggest gathering of food trucks ever gets rolling
Food at a truck stop is not normally, well, survivable, but the folks at Tweat Up (Ribstock, Chilli Stand Off, etc.) apparently see this as a challenge, and've set about gathering "the largest collection of food trucks ever assembled in London", ready to hit Canary Wharf on July 4th/5th.
Camden Brewery
To really sell it, however, they're also adding a Camden Town Brewery "keg party" and setting up a roadside diner & barbecue pit (courtesy of Rotary Diner), plus extras like a cocktail bar, a "secret" gin bar, live bands, and a taco shack.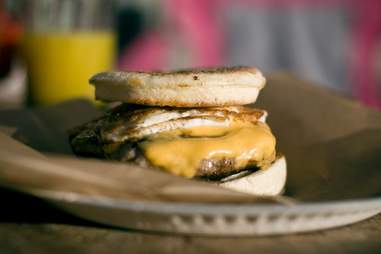 Original Fry Up Material
The food trucks, you ask? Well, expect to find the likes of this breakfast burger from Original Fry-Up Material (whose food always goes well on The Streets), plus Mexi-deliciousness from the Taco Truck, and the always awesome Yum Bun.
Mother Clucker
This right here? This is the new truck from the chicken-slinging dudes at Mother Clucker. It's an old US ambulance, and after gorging from it, Anna Mae's BBQ wheels, and Sorbitum's cachaca-choco-ice van… you might need one.