The London A-Z used to be the quickest way to find your way to a computer with Google Maps -- but times have changed, and nowadays thanks to the explosion of the London restaurant scene, your taste buds can travel the entire planet with just an Oyster Card. Inspired by similar alphabetic food maps, we decided to put together our own A-Z of London restaurants -- only we included every single letter.
 
A is for Argentina
Buen Ayre (address and info)
London Fields
Having been working with meat since age 10, Buenos Aires-born chef John Patrick Rattagan keeps up the tradition with this paired-back, home-style eatery, which happens to have an awesome back patio and killer wine list.
What you're getting: Go with a buddy and get one of their Parrillada mixed grill platters filled with Argentine steak, sausages, and cheese.
Recommended Video
This Restaurant Sells 20+ Types of Poutine
B is for Belgium
The Dovetail (address and info)
Clerkenwell
With an expansive Belgian beer collection and a solid food offering, these guys bring the culture without it feeling gimmicky.
What you're getting: Get busy with the Beer & Cheese Fondue followed by Moules Frites. 
 
C is for the Czech Republic
Czechoslovak Restaurant (address and info)
West Hampstead
Having been founded in 1939, and basically unchanged since its relocation to the current premises in 1946, this is a walk (and eat) through time to traditional Czech and Slovak lands.
What you're getting: Wild Boar roast with creamy and cheesy sauce & dumplings
 
D is for Denmark
Scandinavian Kitchen (address and info)
Fitzrovia
Granted they've got a bit from most of the Scandi & Nordic countries, but most importantly, they serve smorgasbord, which includes the little traditional open sandwiches found everywhere in Denmark, and the bread is only there as a surface to hold all the tasty toppings.
What you're getting: A selection of smorgasbord sandos like smoked salmon with dill dressing, or Danish salami with remoulade and red onion -- all on dark rye
 
E is for Egypt
Ali Baba (address and info)
Marylebone
Although the decor (or lack thereof) leaves much to be desired, the authentic cuisine has kept people coming back for years.
What you're getting: The fuul is like hummus, but spicier, made from fava beans, and is delicious.
F is for France
Chez Elles (address and info)
Brick Lane
No white tablecloths here, but with an entirely French team and delicious, easy food, this is like a trip to the French countryside without the hassle of actually traveling there.
What you're getting: Confit duck leg, Salardaise potatoes, and French beans
 
G is for Greece
Lemonia (address and info)
Primrose Hill
Family-owned for the past 30 years, this place pulls in locals, A-listers, and lucky tourists alike with its summery charm and straightforward island bites.
What you're getting: Charcoal-grilled lamb Shashlik with veggies
 
H is for Hungary
The Gay Hussar (address and info)
Soho
Although it may sound like the most appropriate name for a restaurant in Soho, The Gay Hussar is actually a super-traditional Hungarian spot, complete with bowls of chillis on the tables to snack on.
What you're getting: Chicken pancakes with rice and spinach
 
I is for Italy
Bocca Di Lupo (address and info)
Soho
With ingredients flown over directly from Italy several times a week and a predominately Italian staff, if you close your eyes in this classy establishment, you might think you're actually there.
What you're getting: Parma ham & fig, Buffalo mozzarella bocconcini, pappardelle with duck ragú, washed down with a Negroni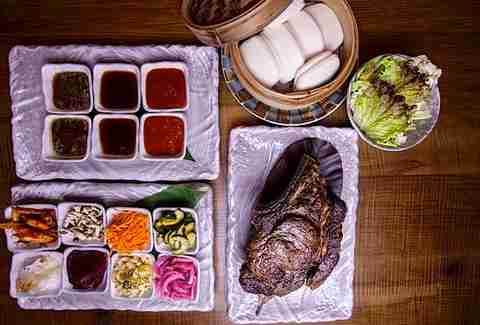 J is for Japan
Flesh & Buns (address and info)
Covent Garden
From the guys behind Bone Daddies, this place takes perfect sushi and brings it up a notch with contemporary Japanese steamed buns with all kinds of proteinous fillings.
What you're getting: Crispy Piglet Belly buns with mustard miso and pickled apple
 
K is for Korea
On The Bab (address and info)
Shoreditch
This tiny resto brings contemporary Korean street food, called Anju (literally: "drinking food"), to lucky diners who manage to grab a spot. Sat cheek by jowl, it gives you a pretty authentic experience to inhale their ridiculously tasty food.
What you're getting: Yangyum Chicken -- Korean-style fried chicken. It has "yum" in the name for a reason.
 
L is for Lebanon
Yalla Yalla (address and info)
Soho
Tucked on a little pedestrian street, this place has all the charm of a Beirut cafe, plus some solid drinks at night.
What you're getting: A meze platter loaded with baba gnash, hummus, warm pita bread, and grilled halloumi
  
M is for Morocco
Momo (address and info)
Piccadilly
Opened by Parisian-Algerian restauranteur Mourad Mazouz, walking into Momo is like walking into another world. Incense, palm leaves, and dark lights give off some seriously sexy Marrakech style.
What you're getting: Couscous Momo served w/ lamb shank, grilled lamb skewers, and merguez sausage.
N is for Netherlands
My Old Dutch (address and info)
Holborn
With a heavy selection of both sweet and savoury, these guys have the art of Dutch pancakes down solid.
What you're getting: The Amsterdammer with sautéed apples, smoked bacon, and maple syrup
 
O is for... Österreich
Tiroler Hut (address and info)
Bayswater
Okay, so "O" is our first problem letter -- the only country on the planet that starts with an "O" is Oman, and there are no Omani restaurants in London -- so we're going with the original native word for Austria; and as it happens, London has an amazingly fun & authentic Austrian resto in Tiroler Hut. 
What you're getting: A "Schweinshax'n" roast pork knuckle, a stein of beer, and a live cowbell performance
 
P is for Peru
Lima (address and info)
Covent Garden
Helmed by a chef who ran one of the world's 50 best restos in Lima, this upscale diner keeps things deliciously authentic. 
What you're getting: Lamb shoulder doused in pisco is about as Peruvian as it gets.
 
Q is for Qatar
In-Q Café (address and info)
Knightsbridge
Harrods is getting all kind of multicultural with their Qatari cafe, serving a selection of Arabic sweets and authentic coffee.
What you're getting: Pistachio date macaroons, confit date ice cream, and Qatari-style coffee.
R is for Russia
Bob Bob Ricard (address and info)
Soho
Glitz and glam and everything nice. Bob Bob Ricard pushes the envelope for having a swank venue with classic Russian dishes and plenty of caviar, naturally.
What you're getting: Smoked borsch followed by crispy suckling pork belly with red cabbage, apple purée, and truffle gravy
 
S is for Switzerland
St. Moritz (address and info)
Soho
Since 1974, Londoners have been packing into this chalet-esque spot when they can't jet off to the Alps.
What you're getting: Fondue and a bottle of Swiss red
 
T is for Thailand
Mantanah Thai Cuisine (address and info)
South Norwood
Although the decor isn't exactly inspired, the food is considered the most authentic in London by many. They've got those subtle Thai spices that will have you begging for more.
What you're getting: Honey grilled chicken with brown rice
U is for the United States of America
Big Easy (address and info)
Covent Garden
These guys take their BBQ and booze very seriously, and make sure that you eat to the point of a food coma.
What you're getting: The Big Pig Gig on Mondays, which has unlimited BBQ and a beer. How American!
 
V is for Venezuela
Arepa and Co. (address and info)
De Beauvoir
With a stall over in Camden and a proper brick-&-mortar spot in De Beauvoir, these guys are bringing the best of their Grannies' recipes to the masses. And you know what? They're delicious.
What you're getting: Reina Pepiada arepas (a cornbread pocket sandwich w/ chicken & guac)
 
W is for Wales
Odette's (address and info)
Primrose Hill
The second of our problem letters, there are no sovereign states beginning with "W", but Wales can still be considered a country, and Odette's -- run by Welsh celeb chef Bryn Williams -- shows off her finest culinary exports. 
What you're getting: Welsh lamb w/ courgette followed by some Welsh farmhouse cheeses
 
X is for Xmas Island/Xīnjiāpō
Singapore Garden (address and info)
Swiss Cottage
And so we come to the final of our problem letters. The two rule-bending "X" contenders were Christmas (or, ahem, Xmas) Island, and Singapore (or as it's known in the native Mandarin, Xīnjiāpō). And as it happens, they're both remarkably close to each other. In fact, Singapore used to own Christmas Island! Which makes the quite-superb Singapore Garden restaurant perfect for this.
What you're getting: Christmas Island is famed for its crabs, so get one of the critters fried w/ Singapore chilli sauce.
 
Y is for Yemen
Queen of Sheba (address and info)
Paddington
Covered in Yemeni artifacts, they tried to make it a little bit of home and certainly succeeded.
What you're getting: Laham Haneed -- marinated lamb with spices and onion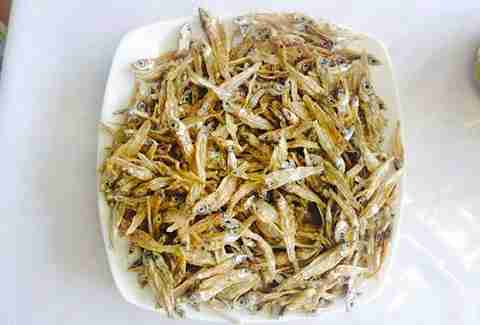 Z is for Zambia
Fredor (address and info)
Forest Gate
Located within walking distance to Olympic Park, this is the only Zambian restaurant in England.
What you're getting: Nshima with oxtail
Sign up here for our daily London email and be the first to get all the food/drink/fun in the city.