12 things you didn't know about Pizza Express
When some of your biggest-selling items are literal balls of dough, you know you're doing something right, and the folks at Pizza Express have been doing it right for decades. But there's a lot more to the company than just open kitchens and a high tolerance for infants -- here are a dozen things you didn't know...

1. It all started after a nice holiday
After taking a trip to Italy, founder Peter Boizot lamented the lack of quality pizza in his hometown of London, so in 1965 he imported the country's first proper Italian pizza oven and a proper Italian pizza chef. Unfortunately, the oven didn't actually fit through the door. Not to let that stop him, Peter knocked down the wall to make it fit. Also? He's a life-long vegetarian.
2. The original marg cost five shillings and six pence
Which is a title less than a fiver in today's not-quite-so Dickensian currency.
3. They're actually operating in 14 different countries
And they have regional specialities, like the Peking duck pizza in Hong Kong.

4. Their Pollo Pizza is Andy Murray's favourite meal
He apparently goes to the Wimbledon branch before the tournament. It seems to be working out.
5. You can still get most of their discontinued items
If they have the ingredients for a Siciliana, you're getting one.
6. The '90s were a pretty amazing time for them
When Luke Johnson & Hugh Osmond took over in '93, they had 12 branches. By the end of the decade, they had 250 -- thanks largely to the fact that they had increased profits twenty-fold.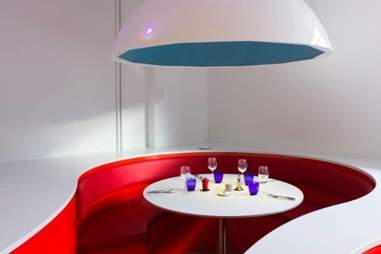 Pizza Express
7. There's a super-futuristic one in Richmond
The space is divided up into domed booths where customers can play their own music, alter the lighting, and get the waiter's attention by illuminating the entire thing.
8. They're beer game-changers
While we now see Peroni everywhere, PE was the first place in England to sell the stuff. Thanks guys!
9. The restos were designed by a comic book artist
Quite a few of the restaurants have been designed by Enzo Apicella, who drew comics and posters before turning his hand to pizza joints, and is cited as a major protagonist of the Swinging Sixties.
10. If they were just a music club, they'd still be legendary
Peter Boizot is a big time jazz fan. They've got three clubs, and have played host to such luminaries as Ella Fitzgerald, Amy Winehouse, Sting, Tony Bennett, and Van Morrison to name but a few.
11. They even had Leona Lewis performing
... as a waitress, before she hit the big time.
12. You can literally get schooled in pizza
In 2013, they launched the Pizzaiolo Apprenticeship program, and it's equivalent to five GCSEs at grades A-C. Why did they not do this sooner?!