The Strand gets… Irish tapas?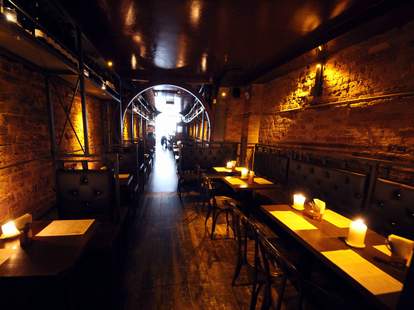 Apart from a mutual affinity for Catholicism and bailouts, Spain and Ireland didn't appear to have much in common -- until The Port House. From the folks behind an Irish brewery (known as The Porterhouse… geddit?), this narrow space's candlelit wood & stone give it a reverent, church-like vibe for you to worship at the altar of... smaller-than-usual plates of food
Order up ocean-dwellers like this crispy-skinned seabass w/ lentils & a cream reduction (so… tiny Ginger Baker?), or nab pan-seared scallops w/ cauliflower puree & powdered jamon iberico

Get meatiness like this pan-fried quail that's been deboned (note to Adele's future boyfriends: not possible on all birds), and covered in rosemary jus, as well as a mini sirloin steak, or some marinated pork loin w/ smoked paprika mayo

They even have a daily changing G&T menu, made w/ house-brewed gin, and "whatever comes from the market that day", all served in balloon glasses, the contents of which will eventually make your voice go funny.

Combos so far include this orange & cinnamon, and a lime & lemongrass number -- have too many, however, and experience Spain & Ireland's other common bond… kicking out rowdy Brits.