14 Secret Supper Clubs in LA (and How to Get Into All of Them)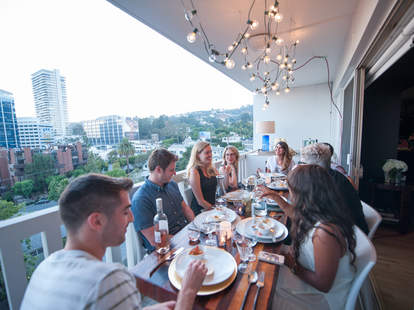 According to the Oxford English Dictionary, a "supper club" is "a private entity that serves suppers, oftentimes in unmarked restaurants, warehouse spaces, or HOLY CRAP ONE IS ON SOMEONE'S APARTMENT BALCONY?!?" Here's a rundown of all the ones you should know about in LA, plus -- way more importantly -- how to get into every single one.
Kali Dining
When: Most weekends
Where: Ssshhhhhhhh
Why you should join: Every dish that Chef Kevin Meehan sends out at these intimate dinners looks straight out of an episode of Top Chef, and like that famous shrimp boating captain, you never know what you're going to get.
How to join: Sign up here to find out when the next one's happening...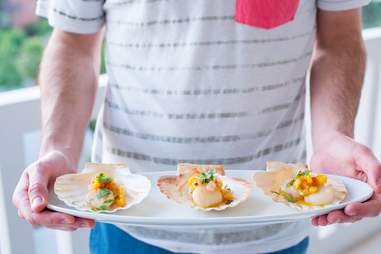 Kim Fox Photography
When: Monthly
Where: Overlooking the city in West Hollywood
Why you should join: If you actually get invited, you'll receive an email inviting you to have dinner put on by a killer chef with six of the most interesting people you'll ever meet in your life. You can either say yes or no. When we said yes, we met... six of the most interesting people we'd ever met in our lives.
How to join: You can try to convince them you should make the list by emailing guestlist@theroulettesociety.com. Good luck.
When: Generally, Thurs-Sat
Where: Ehhhhhhhhhhhh can't say
Why you should join: More like a maybe-not-licensed-restaurant-in-an-apartment than a true "club," Wolvesmouth has become a bragging-rights dinner, thanks to a chef who's been profiled in The New Yorker, and a reservation wait that sometimes can take a full year.
How to join: Fill this out and hope that they'll send you the date for the next event, then hope that they also like your "Why I should get to come" note (that everyone has to write), then hope that they actually pick you for the dinner.
 
When: When Wolvesmouth isn't happening
Where: Wouldn't you like to know
Why you should join: That dude who's critically acclaimed from Wolvesmouth decided that wasn't enough, so he started this seafood-centric dinner series as well. Show-off.
How to join: Go for a swim off a short pier, and then apply via the website.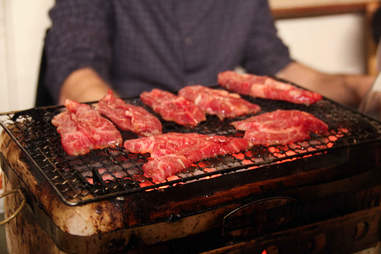 Jeff Miller/Thrillist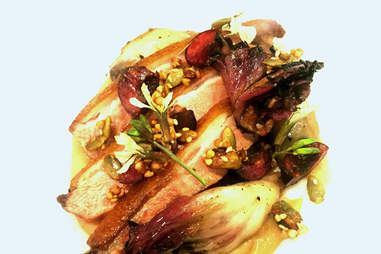 Jared Simons
No Name
When: Most nights
Where: 432 Fairfax
Why you should join: You've probably been frustrated when you heard about this mysterious unmarked facade on Fairfax from people (like us), and were like "yeah, but I don't know anyone there, so I can't get in, this is super lame." Well, now it's not: we tracked down the impossible-to-track-down email address you need to make a reservation for dinner, which'll 1) get you in, 2) include some of the best fried chicken and steaks in town, and 3) give you a chance to stick around for that part of the night you usually CAN'T get in for, which often consists of performances from up-and-coming indie rock bands.
How to join: Email Fairfax432@gmail.com to try to make a reservation.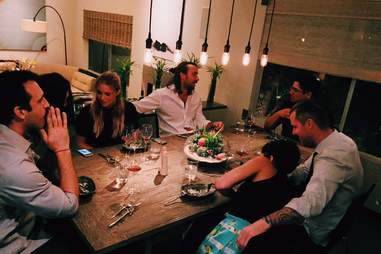 Oxalis
When: Every seven weeks
Where: Somewhere. In West Hollywood.
Why you should join: Formerly BRK, this high-end, 15-course dinner aims to blow you away with fine-dining-level cookery in casual, homespun digs.
How to join:Sign up on its website for the mailing list, and they'll email you -- and then randomly select who actually gets to come to the dinner.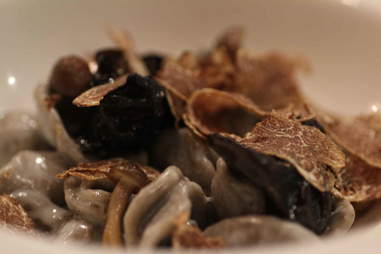 Jeff Miller/Thrillist
Ryan Haack
When: Select Thursdays
Where: Highland Park
Why you should join: This catering company has been hosting experimental chefs table dinners since 2007, which means it knows exactly what's gonna knock your socks off. Which is why Jay-Z recently hired it to launch Tidal. Which may be the only good Tidal-related decision Jay-Z made.
How to join: Apply right on its website.
Josh Lee
When: Monthly, for now
Where: Somewhere in deep, deep Koreatown
Why you should join: Dante used to blow the best fried chicken in LA out of his truck, but for now, this is the only way to get the greasy goodness -- oh, and it's served for brunch. And followed by a free concert with major-label acts. Yep.
How to join:Click this link. Cross your fingers.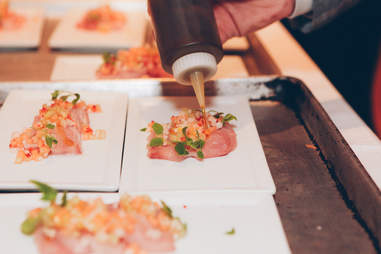 Ceviche Project
When: Monthly-ish
Where: A very famous bar at a very famous hotel on a very famous street
Why you should join: Uh, many many courses of raw fish paired with many many glasses of DeLeòn tequila? Why SHOULDN'T you join is the question you should be asking yourself.
How to join: Either learn a really, really secret handshake, or, easier, buy tickets right at its website.
The Whaling Club
When: Sporadically
Where: If only we knew...
Why you should join: This cocktail-focused deal has morphed into a catering company, but it still throws the occasional secret hoedown -- super-top-notch barmen make drinks each time, with often-impossible-to-get-in-the-US ingredients, which are then paired with bites from chefs who've worked at some of LA's most excellent restaurants (like Son of a Gun).
How to join: Cloak? Check. Dagger? Check. Clicked this link? ...
Amy's Culinary Adventures
When: Occasionally
Where: Uhhhh. Somewhere.
Why you should join: Amy's been throwing events for many, many years -- in fact, she's parlayed the whole "secret dinner" thing into a hugely successful catering business. But that doesn't keep her from busting out the surprise supper club action once every couple of months.
How to join: Sign up right here.
 
When: Every five weeks
Where: C'mon, you're smarter than that
Why you should join: Another old-school group busting out secret dinners, Chicks With Knives also runs a super-successful series of... secret cooking classes because, of course it does.
How to join:Sharpen up right here.
Sign up here for our daily LA email and be the first to get all the food/drink/fun Los Angeles has to offer.
Jeff Miller is the editor of ThrillistLA and has a secret breakfast-hash club in his apartment every morning. Find out what's in this morning's at @jeffmillerla on Instagram and @ThrillistLA on Twitter.