LA food and drink peeps talk about stuff that shocked them in 2012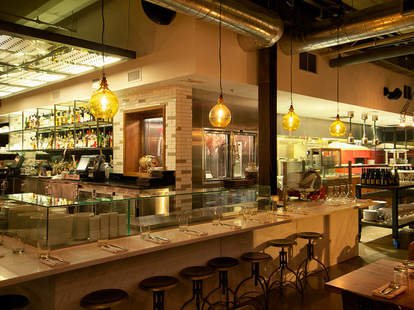 With the year almost over, we asked some of LA's top food and drink personalities about what they thought the biggest surprises of 2012 were. After they all got done talking about the Lakers sucking, they waxed poetically on everything from fast casual arms races, curly mustaches, and women who like to drink..
Jared Meisler, Owner, The Roger Room, The Pikey, etc: I was surprised by how many instant classics opened this year. Son of a Gun, Ink., Escuela...
Jason Kessler, writer; Bon Appetit, Food Republic: The Fast Casual Arms Race in LA. Small chains all around town have been expanding like nobody's business. Pitfire Pizza, Umami Burger, and Mendocino Farms all seem to be opening up new locations every week. When are we going to reach BurgerSliceSalad saturation
Dan Dunn, radio personality, Dan Dunn's Happy Hour: The biggest surprise to me was discovering that virtually all of the top mixologists in LA despise being referred to as mixologists. Even the ones with curly mustaches and bowties
Rob Floyd, Lead Bartender, The Bazaar By Jose Andres: I've been continually surprised by the resurgence of women enjoying a more savory style of cocktail. Ten years ago, if you were in a speakeasy style joint with great, masculine cocktails, you'd gaze down the bar and it would look like a pirate ship. Nowadays, there's so many more women enjoying a well-rounded palette of flavors. I don't think they realize how sexy it is to see a woman who knows how to order a real drink. It makes the social atmosphere a whole lot brighter and improves the view as well.
Hadley Tomecki, Editor, Grubstreet.com: The shutter of Campanile was a big, sad surprise
Rachael Sheridan, Food Buyer, Cube Marketplace: At Jeremy Fox's Test Kitchen dinner, Julian Cox's Smoked Pistachio Milk Cocktail surprised the heck outta me. In a good way. I still dream about it. Served warm with a hint of smoke at the end, it was delicious. I'd take that cocktail to Pound Town daily. You hear me Mr. Cox? Hook that up please. I can pay you in cheese and hugs
Lesley Bargar Suter, Food Editor (and James Beard Award Winner), Los Angeles Magazine: The rise of the arts district. Sandwiched between the L.A. River and a bunch of giant creepy warehouses, this area is on the extreme edges of no-man's-land. Yet today the region is home to cutting edge food destinations like Bestia, Bread Lounge, Handsome Coffee, and more stuff is on the way.