Thankfully-not-left-handed food/drink vets in LA tell you what's in store for next year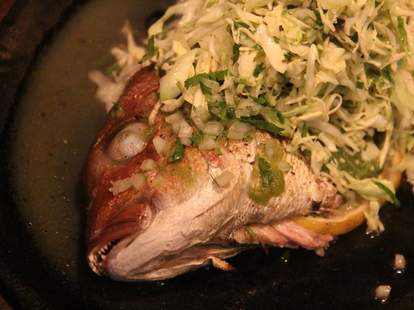 Because you're psyched the world didn't end last week (suck it, Mayans!) here's what you can look forward to next year
Jared Meisler, owner, Bar Lubitch, The Pikey, etc: Ludo's place on Highland is gonna be awesome, looking forward to that. I think Eric Greenspan is opening his grilled cheese spot next year, that will be killer.
Hadley Tomicki, editor, Grub Street: I'm really looking forward to what Sang Yoon and Sherry Yard are doing at Helm's Bakery, much as I'm excited for Evan Funke's Bucato. I can't wait to see what Josef Centeno is doing at Bar Ama and am very curious what David Myers' menu will look like at Hinoki and The Bird. Also, we may be getting a JapaDog! Still, nothing has me as thrilled as Michael Cimarusti's ode to New England seafood, Connie and Ted's
Rachael Sheridan, Food Buyer, Cube Marketplace: I haven't been yet, but I'm excited to try the new menu at Spago
Kat Odell, Editor, Eater LA:The Parish, Mozza's Salumi Bar, Bludso's BBQ, Totoraku, Le Compotoir
Lesley Bargar Suter, Food Editor, Los Angeles magazine (and James Beard Award winner): I'm excited about Hinoki & the Bird by David Myers and Kuniko Yagi in Century City. République with Walter Manzke is high on the buzz meter. Bucato is coming soon from Evan Funke and I'm curious to see what that guy can do outside of Rustic Canyon. Rivabella by Gino Angelini? Yes, please.