7 Ridiculously Good Things You Need to Eat at LA's Final 626 Night Market of 2017
There are two constants at 626 Night Market: the first is the familiar bad-but-good smell of fermented tofu that greets you as you enter Santa Anita Park. The other is change, as in innovative takes on all sorts of street food. Past years' markets have showcased IV-drip bags of boba tea, dog poop-shaped cotton candy, Thai curry with rice teddy bear heads, and liquid nitrogen ice cream that gives eaters a stream of "Heaven's breath."
Don't let 626's dedication to #EatingForTheInsta belie its vendors' quality, though; at America's largest Asian night market, you can get cuisine that is both spectacle and delectable. With the final LA market of the season taking place over Labor Day Weekend (September 1-3), these are the highlights you won't want to miss.
Sean Cooley/Thrillist
Raindrop cake from Foody Lab
You've always dreamt of turning into a ladybug so you could drink dew from a leaf, right? Well, the closest you'll come to achieving your Kafkaesque metamorphosis is slurping down Foody Lab's rose-flavored raindrop cake. Served on a bamboo leaf, the molded droplet of vegetable jelly is flavored with prickly pear, rose sauce, and passion fruit, topped with flower petals, and plopped next to crushed peanuts for some much-needed texture. Easily the most refreshing Jell-O bite you'll ever have.
Sean Cooley/Thrillist
Garlic butter shrimp in a pineapple from Shrimp Daddy
Unwieldy? Yes. Worth it? Of course. Seeing a shortage of quality Hawaiian food options in LA that
weren't
poke or Spam, food and fashion blogger June Quan started serving up garlic butter shrimp at 626 and Smorgasburg. The pineapple boat -- which has its leftover chunks made into a whipped dessert with mochi -- is packed with sweet shrimp served with the edible shell on, macaroni salad, and white rice dusted with furikake seasoning. Pair it with a creamy "magic matcha" with layers of purple beetroot and yellow turmeric.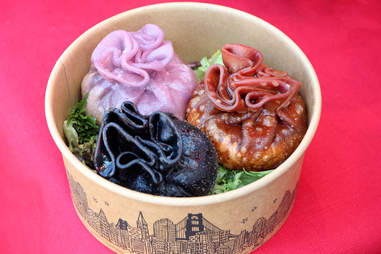 Sean Cooley/Thrillist
Korean dumplings from Workaholic
The hands-down best bite in the Night Market belongs to the mandu (Korean dumplings) at Workaholic. The newly debuted mystery dumpling comes in a black wrapper, not because it's harboring the soul of a demonic dokkaebi (Korean goblin), but because it's been mixed with activated charcoal and then touched with liquid smoke for good measure. The dumpling is filled with pulled pork in a spicy gochujang marinade, sweet and smoked corn, green onions, cheddar cheese, and sweet potato noodles. The rest of the menu's rainbow assortment includes beef bulgogi, coconut curry chicken, spicy pork and kimchi, shrimp and garlic, mushroom, and spicy garlic butter chicken.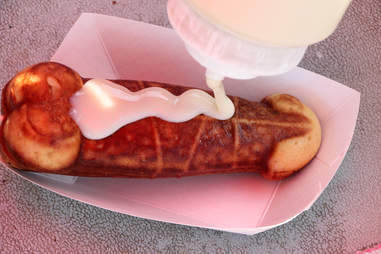 Sean Cooley/Thrillist
I'm sure you've had one burning question on your mind through this whole story: "But Sean, how were the dick cakes?" Well, at the behest of fellow Night Market connoisseurs (and, coincidentally, a few angry internet commenters to my past articles), I can confirm the cake was pretty tasty. The spongy-yet-firm D-cakes are pressed from a molded waffle iron that, of course, is made in Taiwan. The batter is blended with Nutella, and the finished cakes get a drizzle of condensed milk for some added, er, protein. If you're not feeling the D, Yummy Hero does offer some less phallic eats such as grilled squid, smoked sausage, and a grilled eel bowl as well.
Sean Cooley/Thrillist
The eponymous Liam of this lemonade stand is a three-year-old boy with an understandable desire to have the food he eats be at least as colorful as a team of Power Rangers. In addition to the lineup of berry-centric and tropical lemonades, Liam's also roasts elotes with 20+ seasonings, some of which possess a strikingly similar (and not at all coincidental) taste to Doritos and Flamin' Hot Cheetos. For the highly Grammable Uni-Corn elote, the idea is simple: coat the roasted corn in butter and mayo, then strategically sprinkle colored cotija cheese.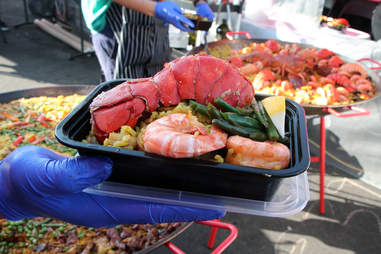 Sean Cooley/Thrillist
Much like the Spanish Inquisition, nobody expects great paella at an Asian night market. Yet here we are, staring into a 40-inch pan of caramelized, ever-so-slightly burnt bomba rice meshed with shrimp, squid, mussels, lobster, and sweet bell peppers. All of the ingredients, right down to the manchego cheese, are sourced from Spanish importer
La Española Meats
in Harbor City.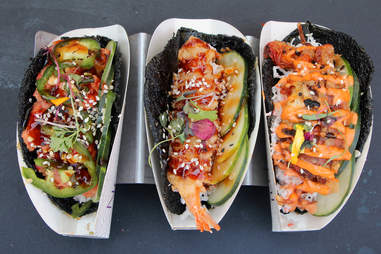 Sean Cooley/Thrillist
Sushi tacos from Norigami
Just when you thought we were
all out of food mash-up
combinations, in steps Norigami with some nori tempura taco shells. The deep-fried seaweed shells are the perfect vessel for an assortment of seafood that includes ahi tuna and salmon, BBQ eel, and crispy soft-shell crab. On rare occasions, a pork belly char siu and ramen variation is also available.
Sign up here for our daily LA email and be the first to get all the food/drink/fun Los Angeles has to offer.
Sean Cooley is based in LA and covers food, travel, and events that occasionally include 300-foot Slip 'N Slides. Follow his spirit quest on Instagram @SeanCoolish.